« Andy Statman auditions a 12-string mandolin | Main | Winter NAMM 2014 »

January 22, 2014 | SkyMall treasures--GuitDoorBell
Captive in the seat of a plane, we are often starved for entertainment just before and after take-off. Such is the case on our journey westward to the 2014 NAMM show.
Nothing like the curiosities in the complimentary in-flight copy of SkyMall magazine to catch your interest, especially this little gem. Announcing the GuitDoorBell. Only $149.99.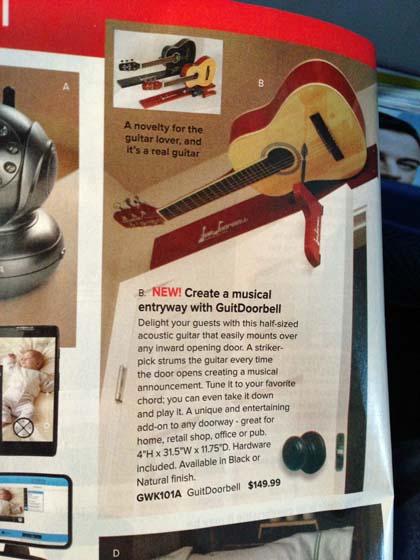 Nothing like being freaked out by a power chord on an acoustic guitar on your guests' every entrance.
We'd probably choose to tune it to a Jimi Hendrix E7#9. instead of the E7sus they recommend.
Purchase from SkyMall.
Posted by Ted at January 22, 2014 6:05 AM