« Your "Lucky Day" with Aaron Weinstein. 2 free tracks! | Main | Andy Statman auditions a 12-string mandolin »

January 18, 2014 | Year Anniversary Fender Mando-Strat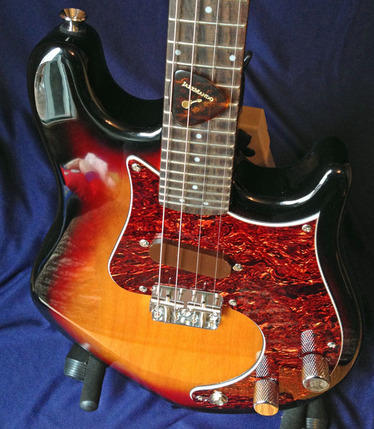 It's been a year now since these have been out. Met with mixed reviews, the new Fender Mando-strat was a valiant effort to produce an affordable copy of their own electric mandolin of the mid 20th century, AKA "Mandocaster." Many a big name mandolinist was known for saddling one of the originals on the stage, including Jethro Burns and Sam Bush. Though these don't wear a $3,000-4,000 price tag, they are still a seriously great hobby instrument, and for under three Benjamins, aptly so.
We're heading to the 2014 Winter NAMM show this week to see what's new, and our hopes are high for more of these, maybe in some of the traditional mandocaster colors.
Wouldn't a nice Sea Foam Green or Candy Apple Red emando be just the trick?
For more pictures, read 2013 review: Fender Mando-Strat Electric Mandolin
Posted by Ted at January 18, 2014 4:00 PM