« Chris Thile's Bach: Sonatas & Partitas 1 | Main | Tom Bekeny; Jazzolin »

August 6, 2013 | NS Micro Tuner review

We first caught these at Summer NAMM last year. The new D'Addario Planet Waves NS Micro headstock tuner has been out since, and we have one pictured below mounted one on one of our favorite instruments, the Clark JM-5 Signature 5-string.
The headstock on this instrument was a challenge for the older NS Mini in placement. We were able to make it work well, but it took some mental energy to get it just so. Once there, we never felt the need to move it. The NS Mini became a virtual part of the instruments. Really, these tuners are so inexpensive, you might as well keep them on each and every one of your instruments (stores in the case), especially if you enjoy the more stealth feature of its design.
We're happy to say the slightly smaller Micro is even more flexible. We enjoy the new reversible "flip button" that allows you to place it on the headstock upside down with out having to physically change the display. New to this is a center that changes the orientation with software.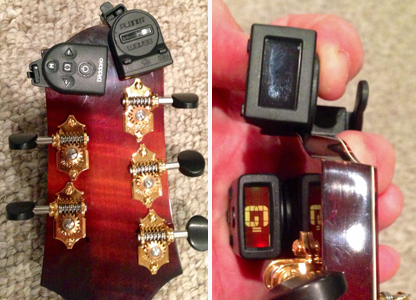 NS MIcro size comparison with previous gen NS Mini. Even smaller footprint.
The 2nd generation of the NS Mini offered a three color approach to tuning, not only the green "you're there" and red "you're not there," it added a yellow "almost there." This newer offers the same but we felt the responsiveness was even better on this newer NS Micro. The power automatically shuts off in 10 minutes, but you'd still want to manually turn it off to save battery. We never had problems finding CR2032 replacement batteries for our old ones, though.
An added bonus is the unit's metronome. It's flash only so it's handy for silent tempo starts (no sound), not so much as a pedagogical tool.
We think D'Addario has a winner here again. With a street price barely $15, you can't go wrong.
More information: PW-CT-12 NS Micro Tuner
Purchase: Dietze Music
Posted by Ted at August 6, 2013 4:59 AM