« August 2011 | Main | October 2011 »

September 29, 2011 | JazzMando V-pick feedback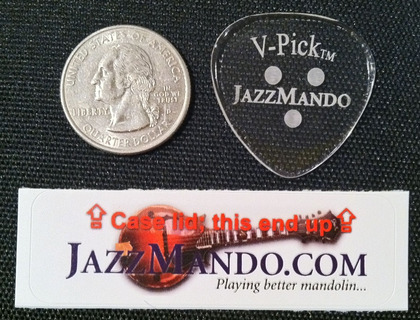 Now that our new signature JazzMando V-picks have been out (and over 450 have shipped), we solicited feedback with every order and it's time to share some of the comments. Of course, the pick is not for everyone. (That's why manufacturers make more than one kind...)
Some of the negative feedback called them "scratchy" and not completely chirp-free, but we're happy to report these folks were in the minority. Most of these were from owners of the $40+ Blue Chip picks, and at five times the price of the Vs, they ought to be happy with their pick. Some thought the JazzMando Proplec pic was just as good, and we ended up selling more of them because of the order. That's okay too. The V-pick was patterned after this pick, and why not, we've sold over 6,000 of them since first introduced.
If you haven't given them a try, we'd encourage you to at least give it a shot. It's a pretty inexpensive way to improve your sound if it does work, and we're still offering the cloth and two picks deal, and excellent buy at $15.95 including shipping. If nothing else, you're supporting the JazzMando site and some of the great resources here!
Purchase information: JazzMando V-pick


Customer feedback:
In a world of $35 picks, these are very affordable and well worth the price.
Charlie J

I had been using Jim Dunlop 206s and, although I loved the tone I was getting, I found them very tough to hold on to. I had no problem holding on to the V pick at all. What a difference! My tone improved because of a better grip on the pick! As Vizzini said in The Princess Bride, "Inconceivable!"
John F

I've been playing the mandolin for forty years (my skill level should be higher given that number, but that's another story). I remember when I first started using the Dawg-style picks and how much that improved my control and tone. I did not think that anything could improve much on that. After all, how far can pick technology go?
But last week I got your jazzmando picks and was amazed. Volume was better. Tone was better. Dynamics worked better. Control was better. My only concern at first was what seemed to be more pick noise on the strings, but that has gone away now that I've broken in the pick. The pick has made my less-than-Lloyd-Loar-quality mandolins sound better. It's like driving a Ford with Michelin tires on it: it feels like a new car.
Geoff H

I put them to the Blue Grass test tonight at practice and came away satisfied. Fast, snappy, enough bark on the chop, and a more fluid tremelo for me.
Tim L

After brief playing time I will say that it feels good and sounds good, especially with the near dead strings on my mando. I rotate picks on an erratic, string life, mood driven basis: wegen, JM proplec, tortis, red bear and a few others that are so old they are unidentifiable. It seems that the JM V-Pick will enter the rotation.
Randolph

It comes off the strings very cleanly (if that makes sense). It also gives my Q95 the kind of sound I like - not tinny. I like a darker tone from the strings and the pick gives me just that. It's very hard to describe the sound I like but with this pick I get it!
Richard M

I was just using it and I really like it - it has a more robust sound than the tremelo v-pick. My wife also likes it better. The feel in my hand is very good and it moves really well across the strings. This is with about 10 minutes of playing.
Dennis

I found the Jazzmando V Picks to be very easy to hold, great tacky feel, and brighter than my Pro Plec which is my main pick. They really do sound different from each other on older D'Addario FW74 strings. Not better or worse, just different. Interestingly, the Wegens I have are the "premium picks" I don't use anymore. I just don't like the way they sound on my mandolins with my technique.
Jamie S

Love em! Just got mine (promptly) from Ted and they are fantastic. I usually like a slightly thinner pick, with the Wegen 1.2 being my go to. The V pick combines the right combo of thickness and glide for what I consider to be a thicker pick. Also, love the way they grip firmly.
Ry

After having played my new V-picks for a week, I've been reading all the comments on the Cafe the past few days concerning them. In a nutshell, I like them. I like the "tackiness" for grip, I like the radius' at each tip, I like the size for holding, and they are one of the few picks I've used that I don't feel like I'm conscious of the pick while playing. The pick seems to go where I want it to go, and when I want it to go, and it stays in between my fingers whether gripped tightly or loosely. Therefore I spend more concentration on the music and my technique.

So that's my 2 cents. I'm pleased to the extent that I ordered another pair to back up my first pair.
Rich Y

Love the pick! it makes a nice sound, a great thickness (SO much better then the cheapo I had before:) and I really like the etching that helps me keep my thumb in right spot.
Looks like I'll be a v-pick convert!
Troi
The V-Pick: when it arrived, I got it home and played mandolin on it for about an hour. My playing was more fluid: the extra 'meat' on the pick gave me a fuller attack. trills are much easier and I play with a little more speed and right hand co-ordination. In short, great job. Please pass on my best regards to the manufacturer.
David L
Other V-pick models available
Posted by Ted at 6:34 AM

September 27, 2011 | Jethro Burns at Adler House, 1985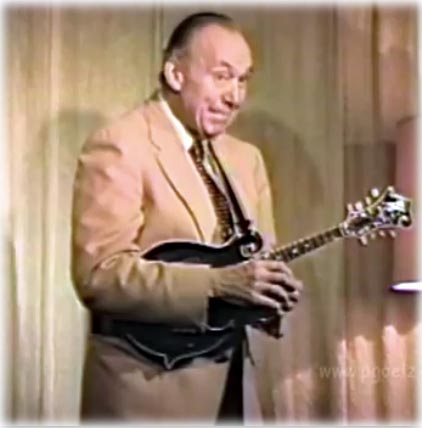 Thirty-five minutes of undiluted mandolin joy is this video of Jethro Burns in the informal setting of the Libertyville, Illinois "Adler House." We knew about his jazz prowess on the mandolin fretboard, but the clip gives us a taste of his classical chops, as well.
Joining him on stage, our good friends (and young pups here) mandolin protoge Don Stiernberg and rhythm guitar master John Parrot in the second half of the clip.

Video link: Jethro Burns at Adler House, 1985

Posted by Ted at 5:39 AM

September 25, 2011 | Happy Anniversary "Getting into Jazz Mandolin"
Hard to believe it's been three years, but September of 2008 is when the book "Getting into Jazz Mandolin" was first released. We have some great free resources here on the site, but if you really want something in your hands that is both systematic and comprehensive, consider a purchase of "GiJM." Still a strong Mel Bay best-seller, you can have a copy mailed to you direct from the author (at a discount, even!), either for your own personal use, or you can spread the love and give it as a generous and thoughtful gift to your mandolin playing friends.
This will bring joy and fretboard mastery (sort of the same thing aren't they?) to anyone willing to invest a little time in the FFcP based exercises as they are laid out in the context of unraveling jazz. However, this is not just for the jazzer, anyone seeking to leave the world of cowboy chords, let alone the key of G, will find this approach useful.
If you wanted an extra electronic copy to carry around with you, it's now available direct from Mel Bay in an eBook format. We've reduced the price on the hard copy for our readership here on the site from $19.99 to $15.95. Use our handy shopping cart and we'll drop this in the mail US Priority next business day.
Purchase information: Getting into Jazz Mandolin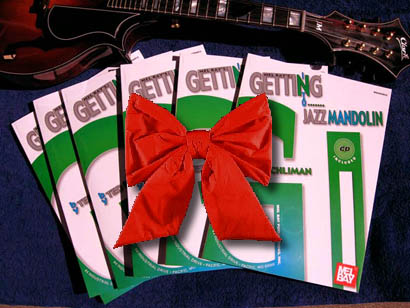 Getting into Jazz Mandolin $15.95
What this book offers:
A clear, consistent course progression. The player starts with something already known (the Major Scale) and develops patterns (FFcP) that can be intuitively expanded. Jazz variations are introduced incrementally, and by the end of the book, the player should be relatively comfortable improvising.
Clear language. Advanced music theory is explained with unpretentious prose, uncomplicated terminology and good humor. A mandolinist could simply play through all the exercises, and at very least, get more proficient with the fretboard, at best build some higher level jazz vocabulary.
Supportive Audio. The 70-minute CD included gives audio examples, as well as limitless opportunity to practice and jam with the exercises. An additional web-based audio page on the JazzMando.com website, Webtracks" offers expanded opportunity to hear and interact with even more sound tracks and professional artists' interpretations of the music and concepts.
Tab and notation. Exercises are written in both standard notation and mandolin tablature to communicate proper fretboard positions. Fingering markings are included to suggest effective finger placement.
Purchase on the JazzMando website $15.95, plus domestic US Priority Shipping, only $21.20 domestic or Canadian (US First Class International) shipping. International orders add $11. Click above link to access shopping cart.
Our other premium JazzMando prouducts:
JazzMando JM-11 Flatwound Mandolin Strings | JazzMando JM-10B Ball-end Flatwound Mandolin Strings | JazzDola JD-13 Flatwound Mandola Strings | JazzMando ProPlec Signature Picks | Jupiter Silkweave Polish Cloth | JazzMando JM11 String Shirt | "Getting Into Jazz Mandolin" Book and CD | JazzMando Case Lid Stickers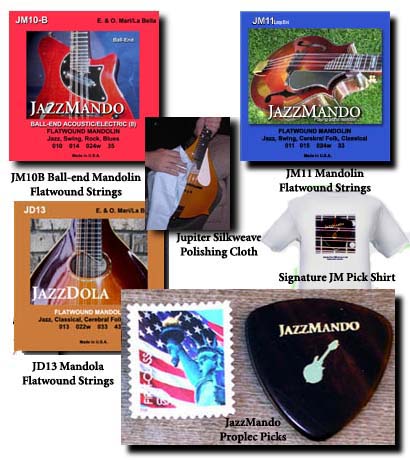 Posted by Ted at 5:57 AM

September 23, 2011 | Woodstock Invitational Luthiers Showcase
Here's an event Northeastern US fret fans should put on the calendar, the Woodstock Invitational Luthiers Showcase, October 21, 22, & 23, 2011...
The New York event is an alternative guitar show, featuring fine, handmade acoustic guitars and stringed musical instruments exhibited by their makers. Show and sale with continuous live acoustic music performances, luthier mini concerts, and special appearances, from 11:00 AM to 6:00 PM, Saturday and Sunday, October 22 and 23, 2011, at The Bearsville Theater & Utopia Soundstage, 291 & 293 Tinker Street (Route 212), Woodstock, New York 12498. General Admission $15 per day; two-day pass $25.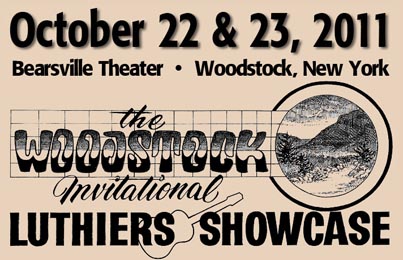 Entering it's third year as a public event, the exposition is a gathering of the absolute best contemporary stringed-instrument makers displaying the finest examples of the luthiers' art. Fine handmade instruments such as these are not usually available in music stores or other retail environments, and this is a rare opportunity for the public to see, play and experience the instruments, meet with their makers, discuss custom options and one of a kind creations, and to buy or order a dream guitar from dozens of master builders, gathered together in one place. Thirty-two Luthiers exhibiting in Bearsville Theater, with more Luthiers and other vendors in the Vendors Annex, next door in Utopia Soundstage. More than Fifty Exhibitors in all, including wood dealers, parts and tool suppliers, inlay artists, and lutherie services, string and accessories manufacturers, magazines and publications, lutherie schools and our Sponsors. Also included is a Special Exhibit of significant historic, vintage and contemporary acoustic guitars and stringed instruments loaned by major collectors and institutions, a mini-museum of spectacular stringed exotica. For the complete list of exhibiting luthiers & vendors, visit the website.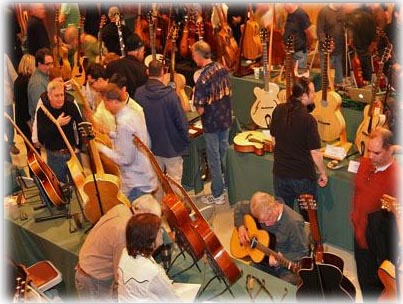 Look forward to continuous live music, luthier mini-concerts and special appearances on the performance stage in the Bearsville Theater throughout both days, with fine and famous musicians, international recording artists and music educators demonstrating instruments and performing on behalf of the makers, included in the price of admission. Diverse musical styles ­Folk, Flamenco, Fingerstyle Blues and Celtic, Jazz, Bluegrass, Middle Eastern, African, Latin-American, Classical - represented. There will also be Charity Raffles of guitar products, strings and accessories donated by our Sponsors, the entire proceeds benefiting the John Herald Fund/Family of Woodstock, Inc.. For list of performers and performance schedule, visit the MUSIC & EVENTS page on the website.
We're looking forward to some sneak peek pictures of JazzMando sponsor, Pecos, New Mexico builder Brian Lock who will be exhibiting some of his craft at the expo. Sounds like a good excuse for a road trip.
For more information: Woodstock Invitational Luthiers Showcase
Posted by Ted at 5:36 AM

September 21, 2011 | Jonathan Mann 2-point acoustic octave mandolin
The dirty little secret of one of our favorite electric mandolin builders, Jon Mann is he also builds some fine acoustic instruments, too. The Tennessee craftsman takes his signature neck-through design into the lower register with a terrific new 20" and change scale octave mandolin. What distinguishes this from other competitive models is not only the shorter (in his words) "more relaxed" tension, but a stunning 2-point body style.
We've not had it for a test yet, but you can tell from the video this is going to be a big hit, especially at a price under $3K.
View video: Jonathan Mann 2-point acoustic octave mandolin

Features:
Carved Honduran Mahogany back,
Snakewood sides and peghead overlay
Red spruce carved top
X braced, vintage sunburst top and amber back and sides
All satin waterbase finish
20.2" scale length, 12" radius ebony fretboard with banjo size frets.
CA bridge and 2 way truss rod. body is 11.5" wide and 2.5" deep.
Daddario J-76 mandola strings..gauges are .015, .025, .035, .052.
Short scale gives it a nice warm tone plus ease of play.
More information: Builder News
Read past review: Jonathan Mann EM-5 Electric 5-string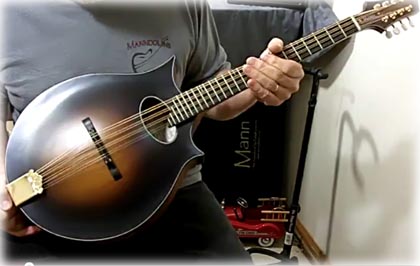 Posted by Ted at 5:36 AM

September 19, 2011 | New JBovier F5M F-body mandola
Our good friend Jeff Cowherd from the successful JBovier line does not rest on his laurels. His most recent entry in the mid professional line of quality mandolin family instruments is a very affordable F-body mandola (under $2K!) patterned after his personal '80s Loar copy H5. He had been pressing his production crew for some time, and admits he was skeptical they could pull it off until his prototype arrived last week. He's been very impressed with the final results.
Full production should be available soon, but meantime you can place pre-orders with the Jbovier Custom Shop. We've come to expect A-body 'dolas under $3K, but one this quality AND an F-body is a welcome addition to the market.
We hope to get one in our hands for a review soon.
More information: JBovier F5M mandola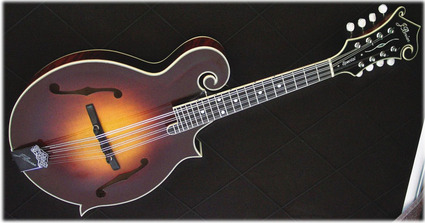 Specifications:
Solid Carved European Spruce Top
Solid Carved Highly Flamed Maple Back
Solid Flamed Maple Sides
Solid Flamed Maple Neck
Genuine Bone Corners
Hand Applied Stain Coloration
Nitrocellulose Lacquer Finish
Tone-Bar Bracing
MOP & Abalone Headstock Inlays
Mother of Pearl Fretboard Dots
Ivory/Black/White (3-ply) Binding
Genuine Bone Nut
Gotoh Tuners : Ivoroid or Black buttons
Ebony Fretboard
Ebony Bridge
Ebony Endpin
Nickel Hardware
Adjustable Truss Rod
Dovetail Neck Joint
"JBovier" Engraved Tailpiece Cover
Scale Length = 15-3/4"
Neck Width = 1-1/4" @ nut
Pickguard: Ebony + Maple binding = OPTIONAL
Personalized set-up, including custom label

Posted by Ted at 6:01 AM

September 17, 2011 | The ultimate mandolin chromatic tuner: NS Mini
We got ours before the announced October release, and all we can say is this arguably one of the best mandolin clip-on tuners on the market. You've heard the complaints about the awkward competitive tuners, gawdy color, obnoxious size, all the undue audience attention this grabs while trying to tune discreetly. Planet Waves (D'Addario) has the answer in this new PW-CT-12 "NS Mini" chromatic tuner.
It clips on and fits so unobtrusively behind the headstock so that only the player can see the clear red (out of tune) to green (in tune), and the note of the string as you adjust. Tracking is spectacular, and the energy saving auto shut-off means excellent battery life. These are going to be a hit for us small fretted instrumentalists, and with a street price of $17.99, you can afford to have one for each instrument. We've been able to leave it on the instrument INSIDE the case.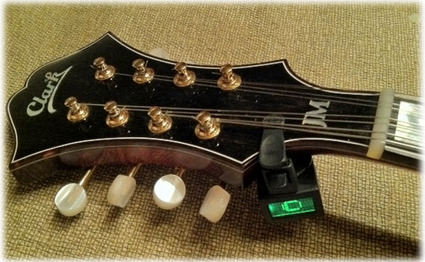 Purchase today from one of our sponsors: Dietze Music
Mention JazzMando in the comments, and shipping will be reduced manually to $4.50 post processing.
More information and video demonstration: PW-CT-12

Posted by Ted at 6:47 AM

September 15, 2011 | Old tunes, dusted down. Andries Boone
Delightful contemporary folk music video from across the pond from our Belgian friend, Andries Boone and the handsome crew of his MANdolinMAN quartet. The music is an interesting blend of European and North American folk traditions, performed with exquisite control and engaging dynamics.
Enjoy!
MANdolinMAN old tunes, dusted down from mandolinman on Vimeo.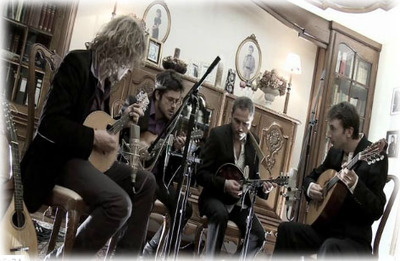 Check out more intriguing audio samples on the MANdolinMAN website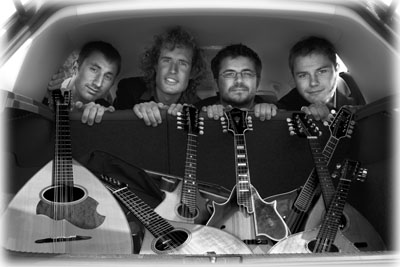 Posted by Ted at 11:19 AM

September 13, 2011 | Ted Falcon "Memories of Home"
We mentioned the release "Jambrosia" from American expatriate, Ted Falcon (now teaching in Brazil) last spring. The jazz violinist and choro bandolim expert released this terrific collection of jazz/fusion/blues instrumentals with his bandmates earlier this year, and we've followed his blossoming career since his days with the Los Angeles Choro Ensemble six years ago, and several CDs since, including Memories do Brazil, and his project with renown Brazilian harmonica star, Pablo Fagundes (Ted and Pablo).
We stumbled across this terrific YouTube video of a live performance on "Conversa do Musico", TV Senado, from February 2007.
Video Link: Ted Falcon "Memories of Home"


Review: Ted & Pablo; Transcontinental Music Express
Review: Ted Falcon; Jambrosia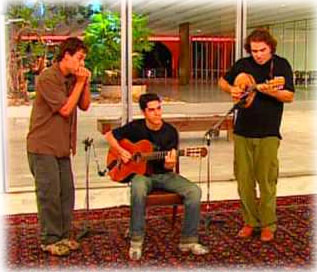 Posted by Ted at 5:16 AM

September 11, 2011 | 9.11.01. We remember.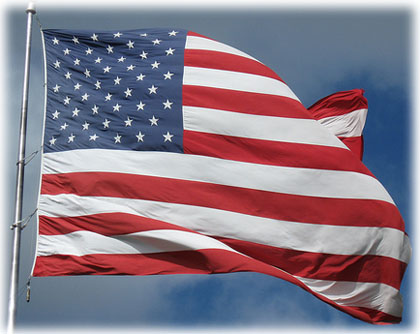 ---
Video link: America Excerpt

Posted by Ted at 8:19 AM

September 9, 2011 | New Sponsor V-picks
We'd like to welcome new site sponsor V-picks. Those of you who have been following our new relationship with founder Vinni Smith (AKA "The Pick Whisperer") know that we've collaborated on a tremendous new pick, the JazzMando V-pick that's been getting rave reviews. The acrylic construction affords the innovator incredible opportunity to forge and hand cut dozens of shapes and hundreds of variations for mandolin and guitar players of all styles.

We've come up with a competitive alternative to our own world renown JazzMando ProPlec pick, not to replace it, but give a choice for the player looking for a slight bit of additional punch in articulation. Though the V-pick is already known for its tack, we've added a twist, not so much for grip as for a geophysical thumb reference. Mandolinists in general prefer a pick larger than guitarists, and sometimes the thumb gets lost in all that real estate. A three-hole etching on the backside of the pick offers that additional benefit.
We're excited about our signature V-pick, but you should take the time to check out the other options available. We've experimented with the smaller size Euro Tip with holes for electric playing, and Vinni's Tremelo pick has been very popular with classical mandolinists.
A different pick for a multitude of playing styles, and we suggest you try out several V-picks (and of course, our own) to see what works for you. It's a very inexpensive way to improve your playing!
Visit site: V-picks
Purchase JazzMando V-pick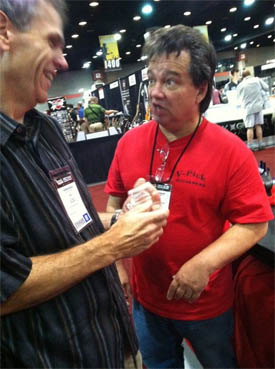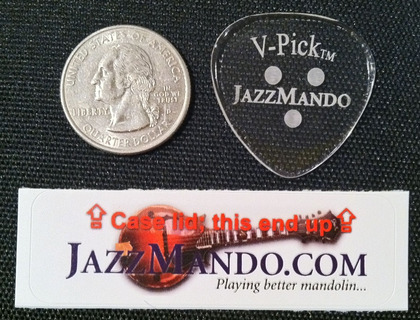 Posted by Ted at 5:11 AM

September 7, 2011 | Classifieds find: Green Ludewig 2-point
Hard to believe this rare gem (emerald, by the way) is for sale. One of our good friends Larry Sherman has offered up his treasured green Ludewig oval-hole 2-point mandolin in the Mandolin Cafe online Classifieds. This is truly a one of a kind instrument, and our appreciation of the work of the Dekalb, Illinois cartsman is well documented.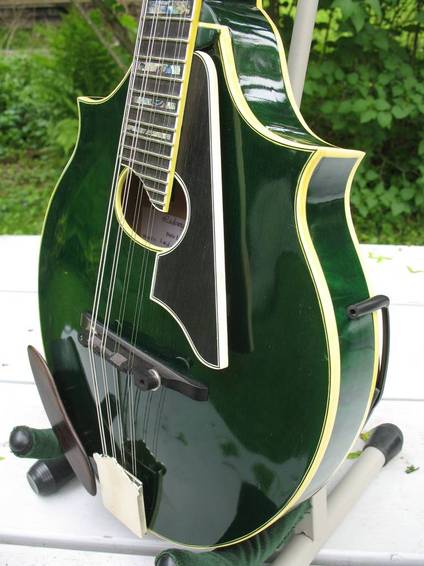 Larry weighs in, "Stunning Abalone Block Inlay on the Neck, gorgeous quilted maple back, Engelmann spruce top, X-braced, Carbon-fiber reinforced neck, extremely thin but protective emerald green finish. Design elements from Jethro Burns' Gibson 2-Point ("Red") with a distinctive jazz look, but a very versatile focused tone equally at home in any style. The headstock design reminds me of the classic elegant jazz archtop guitars by D'Angelico. Dale's pickguard/finger-rest design does not block the soundhole, and is positioned lower to give you more picking room.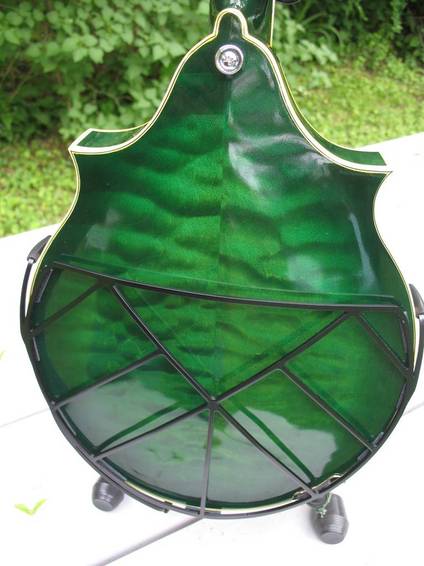 He continues, "An amazing voice, great dynamics, a joy to play, very comfortable neck, low action, clear notes with sustain and power. Definition, clarity, tone, complexity, sweetness, and volume to match many F-holes instruments yet with the oval-hole sound that goes so well with Irish/jazz/fiddle arrangements."
Larry is asking $4,500 including a high-end boutique custom green Calton case with matching green interior. Definitely one to check out!
See Mandolin Cafe Classified ad to contact seller: Ludewig oval-hole 2-point mandolin
Read more about the work of Dale Ludewig.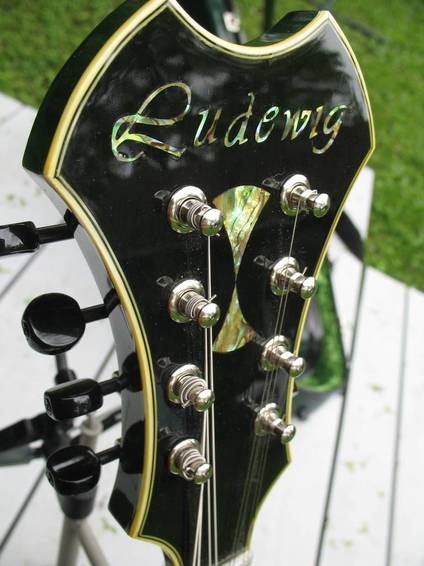 Posted by Ted at 5:44 AM

September 5, 2011 | Mandolin Apps review
We have our own personal favorite heavily used iPad/iPhone apps for playing, including iReal B (formerly iRealBook), the UnReal Book, and Planet Waves Guitar Tools. We've also added Mandolin, Mandolin Cafe, Jam Buddy, and the iconic Garage Band (iPad only). If you're interested in exploring other mandolin specific apps, Product-Reviews columnist Marlon Votta has some helpful reviews introducing several, including ChordFinder for Mandolin, Fret Surfer Mandolin Trainer, Mandolin Tuner Simple, and the aforementioned Mandolin. Starting at $.99, these can be a real pedagogical bargain.
Read review: Get help learning to play the Mandolin with useful Apple apps.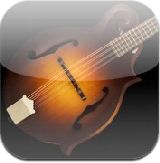 Introductory paragraph: "The mandolin (Italian: mandolino) is a musical instrument in the lute family (plucked, or strummed). It descends from the mandore, a soprano member of the lute family. The mandolin soundboard (the top) comes in many shapes, but generally round, teardrop-shaped, sometimes with scrolls, or other projections. A mandolin may have f-holes, or a single round or oval sound hole. A round or oval sound hole may be bordered with decorative rosettes or purfling, but usually doesn't feature an intricately carved grille like a Baroque era mandolin."

Also, Scott Tichenor Shortcuts Tip.
Posted by Ted at 7:51 AM

September 3, 2011 | Aaron Weinstein at 2011 CMSA--Lessons!
If you're attending the 25th Annual Classical Mandolin Society of America, October 12-16, 2011 at the Sheraton Baltimore North hotel, you'll not only have the opportunity to witness chord-melody genius Aaron Weinstein perform on stage, he's opened up his schedule for some personal tutoring. He alerts us, "I'm offering private lessons during the convention for anyone interested in working on chord-melody, comping ideas, playing over changes, or if you ask really nicely, tying a bow tie (with your eyes opened or closed)."
If you'd like to schedule a lesson, he can be contacted at AaronWeinstein@aol.com
Registration forms: 2011 CMSA Convention
Read Interview: 10 Questions for Aaron Weinstein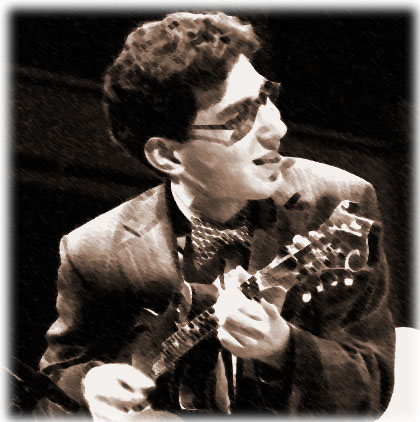 Posted by Ted at 5:38 AM

September 1, 2011 | Confirmation animated.
Nothing like a little Charlie Parker tuneage to inspire, especially when you get to see it unfold before your very eyes. This visual treat can do a lot for you to internalize the artistry of this jazz legend. Chords, melody, and some of the signature embellishments there for you to soak in...
Enjoy!
Video link: Animated Sheet Music: "Confirmation" by Charlie Parker


More Bird. Pick up a copy of our friend Eric Elias' book, Charlie Parker for Mandolin
---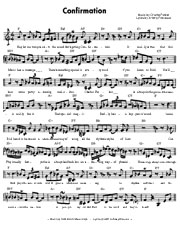 From the Wikipedia entry on Charlie Parker:
Parker played a leading role in the development of bebop, a form of jazz characterized by fast tempos, virtuoso technique, and improvisation based on harmonic structure. Parker's innovative approaches to melody, rhythm, and harmony exercised enormous influence on his contemporaries. Several of Parker's songs have become standards, including "Billie's Bounce", "Anthropology", "Ornithology", and "Confirmation". He introduced revolutionary harmonic ideas including a tonal vocabulary employing 9ths, 11ths and 13ths of chords, rapidly implied passing chords, and new variants of altered chords and chord substitutions. His tone was clean and penetrating, but sweet and plaintive on ballads. Although many Parker recordings demonstrate dazzling virtuosic technique and complex melodic lines - such as "Ko-Ko", "Kim", and "Leap Frog" - he was also one of the great blues players. His themeless blues improvisation "Parker's Mood" represents one of the most deeply affecting recordings in jazz. At various times, Parker fused jazz with other musical styles, from classical to Latin music, blazing paths followed later by others.

Posted by Ted at 7:09 AM