« New JBovier F5M F-body mandola | Main | Woodstock Invitational Luthiers Showcase »

September 21, 2011 | Jonathan Mann 2-point acoustic octave mandolin
The dirty little secret of one of our favorite electric mandolin builders, Jon Mann is he also builds some fine acoustic instruments, too. The Tennessee craftsman takes his signature neck-through design into the lower register with a terrific new 20" and change scale octave mandolin. What distinguishes this from other competitive models is not only the shorter (in his words) "more relaxed" tension, but a stunning 2-point body style.
We've not had it for a test yet, but you can tell from the video this is going to be a big hit, especially at a price under $3K.
View video: Jonathan Mann 2-point acoustic octave mandolin

Features:
Carved Honduran Mahogany back,
Snakewood sides and peghead overlay
Red spruce carved top
X braced, vintage sunburst top and amber back and sides
All satin waterbase finish
20.2" scale length, 12" radius ebony fretboard with banjo size frets.
CA bridge and 2 way truss rod. body is 11.5" wide and 2.5" deep.
Daddario J-76 mandola strings..gauges are .015, .025, .035, .052.
Short scale gives it a nice warm tone plus ease of play.
More information: Builder News
Read past review: Jonathan Mann EM-5 Electric 5-string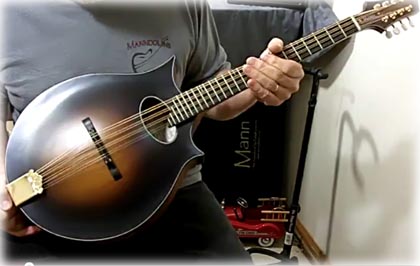 Posted by Ted at September 21, 2011 5:36 AM