« Jonathan Mann 2-point acoustic octave mandolin | Main | Happy Anniversary "Getting into Jazz Mandolin" »

September 23, 2011 | Woodstock Invitational Luthiers Showcase
Here's an event Northeastern US fret fans should put on the calendar, the Woodstock Invitational Luthiers Showcase, October 21, 22, & 23, 2011...
The New York event is an alternative guitar show, featuring fine, handmade acoustic guitars and stringed musical instruments exhibited by their makers. Show and sale with continuous live acoustic music performances, luthier mini concerts, and special appearances, from 11:00 AM to 6:00 PM, Saturday and Sunday, October 22 and 23, 2011, at The Bearsville Theater & Utopia Soundstage, 291 & 293 Tinker Street (Route 212), Woodstock, New York 12498. General Admission $15 per day; two-day pass $25.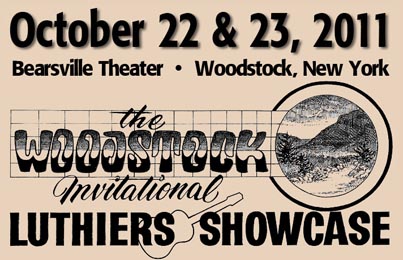 Entering it's third year as a public event, the exposition is a gathering of the absolute best contemporary stringed-instrument makers displaying the finest examples of the luthiers' art. Fine handmade instruments such as these are not usually available in music stores or other retail environments, and this is a rare opportunity for the public to see, play and experience the instruments, meet with their makers, discuss custom options and one of a kind creations, and to buy or order a dream guitar from dozens of master builders, gathered together in one place. Thirty-two Luthiers exhibiting in Bearsville Theater, with more Luthiers and other vendors in the Vendors Annex, next door in Utopia Soundstage. More than Fifty Exhibitors in all, including wood dealers, parts and tool suppliers, inlay artists, and lutherie services, string and accessories manufacturers, magazines and publications, lutherie schools and our Sponsors. Also included is a Special Exhibit of significant historic, vintage and contemporary acoustic guitars and stringed instruments loaned by major collectors and institutions, a mini-museum of spectacular stringed exotica. For the complete list of exhibiting luthiers & vendors, visit the website.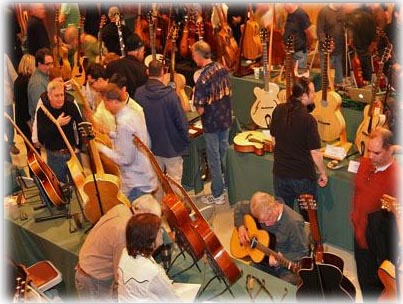 Look forward to continuous live music, luthier mini-concerts and special appearances on the performance stage in the Bearsville Theater throughout both days, with fine and famous musicians, international recording artists and music educators demonstrating instruments and performing on behalf of the makers, included in the price of admission. Diverse musical styles ­Folk, Flamenco, Fingerstyle Blues and Celtic, Jazz, Bluegrass, Middle Eastern, African, Latin-American, Classical - represented. There will also be Charity Raffles of guitar products, strings and accessories donated by our Sponsors, the entire proceeds benefiting the John Herald Fund/Family of Woodstock, Inc.. For list of performers and performance schedule, visit the MUSIC & EVENTS page on the website.
We're looking forward to some sneak peek pictures of JazzMando sponsor, Pecos, New Mexico builder Brian Lock who will be exhibiting some of his craft at the expo. Sounds like a good excuse for a road trip.
For more information: Woodstock Invitational Luthiers Showcase
Posted by Ted at September 23, 2011 5:36 AM