« 9.11.01. We remember. | Main | Old tunes, dusted down. Andries Boone »

September 13, 2011 | Ted Falcon "Memories of Home"
We mentioned the release "Jambrosia" from American expatriate, Ted Falcon (now teaching in Brazil) last spring. The jazz violinist and choro bandolim expert released this terrific collection of jazz/fusion/blues instrumentals with his bandmates earlier this year, and we've followed his blossoming career since his days with the Los Angeles Choro Ensemble six years ago, and several CDs since, including Memories do Brazil, and his project with renown Brazilian harmonica star, Pablo Fagundes (Ted and Pablo).
We stumbled across this terrific YouTube video of a live performance on "Conversa do Musico", TV Senado, from February 2007.
Video Link: Ted Falcon "Memories of Home"


Review: Ted & Pablo; Transcontinental Music Express
Review: Ted Falcon; Jambrosia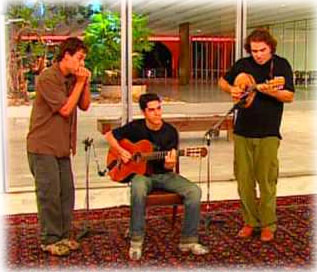 Posted by Ted at September 13, 2011 5:16 AM