« Jethro Burns at Adler House, 1985 | Main | New braided straps from Tennessee »

September 29, 2011 | JazzMando V-pick feedback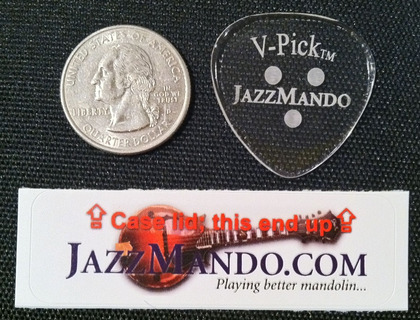 Now that our new signature JazzMando V-picks have been out (and over 450 have shipped), we solicited feedback with every order and it's time to share some of the comments. Of course, the pick is not for everyone. (That's why manufacturers make more than one kind...)
Some of the negative feedback called them "scratchy" and not completely chirp-free, but we're happy to report these folks were in the minority. Most of these were from owners of the $40+ Blue Chip picks, and at five times the price of the Vs, they ought to be happy with their pick. Some thought the JazzMando Proplec pic was just as good, and we ended up selling more of them because of the order. That's okay too. The V-pick was patterned after this pick, and why not, we've sold over 6,000 of them since first introduced.
If you haven't given them a try, we'd encourage you to at least give it a shot. It's a pretty inexpensive way to improve your sound if it does work, and we're still offering the cloth and two picks deal, and excellent buy at $15.95 including shipping. If nothing else, you're supporting the JazzMando site and some of the great resources here!
Purchase information: JazzMando V-pick


Customer feedback:
In a world of $35 picks, these are very affordable and well worth the price.
Charlie J

I had been using Jim Dunlop 206s and, although I loved the tone I was getting, I found them very tough to hold on to. I had no problem holding on to the V pick at all. What a difference! My tone improved because of a better grip on the pick! As Vizzini said in The Princess Bride, "Inconceivable!"
John F

I've been playing the mandolin for forty years (my skill level should be higher given that number, but that's another story). I remember when I first started using the Dawg-style picks and how much that improved my control and tone. I did not think that anything could improve much on that. After all, how far can pick technology go?
But last week I got your jazzmando picks and was amazed. Volume was better. Tone was better. Dynamics worked better. Control was better. My only concern at first was what seemed to be more pick noise on the strings, but that has gone away now that I've broken in the pick. The pick has made my less-than-Lloyd-Loar-quality mandolins sound better. It's like driving a Ford with Michelin tires on it: it feels like a new car.
Geoff H

I put them to the Blue Grass test tonight at practice and came away satisfied. Fast, snappy, enough bark on the chop, and a more fluid tremelo for me.
Tim L

After brief playing time I will say that it feels good and sounds good, especially with the near dead strings on my mando. I rotate picks on an erratic, string life, mood driven basis: wegen, JM proplec, tortis, red bear and a few others that are so old they are unidentifiable. It seems that the JM V-Pick will enter the rotation.
Randolph

It comes off the strings very cleanly (if that makes sense). It also gives my Q95 the kind of sound I like - not tinny. I like a darker tone from the strings and the pick gives me just that. It's very hard to describe the sound I like but with this pick I get it!
Richard M

I was just using it and I really like it - it has a more robust sound than the tremelo v-pick. My wife also likes it better. The feel in my hand is very good and it moves really well across the strings. This is with about 10 minutes of playing.
Dennis

I found the Jazzmando V Picks to be very easy to hold, great tacky feel, and brighter than my Pro Plec which is my main pick. They really do sound different from each other on older D'Addario FW74 strings. Not better or worse, just different. Interestingly, the Wegens I have are the "premium picks" I don't use anymore. I just don't like the way they sound on my mandolins with my technique.
Jamie S

Love em! Just got mine (promptly) from Ted and they are fantastic. I usually like a slightly thinner pick, with the Wegen 1.2 being my go to. The V pick combines the right combo of thickness and glide for what I consider to be a thicker pick. Also, love the way they grip firmly.
Ry

After having played my new V-picks for a week, I've been reading all the comments on the Cafe the past few days concerning them. In a nutshell, I like them. I like the "tackiness" for grip, I like the radius' at each tip, I like the size for holding, and they are one of the few picks I've used that I don't feel like I'm conscious of the pick while playing. The pick seems to go where I want it to go, and when I want it to go, and it stays in between my fingers whether gripped tightly or loosely. Therefore I spend more concentration on the music and my technique.

So that's my 2 cents. I'm pleased to the extent that I ordered another pair to back up my first pair.
Rich Y

Love the pick! it makes a nice sound, a great thickness (SO much better then the cheapo I had before:) and I really like the etching that helps me keep my thumb in right spot.
Looks like I'll be a v-pick convert!
Troi
The V-Pick: when it arrived, I got it home and played mandolin on it for about an hour. My playing was more fluid: the extra 'meat' on the pick gave me a fuller attack. trills are much easier and I play with a little more speed and right hand co-ordination. In short, great job. Please pass on my best regards to the manufacturer.
David L
Other V-pick models available
Posted by Ted at September 29, 2011 6:34 AM