« Aaron Weinstein at 2011 CMSA--Lessons! | Main | Classifieds find: Green Ludewig 2-point »

September 5, 2011 | Mandolin Apps review
We have our own personal favorite heavily used iPad/iPhone apps for playing, including iReal B (formerly iRealBook), the UnReal Book, and Planet Waves Guitar Tools. We've also added Mandolin, Mandolin Cafe, Jam Buddy, and the iconic Garage Band (iPad only). If you're interested in exploring other mandolin specific apps, Product-Reviews columnist Marlon Votta has some helpful reviews introducing several, including ChordFinder for Mandolin, Fret Surfer Mandolin Trainer, Mandolin Tuner Simple, and the aforementioned Mandolin. Starting at $.99, these can be a real pedagogical bargain.
Read review: Get help learning to play the Mandolin with useful Apple apps.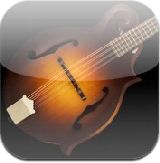 Introductory paragraph: "The mandolin (Italian: mandolino) is a musical instrument in the lute family (plucked, or strummed). It descends from the mandore, a soprano member of the lute family. The mandolin soundboard (the top) comes in many shapes, but generally round, teardrop-shaped, sometimes with scrolls, or other projections. A mandolin may have f-holes, or a single round or oval sound hole. A round or oval sound hole may be bordered with decorative rosettes or purfling, but usually doesn't feature an intricately carved grille like a Baroque era mandolin."

Also, Scott Tichenor Shortcuts Tip.
Posted by Ted at September 5, 2011 7:51 AM