« Mandolin Apps review | Main | New Sponsor V-picks »

September 7, 2011 | Classifieds find: Green Ludewig 2-point
Hard to believe this rare gem (emerald, by the way) is for sale. One of our good friends Larry Sherman has offered up his treasured green Ludewig oval-hole 2-point mandolin in the Mandolin Cafe online Classifieds. This is truly a one of a kind instrument, and our appreciation of the work of the Dekalb, Illinois cartsman is well documented.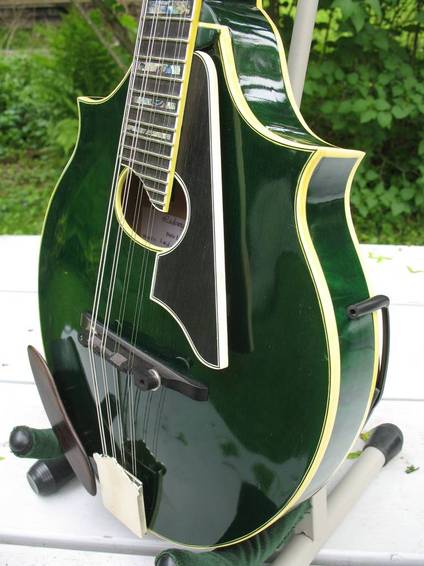 Larry weighs in, "Stunning Abalone Block Inlay on the Neck, gorgeous quilted maple back, Engelmann spruce top, X-braced, Carbon-fiber reinforced neck, extremely thin but protective emerald green finish. Design elements from Jethro Burns' Gibson 2-Point ("Red") with a distinctive jazz look, but a very versatile focused tone equally at home in any style. The headstock design reminds me of the classic elegant jazz archtop guitars by D'Angelico. Dale's pickguard/finger-rest design does not block the soundhole, and is positioned lower to give you more picking room.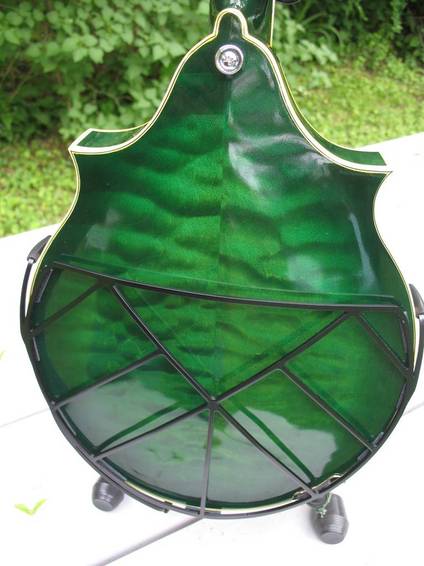 He continues, "An amazing voice, great dynamics, a joy to play, very comfortable neck, low action, clear notes with sustain and power. Definition, clarity, tone, complexity, sweetness, and volume to match many F-holes instruments yet with the oval-hole sound that goes so well with Irish/jazz/fiddle arrangements."
Larry is asking $4,500 including a high-end boutique custom green Calton case with matching green interior. Definitely one to check out!
See Mandolin Cafe Classified ad to contact seller: Ludewig oval-hole 2-point mandolin
Read more about the work of Dale Ludewig.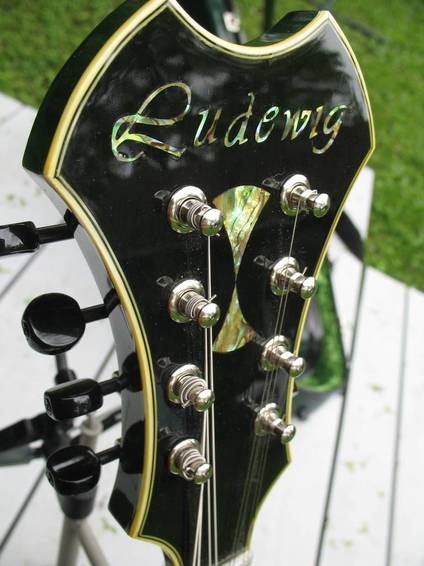 Posted by Ted at September 7, 2011 5:44 AM