« Holiday Clarks | Main | Giant Steps; 'ii V7 I' Lab »

December 18, 2010 | iPhone, iPad, iPod Touch shortcut tip
Okay, so those of you who don't already own an iPhone or iPad might be getting a little annoyed with the way we've been raving about these devices, but these are seriously more than just toys. Even the iPod Touch is a handy gadget for many musical apps, and we use the unRealBook for most rehearsals and performances, and refer to the iRealBook for its enormous wealth of jazz standards' chords.
The latest tip comes from our friend and mentor, Scott Tichenor over at the Mandolin Cafe who showed us how to create a desktop icon for sites you want immediate access to from the home screen. (Of course JazzMando would be at the top of your list...) With the recently released 4.2 OS and the ability to store icons in folders, this will be especially useful.
Here's a screenshot of what you can do, and Scott's instructions how to set it up from Safari on your device: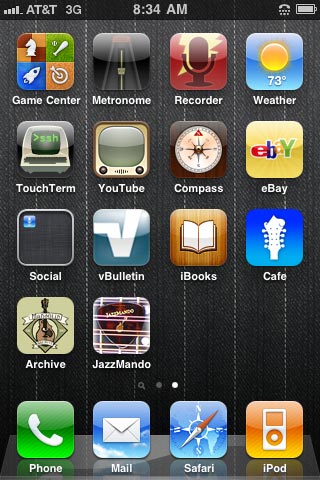 Open a web site in Safari (the iPhone browser)
Select the middle icon at the bottom of the screen (the one with an arrow)
Select "Add to Home Screen"
Wait for a few seconds and the custom icon will appear
Rename the shortcut if you wish (We suggest keeping it short)
Click the "Add" button at top right. Done!
More information: Mandolin Cafe
Posted by Ted at December 18, 2010 5:42 AM