« September 2011 | Main | November 2011 »

October 31, 2011 | New Brian Lock "La Mer" Two-point!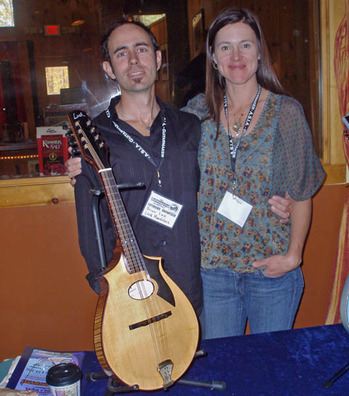 Southwest US woodsmith Brian Lock weighs in with positive feedback from the recent Woodstock Invitational Luthiers Showcase, where he got to hang with fellow exhibitors the likes of Chris Mirabella, Ken Parker, and John Monteleone, as well as experiencing some post show entertainment with the talents of Frank Vignola and Vinny Raniolo.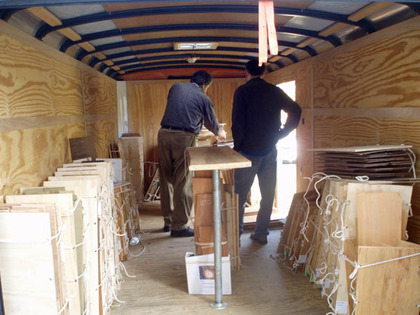 Pictured above, a personal tour of the wares of Tom Thiel of Northwind Tonewood in the "Woodwagon."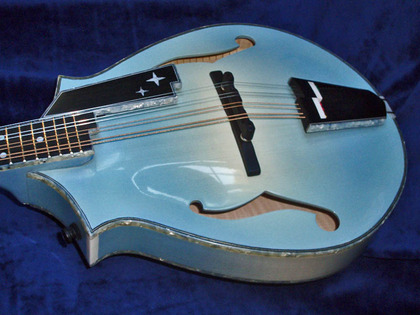 New: La Mer
The most exciting news was the debut of a new instrument in his signature Stardust series, the robin's egg blue "La Mer." Now that the event is over the bling enriched instrument is listed for sale in the Mandolin Cafe Classifieds.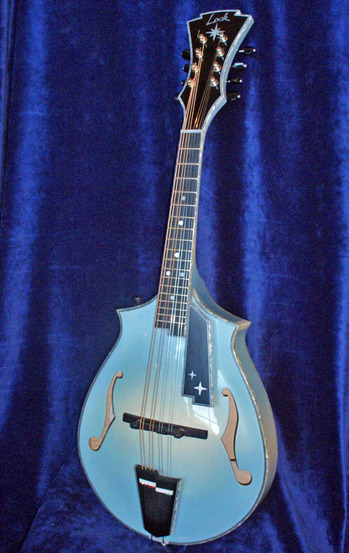 Features
-Red Spruce top
- Sugar Maple back/sides/neck
- Ebony fingerboard, bridge, floating tailpiece, Bound and
inlayed pickguard
- Pearloid binding
- Ebony headstock veneer- front and back
- McIntyre acoustic feather pickup
- Carbon fiber neck rod
- MOP nut
View builder website: Lock Mandolins
Read past review: Brian Lock Two-point
Contact builder:
Phone: (505) 629-5186
brian@lockmandos.com

Posted by Ted at 5:19 AM

October 29, 2011 | Don Julin can make you smarter.
It's been a year since we had the opportunity to interview Upper Midwest USA mandolin performer and international clinician/educator Don Julin for the Mandolin Cafe series "10 Questions." He's continued to write for us periodically in our weekly Tip and Tricks column, with his sage advice on Swing Rhythms and maximizing chord changes in improvisation. We've considered it a privilege to offer this to you, but we want to remind you Don is available not only through the generous free instruction here, but personalized individual attention through Skype lessons.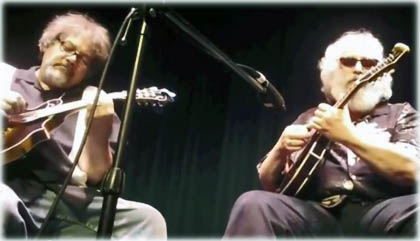 There's nothing like an occasional burst of inspiration coming from a pro to get new ideas or improve on old ones. Modern technology now allows us to gain these across great geographical barriers. No better time to take advantage of this than right now!
Don Julin on Skype
10 Questions for Don Juilin



Additional information:
donjulin.com
Don Julin's free lessons on YouTube
Contact Don: donjulin@charter.net
(231) 392-9184 USA

We look forward to more articles from Don in the future.
Posted by Ted at 5:25 AM

October 27, 2011 | Inside the Goat Rodeo Sessions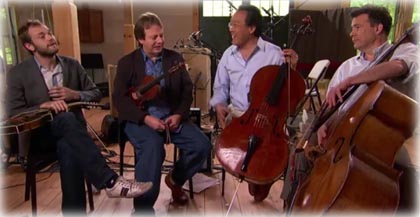 Music video by Yo-Yo Ma, Stuart Duncan, Edgar Meyer & Chris Thile performing Inside the Goat Rodeo Sessions. (C) 2011 Sony Music Entertainment
Video link: Inside the Goat Rodeo Sessions

Enjoy the recent release of the genre-jumping quartet of superstar string musicians.
Purchase on iTunes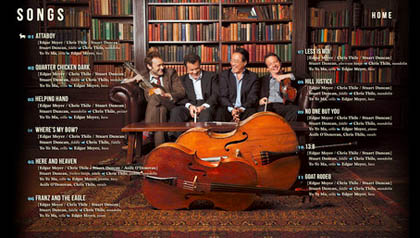 More from All Things Strings

Posted by Ted at 7:58 AM

October 25, 2011 | All in the family. JazzMando strings.
You're aware of the best selling JM11 loop-end flatwound mandolin strings with their silky smooth feel and warm string fundamental. Introduced in April of 2005, we've gone through three label incarnations, but they are still the same string, maybe a little tightening of the E-loop and a re-working of the jig to make the core of the D strings less problematic. They continue to be popular and shipped world wide.
What you may not know is we broadened out the family to mandola and electric mandolin. The JD13 "JazzDola" work great for 16-17" scale instruments that don't loop into the posts on the end of the top (like the Weber tailpiece), lending a warm, even sound to the instrument. We took the mandolin and built them with a ball to work on electric mandolins, even making the entry level Mandobird sound buttery warm. If you haven't tried the JM10B on your emando, do! We think you'll be pleased.
These are available in the JazzMando Merchandise Center. Of course meager profits from these go into supporting the JazzMando site and it's near 1600 pages of player-enhancing information and educational materials.
Give them a try!

JM-11 JazzMando flatwound mandolin strings
JM-10B JazzMando ball-end flatwound emando strings
JD-13 JazzDola flatwound mandola strings

---
Our other premium JazzMando prouducts:
JazzMando ProPlec Signature Picks | Jupiter Silkweave Polish Cloth | JazzMando JM11 String Shirt | "Getting Into Jazz Mandolin" Book and CD | JazzMando Case Lid Stickers
Posted by Ted at 5:05 AM

October 23, 2011 | Josh Pinkham; Radiohead
We hadn't checked in on the former child prodigy for a while, but all grown up now, the amazing talents of Florida picker Josh Pinkham have been captured on this spontaneous, but creative rendition of the Radiohead classic, "Paranoid Android." It's always inspiring to see the mandolin so cleverly applied to smash pop hits.
Josh has played with some powerhouse players in his young carrer, including David Grisman, Frank Vignola, MIke Marshall, and of course his own Pinkham Family Band, a personal fave. Great to hear some inspiring sounds out of his mandolin again!
Video Link: Josh Pinkham; Radiohead

Archive article: Josh Pinkham
More: Josh Pinkham MySpace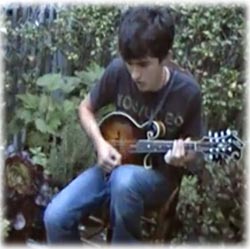 Posted by Ted at 5:55 AM

October 21, 2011 | Now available: Skype lessons with Chris Acquavella
We recently mentioned the release of a unique blend of classical, folk/ethnic music, and jazz mandolin in a CD entitled "Duo LaRe," by bowl-back expert, California based mandolinist, Chris Acquavella. He has formally announced he is now accepting new students via Skype online! If you can't come to San Diego for lessons with him, this is the next best thing.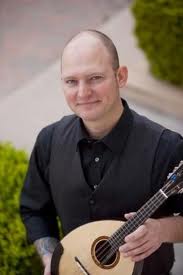 Standard format is one hour online and all you need is a webcam, Skype & PayPal account. PDFs of the material are emailed to student's prior to each lesson or directly after the session. Lesson topics vary from classical techniques such as Duo-Style, Glide Stroke and Arpeggio Technique, Music theory, standard notation, TAB, left & right hand technique, fundamentals needed to play styles of music and good practice habits. He can create custom lesson plans for each individual to insure the best learning environment for each student.
Look for lessons to begin November 2011.
Lessons are $50 per hour, paid prior to lesson. Online tuition is paid via PayPal or check mailed two weeks prior to lesson.

More information website: Skype lessons with Chris Acquavella
Purchase CD: Duo LaRue
Read Mandolin Cafe Interview: 10 Questions For Christopher Acquavella

Posted by Ted at 5:27 AM

October 19, 2011 | It doesn't have to hurt.
It's not unusual for us to receive a web inquiry every three or four months from a devoted reader asking about hand and finger pain from aggressively tackling the FFcP exercises. Developing control with golf ball squeezing strength in all four fingers (especially pinky) to cover closed positions exclusively for maximum tone is begging for issues with pain if you overdo it. We usually reply with the three default cures:
Practicing in shorter, more frequent sessions.
Lighter strings
Optimal low fretboard action
When that's not enough, and pain still prevails, it might be time to consult a physical therapist. If that were premature, the next best thing would be to refer to this most excellent article from musicians Phil & Vivian Williams on the Voyager Records website. Obvious ones like warming up, stretching, frequent breaks, aspirin, ice, preventing stress, these are all part of the preemptive habits you should engage before the more drastic measures of surgery or immobilization.
Take a few moments to read this instructive articel: TENDONITIS PROBLEMS OF MUSICIANS - IDENTIFICATION, PREVENTION, TREATMENT By Phil & Vivian Williams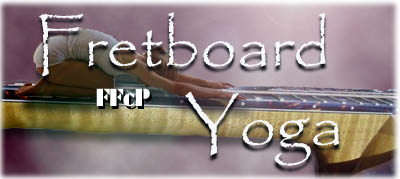 Posted by Ted at 5:00 AM

October 17, 2011 | Evan J. Marshall, William Tell
Some players are truly freaks of nature. Such is the case with one of our favorite mandolinists in the world, Evan Marshall. Not only is he a brilliant technician on the instrument, he's an amazing musician, and all around nice guy. (We had the pleasure of spending most of a weekend chauffeuring him at a Mandofest festival a few years ago.)
Promise us you'll never pass on an opportunity to see Evan play in person!
View video link: Evan Marshall - William Tell Overture

Website: SoloMandolin.com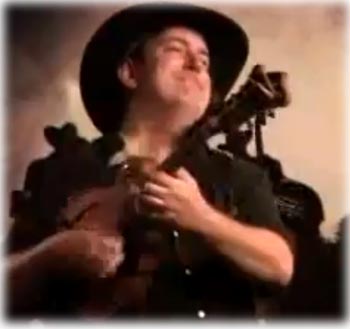 "Speed is a by-product of control. Control is never a by-product of speed."
Evan J. Marshall
Posted by Ted at 5:12 AM

October 15, 2011 | JazzMando Facebook Page
We're happy to see growing participation in our social media extension on our JazzMandoFacebook page. Up over 200 members in a few short months is a pretty good start. We continue to run feeds of our bi-daily News listings, weekly "Tips and Tricks," as well as some intriguing tidbits that fall between our regular publishing interval.
Plus, you get to talk back with your own observations and comments.
Check out the page's history where we've clued you in on some other interesting discoveries like videos, classified finds, and pictures of fascinating things, so if you are on Facebook and haven't already "liked" JazzMando there, get started.
We'll make it worth your while!
Like JazzMando Facebook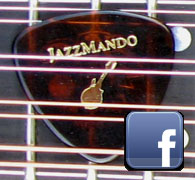 .
If you haven't signed up for Facebook, find out what you've been missing!

---
Twitter subscribers, you can catch us there, too! See FFcPmandolin


Posted by Ted at 6:08 AM

October 13, 2011 | Static Changes: Beginning to See the Light
"Welcome to a special double issue of Mandolin Sessions. We are combining the August-September issue with the October-November issue. There is a lot here to keep you busy!" Joe Carr, Editor.
Confusing as it is, at the end of the day, you've now got a double dose of Mandolin Sessions in October. Excuse the release blip, our final entry (along with the other fine columnists') to the four part series gives you some handy comping patterns (two versions) you can use all up, down, and across the fretboard. Taking the bridge from the classic "I'm Beginning to See the Light," you can take these "real world" blocks and go up town.
Enjoy, and don't forget to review the previous three Jazz Mandology entries! While you're there, share this with your favorite Social Media channels. Let us know if these have been helpful in your playing.
Read Article: Static Changes; Beginning to See the Light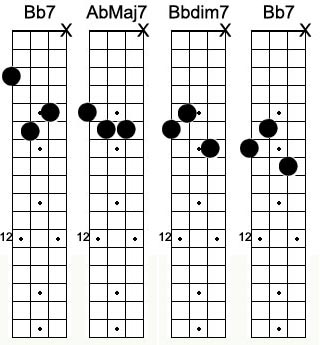 Posted by Ted at 8:04 AM

October 11, 2011 | MP3s and Emandos--Eleuke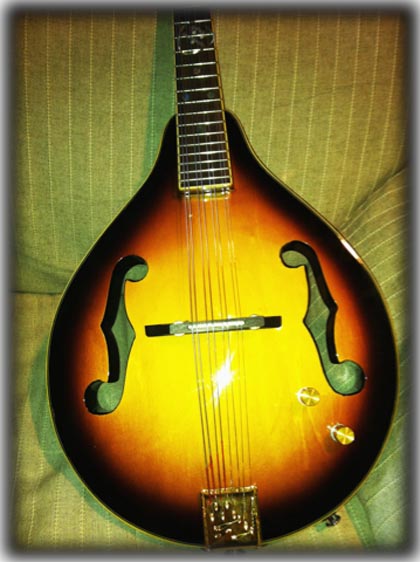 We were first introduced to the Eleuke line of instruments at the Winter NAMM show in Anaheim California three years ago. Midst a seemingly endless and growing array of competitive import fretted product, the intriguing standout feature was a small pair of 1/8" input jacks that allowed the solid body ukuleles, guitars, and mandolins the ability to be heard through a simple built-in mixer and headphone unit. The concept was breakthrough, the ability to listen to your iPod AND practice with your instrument at the same time.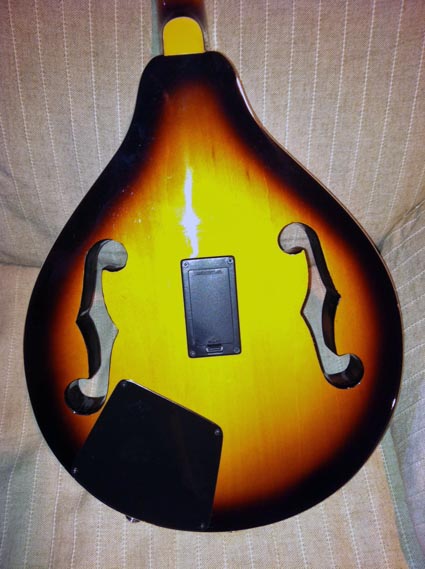 The first round of prototypes were mostly solid body (including the mandolin) and the craftsmanship needed some finesse, but we knew they had something. We ended up doing some consulting work on the mandolins and in return, received a prototype to keep and critique. This one was patterned after an A-body, but you can see from the shape, it's all solid wood, except for the body-through F-holes.
It appears Eleuke has abandoned the mandolin (and guitar) business, although their line of ukes continues to grow sucessfully and morph into some intriguing shapes. It was probably a price point issue with the mandolins, let alone the admittedly niche size of emando aficionados interested in a fully functional "practice" instrument. This instrument took some finish work on our end, and could probably use a new nut in the future, but it plays as good as any entry level instrument. The ukes are a bit pricey for entry level instruments, but the company appears to be doing well in an increasingly crowded ukulele market.
We'd still like to see a "plug-and-play" MP3 emando. It wouldn't even have to replace the standard 1/4" jack, just be an additional plug and play practice feature. iPod, cord, earbuds, emando. Maybe another electric mandolin builder can take the baton.
Company information: Eleuke USA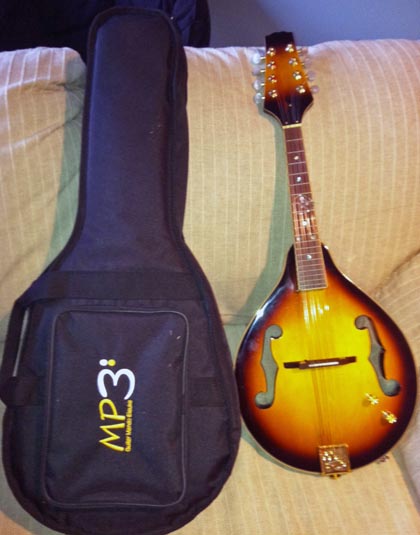 Posted by Ted at 5:14 AM

October 9, 2011 | Mr. P.C.'s Guide to Jazz Etiquette
One of our favorite columns is Seattle musician and "All About Jazz" writer Bill Anschell with his crazy club observations of the challenges of the jazz musician in the form of a hilarious mock advice column, Mr. P.C.'s Guide to Jazz Etiquette and Bandstand Decorum You can find it on the All About Jazz website, or follow his Page on Facebook. We give you a taste below.
Dear Mr. P.C.:
Jazz is a finite resource, right? So when people write long compositions or take long solos, aren't they stripping the planet? What will be left for our children and grandchildren?
Saxophonists Against Future Exploitation

Dear SAFE:
Of course there are the jazz depletion deniers who say we can always find more. They want us to mine the music of remote aboriginal tribes, for example, then distill it and extract essential elements of jazz. Pentatonic scales, maybe, or out of tune vocals. But that's a short-sighted approach that simply postpones jazz music's extinction.

Rather than plundering the planet, we could do much better by modifying our behavior. We really don't need saxophonists who spit out hundreds of notes per minute; instead we can develop more note-efficient players able to coast on a whole note or even rest for measures at a time. And in the place of modern composers writing wasteful extended works for big band -- literally thousands of notes per piece! --we can go back to the sensible and economical model of lead sheets for trio.

But conservation alone won't be enough; we must turn to alternative, renewable sources of jazz. These, of course, are colleges and conservatories, which efficiently convert tuition dollars into vast numbers of jazz performers and composers able to crank out low-grade jazz in tremendous quantity. There's no end to the number of programs our planet can accommodate, and no limit to the number of notes their graduates will produce.

Problem solved! Anyone who tells you otherwise is in the pocket of the jazz industry ("Big Jazz"), a greedy monolith that squandered the abundant jazz resources in flusher times, and is now desperately clinging to its last vestiges of power.

Read entire September Entry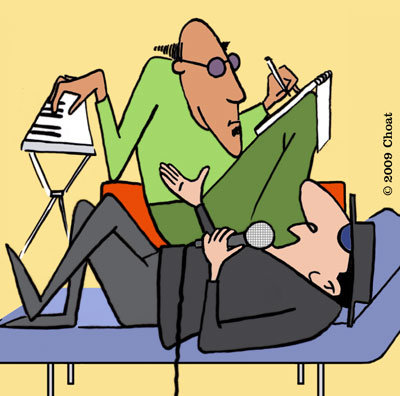 Mr. P.C.'s Guide to Jazz Etiquette and Bandstand Decorum
Posted by Ted at 6:03 AM

October 7, 2011 | Ethiopiques--jazz mandolin in Africa!
If you thought jazz mandolin was a twist, you'll find this Time Magazine article on the African jazz movement even more profound. We ran across this and just had to share.
From the article, "Walking into the Jazzamba lounge in Addis Ababa as it readies for a Friday night is like stumbling into a gig by an Ethiopian Buena Vista Social Club. The venue is hung with low-lit golden chandeliers, candles dot the tables, the barman is flirting with the waitresses, and on stage, running through its discordant but not unappealing set, is a jazz band comprising seven musicians: a drummer, percussionist, guitarist, bassist, keyboard player and, sitting on stools out front, an elderly mandolin player and an equally aged singer.
My host, club co-owner Samuel Gezahegn, snaps his fingers for fresh beers and indicates I should sit. "The singer is Girma Negash, a legend from the old days," says Gezahegn. "He drives a cab today. Can you imagine?" Gezahegn points to the mandolin player. "Ayele Mamo: the only guy in Ethiopia who plays mandolin, and he's been playing 52 years." The band, I learn, is the Addis Acoustic Project. And just when I think this can't get any cooler, it does: midsong, Negash steps forward, microphone in hand, and points and smiles at me like Tony Bennett."

Read more: Swing State: Jazz-Mad Ethiopia Rejoices at a Musical Revival
Time Photo Essays.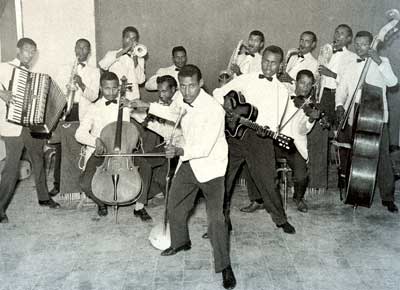 More on the Addis Acoustic Project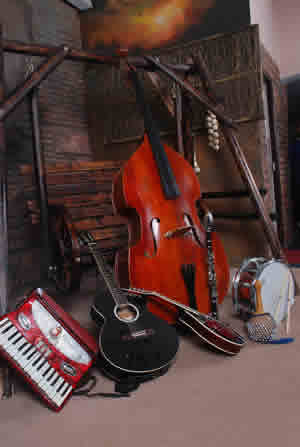 Posted by Ted at 5:23 AM

October 5, 2011 | August Mandolin Sessions: Major 7th Chords
Earlier this year in our June edition of Mandolin Sessions, we took the "static" changes of an extended Dominant 7th segment and explored how we could use inversions of 3-note chord fingerings injecting variety into your comping and connecting them with some ii7 chords in a systematic, intuitive manner.
We took this a step farther in our (just now published) subsequent article in this valuable series, introducing the same movability concept from Dominant 7 (V7) 3-note inversions to variations of the Major 7.
Once again, we can't stress enough how these simple 3-note blocks can supercharge the way you play rhythm in the background of a duet or ensemble. See what we mean. Read article: Static Changes: Connecting Chords and its August follow up article, Major 7ths: More Three-note chords to supercharge your comping.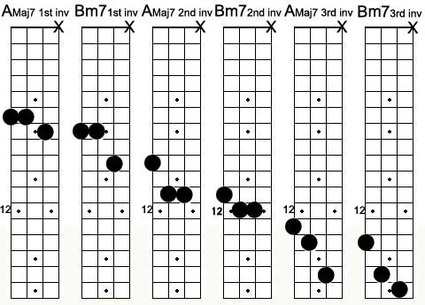 Do us a solid while you're there: Give us a 5-star rating and post a positive comment and/or share this with your favorite social media venue.

Posted by Ted at 5:32 AM

October 3, 2011 | New EP release: The Barrymando Project
We're enjoying Danny Williams' new self-titled six song EP, The Barry Mando Project. The sophisticated sound of this energetic trio, including Williams on the electric baritone mandolin, bassist Danny Cecil, and percussionist Paul Deatherage is an intriguing journey into aural space with a musical approach both calculating and spontaneous.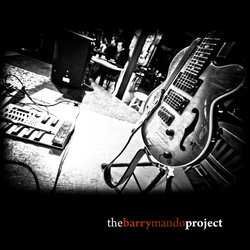 The three are adept at filling the sonic spectrum. Unfettered by the characteristically sparse instrumentation of the trio environment and the alleged limitations of a 5-string instrument, Williams spreads content expertly over the fretboard with fresh electronic effects and clever arranging skills. Cecil lays down a solid foundation with a complex yet intuitive groove on the bass, and Deatherage's percussive drive keeps the trio fresh and alive through every measure.
It's exciting to hear something this unique, a blend of Frank Zappa, Carlos Santana, and Jamie Masefield. Almost jam band in texture and flavor, there remains a implied intent in their playing. Not just drive, destination.
This is some good stuff. Six songs and we can't wait to hear more from them!
Band website: Barrymando.com.
Purchase information: The Barrymando Project
Pervious article: Danny Williams, Baritone Mandolin
View video: Introducing The Barry Mando Project.


Friend him on Facebook.

Posted by Ted at 5:28 AM

October 1, 2011 | New braided straps from Tennessee
The move from California to Tennessee created a whole new set of connections for the Vinni Smith family including some of the heartland's best leather craftsmen. Already known for the cutting edge engineering of acrylic into one of the world's most popular picks, V-picks announce a new line of braided leather mandolin straps.

It's hard to find much manufactured in the United States any more, but like the highly acclaimed picks, the 100% hand-made straps are produced by a family based in Nashville. Vinni weighs in, "These straps are incredible! Made of the highest quality leather around. Buttery soft feel, just like your favorite t-shirt. They are designed with a very cool mystery weave. I don't know how they do it, but it is beautiful. Very durable and comfortable." Available in Chocolate Brown, Tan, and Black, they're cut from the highest quality leather available, reasonably priced at $24.99.
Purchase information: V-picks Braided Mandolin Strap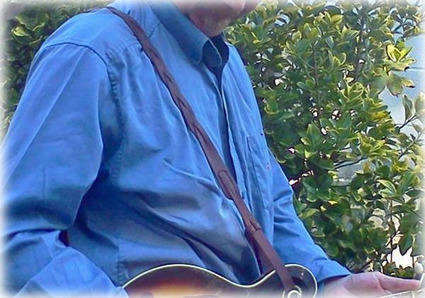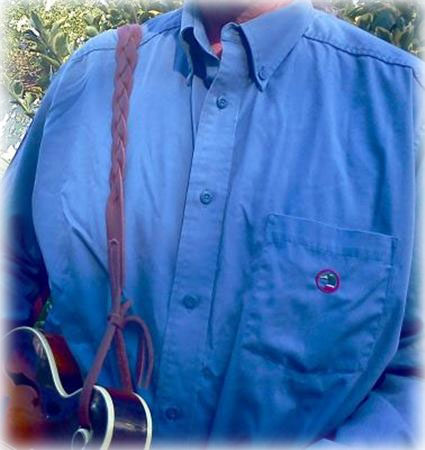 Polishing cloth special on JazzMando V-pick
Posted by Ted at 7:00 AM