« It doesn't have to hurt. | Main | Josh Pinkham; Radiohead »

October 21, 2011 | Now available: Skype lessons with Chris Acquavella
We recently mentioned the release of a unique blend of classical, folk/ethnic music, and jazz mandolin in a CD entitled "Duo LaRe," by bowl-back expert, California based mandolinist, Chris Acquavella. He has formally announced he is now accepting new students via Skype online! If you can't come to San Diego for lessons with him, this is the next best thing.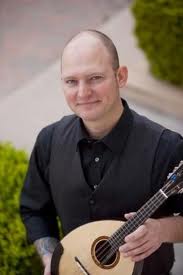 Standard format is one hour online and all you need is a webcam, Skype & PayPal account. PDFs of the material are emailed to student's prior to each lesson or directly after the session. Lesson topics vary from classical techniques such as Duo-Style, Glide Stroke and Arpeggio Technique, Music theory, standard notation, TAB, left & right hand technique, fundamentals needed to play styles of music and good practice habits. He can create custom lesson plans for each individual to insure the best learning environment for each student.
Look for lessons to begin November 2011.
Lessons are $50 per hour, paid prior to lesson. Online tuition is paid via PayPal or check mailed two weeks prior to lesson.

More information website: Skype lessons with Chris Acquavella
Purchase CD: Duo LaRue
Read Mandolin Cafe Interview: 10 Questions For Christopher Acquavella

Posted by Ted at October 21, 2011 5:27 AM