« Inside the Goat Rodeo Sessions | Main | New Brian Lock "La Mer" Two-point! »

October 29, 2011 | Don Julin can make you smarter.
It's been a year since we had the opportunity to interview Upper Midwest USA mandolin performer and international clinician/educator Don Julin for the Mandolin Cafe series "10 Questions." He's continued to write for us periodically in our weekly Tip and Tricks column, with his sage advice on Swing Rhythms and maximizing chord changes in improvisation. We've considered it a privilege to offer this to you, but we want to remind you Don is available not only through the generous free instruction here, but personalized individual attention through Skype lessons.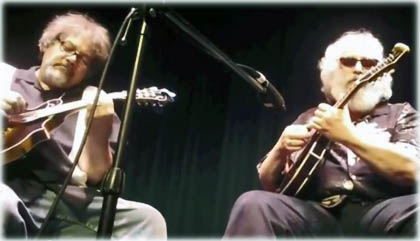 There's nothing like an occasional burst of inspiration coming from a pro to get new ideas or improve on old ones. Modern technology now allows us to gain these across great geographical barriers. No better time to take advantage of this than right now!
Don Julin on Skype
10 Questions for Don Juilin



Additional information:
donjulin.com
Don Julin's free lessons on YouTube
Contact Don: donjulin@charter.net
(231) 392-9184 USA

We look forward to more articles from Don in the future.
Posted by Ted at October 29, 2011 5:25 AM