« MP3s and Emandos--Eleuke | Main | JazzMando Facebook Page »

October 13, 2011 | Static Changes: Beginning to See the Light
"Welcome to a special double issue of Mandolin Sessions. We are combining the August-September issue with the October-November issue. There is a lot here to keep you busy!" Joe Carr, Editor.
Confusing as it is, at the end of the day, you've now got a double dose of Mandolin Sessions in October. Excuse the release blip, our final entry (along with the other fine columnists') to the four part series gives you some handy comping patterns (two versions) you can use all up, down, and across the fretboard. Taking the bridge from the classic "I'm Beginning to See the Light," you can take these "real world" blocks and go up town.
Enjoy, and don't forget to review the previous three Jazz Mandology entries! While you're there, share this with your favorite Social Media channels. Let us know if these have been helpful in your playing.
Read Article: Static Changes; Beginning to See the Light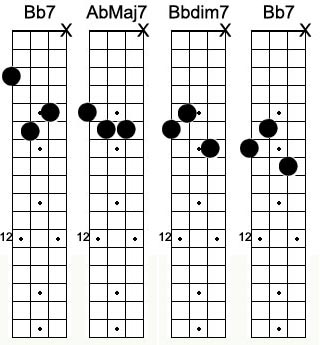 Posted by Ted at October 13, 2011 8:04 AM