« New braided straps from Tennessee | Main | August Mandolin Sessions: Major 7th Chords »

October 3, 2011 | New EP release: The Barrymando Project
We're enjoying Danny Williams' new self-titled six song EP, The Barry Mando Project. The sophisticated sound of this energetic trio, including Williams on the electric baritone mandolin, bassist Danny Cecil, and percussionist Paul Deatherage is an intriguing journey into aural space with a musical approach both calculating and spontaneous.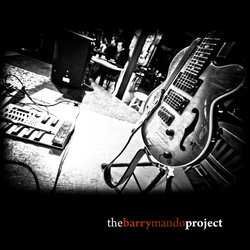 The three are adept at filling the sonic spectrum. Unfettered by the characteristically sparse instrumentation of the trio environment and the alleged limitations of a 5-string instrument, Williams spreads content expertly over the fretboard with fresh electronic effects and clever arranging skills. Cecil lays down a solid foundation with a complex yet intuitive groove on the bass, and Deatherage's percussive drive keeps the trio fresh and alive through every measure.
It's exciting to hear something this unique, a blend of Frank Zappa, Carlos Santana, and Jamie Masefield. Almost jam band in texture and flavor, there remains a implied intent in their playing. Not just drive, destination.
This is some good stuff. Six songs and we can't wait to hear more from them!
Band website: Barrymando.com.
Purchase information: The Barrymando Project
Pervious article: Danny Williams, Baritone Mandolin
View video: Introducing The Barry Mando Project.


Friend him on Facebook.

Posted by Ted at October 3, 2011 5:28 AM