« April 2015 | Main | June 2015 »

May 30, 2015 | Beautiful Love; Barimando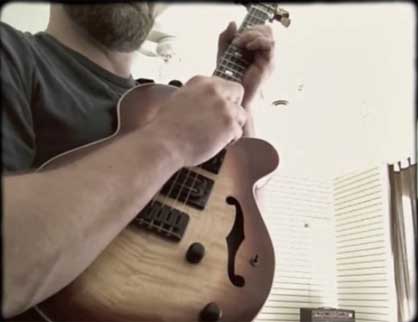 We've mentioned the intriguing electric jazz stylings of Kentucky thoroughbred 5-string baritone mandolinist, Danny Williams before. We were recently enchanted by his three year-old YouTube tango chord melody rendition of Beautiful Love, the 1931 waltz composed by Wayne King, Victor Young and Egbert Van Alstyne lyrics by Haven Gillespie). The song has become a widely used standard by many jazz musicians.
Enjoy!
Video Link: Beautiful Love; Barimando

Posted by Ted at 8:19 PM

May 28, 2015 | Almuse Mandolins Jaguana Active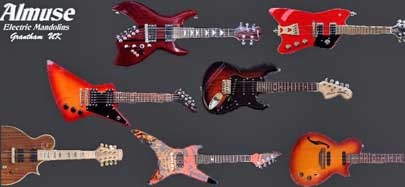 We first heard of the work of electric mandolin innnovator Pete Mallinson about five years ago with his custom after market pickups for the legendary Epiphone Mandobird. The stock pickup was less than steller and Pete's alteration gave this instrument a new lease on life. This simple addition would make a mass market product a serious tone contender for stage and studio.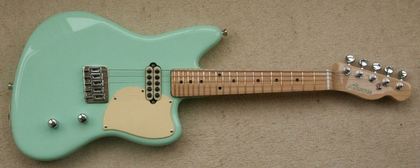 Since then, he's directed his guitar electronics and wood expertise into the mandolin and made some seriously great custom bodied emandos, including the Jaguana Active below. Located in Grantham, UK, this handcrafted 5-string is available for under $800 US (approximately $100 to ship across the Atlantic).
From the builder: "The "Jaguana Active" (Jaguar styled Guitarra Baiana) 5 string has a Poplar body, North American Maple neck and features a mild humbucker (2.5k per coil) and an active Artec Expander tone control rather than the usual treble cut. On 0, mids are boosted round to 5 which is neutral, from there, to 10, the lows and highs are boosted which gives a rather nice "Tele Twang" to the tone.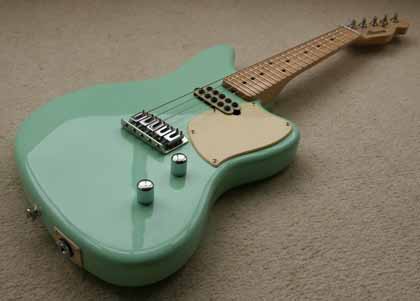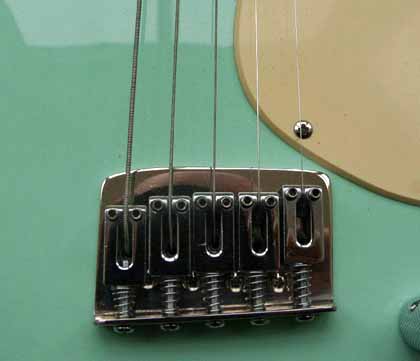 Almuse Mandolins: Website | Facebook Page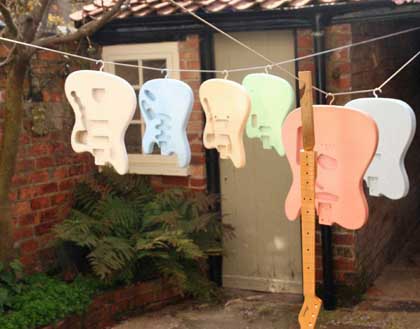 Posted by Ted at 1:40 PM

May 25, 2015 | Punch Brothers cover The Cars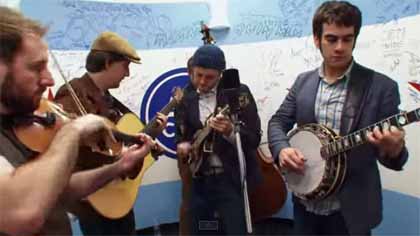 Here's a little Pop/Folk Music fun from the progressive acoustic music of Chris Thile and band. Recorded November, 2012, The Punch Brothers cover The Cars' 1978 hit "Just What I Needed."
Enjoy!
Video Link: Punch Brothers cover The Cars

Purchase Punch Brothers Music.
Posted by Ted at 9:05 PM

May 23, 2015 | Giant Steps in C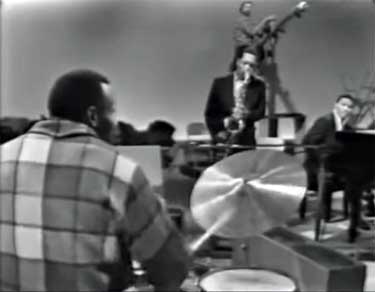 For those of us who like our harmonic vocabulary structure varied and complex, the following video is a scream, especially for the student who has eviscerated the classic Cotrane classic. Giant Steps is a virtual rite of passage for any advanced student of jazz. The fast moving Bebop changes requires a thorough grasp and intuitive map of 'ii V7 I' in almost every key.
Unless you play it in this auto-tuned parody version.
Video Link: Giant Steps in C [Live]

All due respect, this version reminds us of Bluegrass music. With tenor sax.
Hear original version: John Coltrane; Giant Steps
More fun: Giant Steps and the Bee Gees
Posted by Ted at 6:56 AM

May 21, 2015 | Don Stiernberg; Jazz Mandolin Appetizers
Six years ago, Mel Bay Publishing came to us with the request to write a sequel to Getting into Jazz Mandolin. The editors wanted something a little more encyclopedic--more practical and less cerebral. We thought we were up to the task, but co-opted Don Stiernberg to co-write the book with us. As we got into it, several months later, it became obvious, this was really Don's book to write. His "from the trenches" common sense approach to jazz and improvisation from his workshops, along with his years of experience and tutelage with the great Jethro Burns and other legends in his early years were meant for this book. We consider it a privilege to be a part of the initial effort, but only Don could have crafted and ultimately finished something so practical and useful.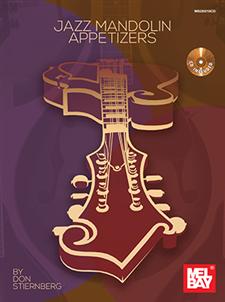 Don: "Over time I have come to realize that the 'appetizer' analogy neatly parallels approaches to improvisation I have presented in workshops and columns throughout the years, along with the way I go about making up solos on stage, at the jam, or in the studio. Many players in pursuit of the good notes have requested concrete examples ('things I can PLAY!') to balance along with theoretical explanations. That's what we have here. I hope you enjoy these melodies, and that they lead you to full servings of satisfying improvised melodic solos of your own crafting.
An appetizer is both a starting point and a small piece of something, something to try that may be new or unusual. The original premise of this book was to present new melodies to chord progressions commonly used by swing and jazz improvisors, in effect answering the question 'What should I play over this progression?' with 'Here, try this...' rather than a litany of scales or modes or other data. Your chef has also expanded the list of appetizers to include samples of how chords can be voiced for rhythm playing behind your fellow soloists, how chord progressions can be 'dressed up' with additional chords or substitutions, and a number of arrangements where melody and harmony are stated simultaneously (chord melody)."
Available in book/CD or ebook.
Purchase Amazon.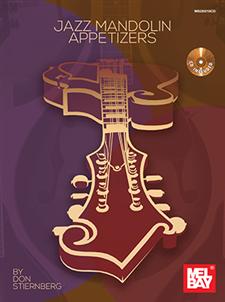 Posted by Ted at 7:54 PM

May 19, 2015 | Buddy Wachter: Hungarian Dances on banjo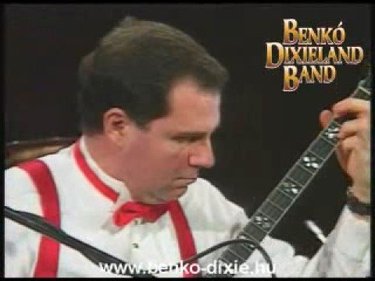 Hard to believe what can be done on four strings, let alone with a flat pick, but internationally acclaimed music ambassador Buddy Wachter does this with world class virtuosity and a touch of humor. The video below, though a couple decades old is a timeless documentation of musicianship on a grand scale. Notice some of the duo-style playing in the middle of the performance.
Enjoy!

Video Link: Hungarian Dances on banjo - Buddy Wachter


Posted by Ted at 8:32 PM

May 16, 2015 | On B.B. King
The passing of blues legend B.B. King has us reminiscing this giant's legacy in music. Many great musicians reflect on his gift for communicating so much in so few notes. He played with such soul with the power of a pick stroke, the passionate squeeze of the fretboard, the nuance of slipping in and out of rhythm. It went beyond intellect and into the heart.
We pulled up an article from our archives that attempts to analyze what particular techniques went into this approach to playing.
From the November 2010 article "Dirty It Up."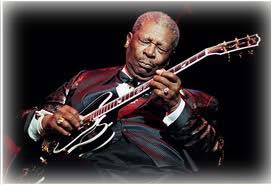 B.B. King 1925-2015
If we are serious about performing well, we work a lot on the fundamentals of playing. Just as in sports, it's the fundamentals that allow us to perform the athletics and express our music more effectively, yet in the pursuit of effective execution, we can't forget that great technique is a means to an end, and not the end. It's often the bane of classical training, the musician who can play notes brilliantly, but not play the "music."
Listen to some classical musicians attempt jazz. They can sound stiff and unconvincing, despite playing all the notes cleanly and correctly. There's still something missing, and we suggest it's because of an unbending focus on execution rather than aesthetic. Not to condone sloppy playing, but once in a while a player needs to work from a solid skill base, and "dirty it up." Four elements to consider:
Rhythmic control. We learn to play in time. We have to do that, especially when playing in an ensemble setting. A good metronomic sense is crucial to cooperate with others in a group, and you need a good sense of rhythm to keep it consistent. The problem is in jazz (and bluegrass), you're missing the "swing." Notes aren't evenly divided into duples and triplets, there's a subconscious and grey area of timing that yields an aesthetic tension and energy, when subdivisions aren't clean. Things sound too "white."
Articulation. Good pick control is an inarguably important skill. Playing with a clear pick stroke is crucial to pushing tone and a strong fretting finger is the only way you can maximize sustain. That said, we still have tricks at our disposal, slides, hammer-ons, pull-offs, mutes, and harmonics. It's these more subtle ingredients that give our music character and individual identity. Pick and fret cleanly, but don't think every note has to be started by a pick. Don't be afraid to glissando into a note, or prior to its release.
Dynamics. Variations in volume are routinely overlooked by the best of players. We have to have more than two dynamics, loud and off. Playing quietly makes the louds louder. Fortissimo is great for statement and drama, but the ear tires quickly, and we need the contrast. Subtle changes in picking including grip, angle, and pick contact can also lend character to a passage. Silence can be a terrific weapon.
Phrase consistency. Thinking where our musical sentences start and stop is important, but we need to go the next step and build within these "story arcs" the sense of action. We start soft, build, climax, and get soft again. Introduction, tension, resolution. Tell a tale, communicate an aesthetic narrative within the string of notes, or that's all you have. A string of notes.
We don't want to undermine the importance of good technique. You really can't embrace the subtleties we mentioned without a strong physical command of your instrument. Scales and arpeggios are crucial to developing these abilities, and unintended sloppiness is not pleasant to listen to. Once you have achieved some of the fundamentals, embrace the next step.
Dirty it up.
Further:
It don't mean a thing, if it ain't...
Tremolo. Stirred, not shaken.
Keeping it honest: metronomes
Pick propulsion
Respect the Silence
Posted by Ted at 5:36 AM

May 13, 2015 | Sorensen "FX Blade" mandolin
We've been infatuated with some of the design prowess of SoCal builder, Steve Sorensen, including the commissioning of our own signature Sorensen Sprite JM. His latest detour has been a new vision of the headstock on a glorious 2-point, aptly name the FX Blade: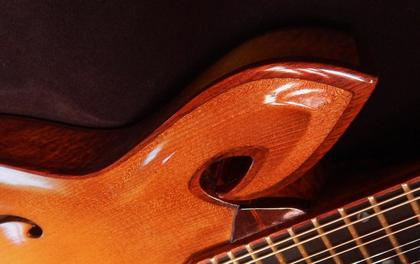 His thoughts published in a recent Mandolin Cafe thread:
A fancy "strap holder" which was sleek and modern but maintained F body balance.
A built-in armrest as found on many new guitars designs.
"3-D binding" which highlighted the form of the instrument, protected the edges and didn't require bending plastic.
A headstock which was attractive, had F-style mass but was sleek and didn't get complicated with scroll work.
Comfortable tuning and easy neck adjustment. (The prototype has Alessi tuners and a two-way truss rod.)
Tone and playability in the "modern-bluegrass" mode with a powerful chop and clear, even response across the neck.
A James tailpiece modified to fit the style of the build.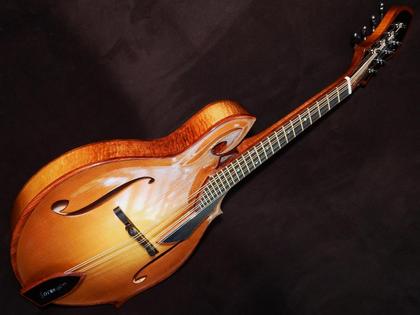 Read more:
Sorensen SXS mandolin
Blueburst Sorensen Sprite JM mandolin
Sorensen Strings
Posted by Ted at 5:58 AM

May 11, 2015 | And you thought Bluegrass was hard to transcribe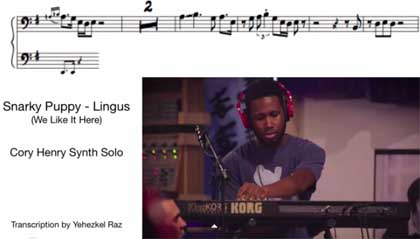 We stumbled across a terrific jazz fusion synth solo on YouTube. Even though it is probably the polar opposite of anything mandolin, we thought it would be great to not only post the performance, but an amazing attempt at transcription. Not that we'd expect you to, but you can even download the PDF here.
Enjoy!
Video Link:
Snarky Puppy - Lingus // CORY HENRY SOLO


Purchase whole album on iTunes: We Like it Here; Snarky Puppy
Founded in Texas but currently based in Brooklyn, Snarky Puppy are a jazz fusion ensemble whose rotating cast numbers nearly 40 musicians. They first came together in 2004 and are led by bassist/producer Michael League. Over the past decade they've released nine albums, including Live at Uncommon Ground, The World Is Getting Smaller, and Family Dinner Volume 1. They've worked with the labels Sitmom and Ropeadope Records, toured the world extensively, held classes and clinics in several different countries, collaborated with superstars like Snoop Dogg and Justin Timberlake, and in 2014 won their first GRAMMY® Award. On We Like It Here, the group continue to impress, mixing Miles-ish horns with exotic guitars on "Shofukan," channeling Weather Report on the frenetic "What About Me?," and invoking '80s-era Herbie Hancock on the synth-driven "Outlier." Recorded live over four nights in the Netherlands, this is a perfect blend of technical chops and free-flowing funk, ideal for both serious and casual fans of modern jazz music.
Posted by Ted at 6:40 AM

May 9, 2015 | Cherry Cola-burst Clark JM5
We always enjoy checking on the latest from Boise Idaho builder Austin Clark on his builder Facebook page. He just now posted a dazzling shot of a new 2015 JM5 5-string in progress, a model that not only we did we help him pioneer, but the instrument gets the highest playing rotation of any of the instruments in our arsenal.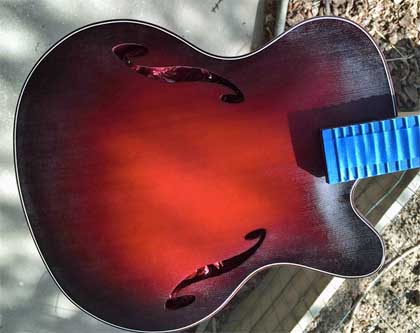 Whether it's the official color name, we've always called this fabulous color, Cherry Cola-burst, and will continue to do so. We even have a tenor guitar scheduled for next fall that will be finished in this color.
Check the other samples of his craft on his website or the photos on his Facebook Page.

Posted by Ted at 6:58 PM

May 6, 2015 | Just when you thought it safe to go back into the water. Shark Mandolin!
Thanks to our friends at Mandolin Cafe for bringing this to our attention. From Germany, Frank-Michael Weber Guitar's electric mandolin, the "Mando-Sharc." He has fashioned this intriguing design with stereo outs (much like the Phoenix Jazz) with active humbucker and a passive Shadow bridge piezo pickup.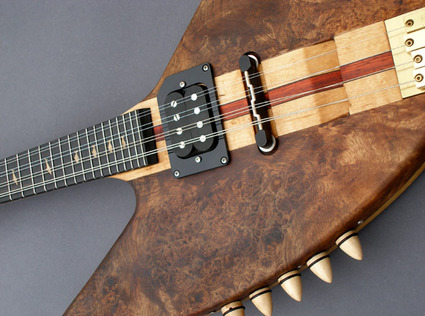 Description: "Our new Mando-Sharc mandolin can be delivered with an acrylic body soon. The body of this first model however is made of Padouk with a selected japanese walnut top. The through-neck of maple and padouk has a 350 mm scale, the ebony fretboard has 23 frets and Shark inlays. 8 standard strings are fixed at the headplate and the ballends fit into the tuners being organised into a lower and an upper section. 4 strings run through the body to reach the lower tuner section."
Dial into the website for more specs and sound files: FMW Guitars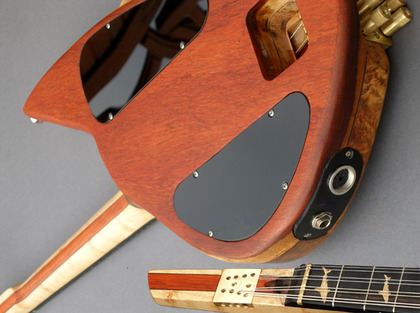 Posted by Ted at 9:13 PM

May 4, 2015 | Stage Banter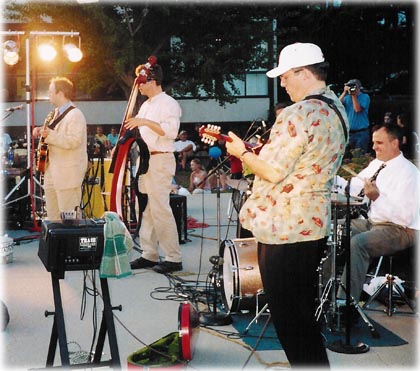 Don Stiernberg Quartet, June 2003
One of our favorite online discussions about performing was started by our friend (and fellow Mandolin Cafe Moderator) Mike Edgerton who posed the question about what fellow mandolinists use for stage banter; that fill-in-the-blank dialogue that happens between numbers while band members tune, swap out instruments, or just take a breath. There are currently five pages of chat, many of these contributions from participants are quite clever!
Here are some we plan to steal:

I'd like to play a medley of my hit.
Most people don't know it but we're famous...
We had a request from the audience...but we're going to keep playing anyway.
This next tune is a waltz. I love waltzes. At one point, I got so addicted to playing waltzes I had to go into a three-step program.
Tip your waitress on the way out. Preferably to the left.
We don't know that one, but this one has a lot of the same notes.
We learned this next tune off our CD.
We didn't get into bluegrass music to get rich, and so far that's working out just fine.
No matter how many shows I do I am always nervous when I get ready to do my first number. As a result I always mess up my first number. Over the years I have figured out a way to get around that. That is I open with my second number (Jethro Burns, of course).
This here's a Bouzouki, unless you're in an airport, then it's an octave mandolin.
Have you ever heard of [insert author's name)? No? Well, then this next song is one of mine.

Read full discussion: Favorite Stage Banter
Posted by Ted at 8:43 PM

May 1, 2015 | Tenor fretboard Apple Watch band.

There are lots of options out there to get imprint accessories designs that are custom imprinted from artwork. Our latest "toy" was a watch band for the new Apple Watch based on the fretboard of a Martin O18T tenor guitar. Casetify is the company we used to order this recently.
We've done similar projects with cellphone cases, too.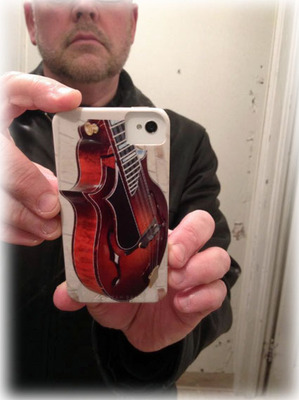 These are always great conversation starters.

Posted by Ted at 7:44 AM