« Tenor fretboard Apple Watch band. | Main | Just when you thought it safe to go back into the water. Shark Mandolin! »

May 4, 2015 | Stage Banter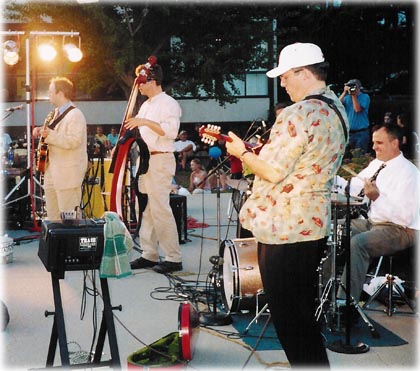 Don Stiernberg Quartet, June 2003
One of our favorite online discussions about performing was started by our friend (and fellow Mandolin Cafe Moderator) Mike Edgerton who posed the question about what fellow mandolinists use for stage banter; that fill-in-the-blank dialogue that happens between numbers while band members tune, swap out instruments, or just take a breath. There are currently five pages of chat, many of these contributions from participants are quite clever!
Here are some we plan to steal:

I'd like to play a medley of my hit.
Most people don't know it but we're famous...
We had a request from the audience...but we're going to keep playing anyway.
This next tune is a waltz. I love waltzes. At one point, I got so addicted to playing waltzes I had to go into a three-step program.
Tip your waitress on the way out. Preferably to the left.
We don't know that one, but this one has a lot of the same notes.
We learned this next tune off our CD.
We didn't get into bluegrass music to get rich, and so far that's working out just fine.
No matter how many shows I do I am always nervous when I get ready to do my first number. As a result I always mess up my first number. Over the years I have figured out a way to get around that. That is I open with my second number (Jethro Burns, of course).
This here's a Bouzouki, unless you're in an airport, then it's an octave mandolin.
Have you ever heard of [insert author's name)? No? Well, then this next song is one of mine.

Read full discussion: Favorite Stage Banter
Posted by Ted at May 4, 2015 8:43 PM