« Just when you thought it safe to go back into the water. Shark Mandolin! | Main | And you thought Bluegrass was hard to transcribe »

May 9, 2015 | Cherry Cola-burst Clark JM5
We always enjoy checking on the latest from Boise Idaho builder Austin Clark on his builder Facebook page. He just now posted a dazzling shot of a new 2015 JM5 5-string in progress, a model that not only we did we help him pioneer, but the instrument gets the highest playing rotation of any of the instruments in our arsenal.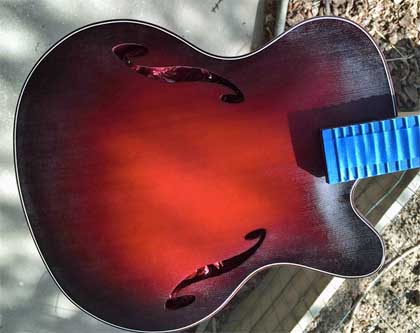 Whether it's the official color name, we've always called this fabulous color, Cherry Cola-burst, and will continue to do so. We even have a tenor guitar scheduled for next fall that will be finished in this color.
Check the other samples of his craft on his website or the photos on his Facebook Page.

Posted by Ted at May 9, 2015 6:58 PM