« Cherry Cola-burst Clark JM5 | Main | Sorensen "FX Blade" mandolin »

May 11, 2015 | And you thought Bluegrass was hard to transcribe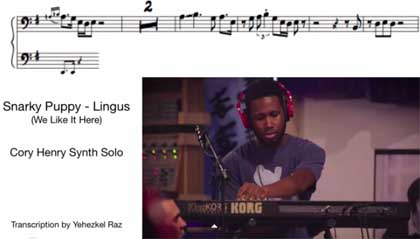 We stumbled across a terrific jazz fusion synth solo on YouTube. Even though it is probably the polar opposite of anything mandolin, we thought it would be great to not only post the performance, but an amazing attempt at transcription. Not that we'd expect you to, but you can even download the PDF here.
Enjoy!
Video Link:
Snarky Puppy - Lingus // CORY HENRY SOLO


Purchase whole album on iTunes: We Like it Here; Snarky Puppy
Founded in Texas but currently based in Brooklyn, Snarky Puppy are a jazz fusion ensemble whose rotating cast numbers nearly 40 musicians. They first came together in 2004 and are led by bassist/producer Michael League. Over the past decade they've released nine albums, including Live at Uncommon Ground, The World Is Getting Smaller, and Family Dinner Volume 1. They've worked with the labels Sitmom and Ropeadope Records, toured the world extensively, held classes and clinics in several different countries, collaborated with superstars like Snoop Dogg and Justin Timberlake, and in 2014 won their first GRAMMY® Award. On We Like It Here, the group continue to impress, mixing Miles-ish horns with exotic guitars on "Shofukan," channeling Weather Report on the frenetic "What About Me?," and invoking '80s-era Herbie Hancock on the synth-driven "Outlier." Recorded live over four nights in the Netherlands, this is a perfect blend of technical chops and free-flowing funk, ideal for both serious and casual fans of modern jazz music.
Posted by Ted at May 11, 2015 6:40 AM