« March 2015 | Main | May 2015 »

April 29, 2015 | Yogi Berra explains jazz

Interviewer: Can you explain jazz?
Yogi: I can't, but I will. 90% of all jazz is half improvisation. The other half is the part people play while others are playing something they never played with anyone who played that part. So if you play the wrong part, it's right. If you play the right part, it might be right if you play it wrong enough. But if you play it too right, it's wrong.
Interviewer: I don't understand.
Yogi: Anyone who understands jazz knows that you can't understand it. It's too complicated. That's what's so simple about it.
Interviewer: Do you understand it?
Yogi: No. That's why I can explain it. If I understood it, I wouldn't know anything about it.
Interviewer: Are there any great jazz players alive today?
Yogi: No. All the great jazz players alive today are dead. Except for the ones that are still alive. But so many of them are dead, that the ones that are still alive are dying to be like the ones that are dead. Some would kill for it.
Interviewer: What is syncopation?
Yogi: That's when the note that you should hear now happens either before or after you hear it. In jazz, you don't hear notes when they happen because that would be some other type of music. Other types of music can be jazz, but only if they're the same as something different from those other kinds.
Interviewer: Now I really don't understand.
Yogi: I haven't taught you enough for you to not understand jazz that well.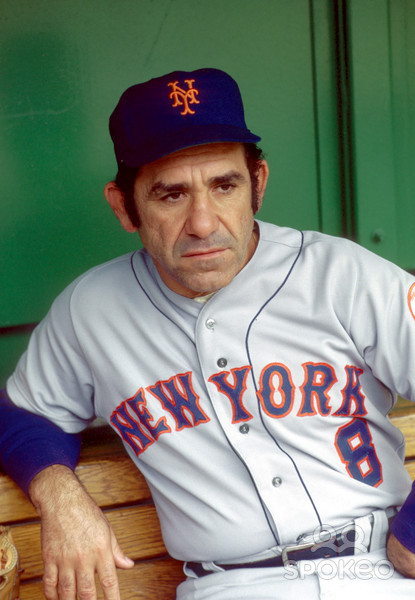 Baseball Poet, Yogi Berra. 1972
Posted by Ted at 8:44 PM

April 27, 2015 | New review: Marty Jacobson
Introducing Smyrna Georgia builder, Martin Jacobson. We first encountered his work about a year ago when reporting on Alan O.W. Barne's recording, "The Wesley Project" who featured one of the craftsman's instruments. Since then, we've had subsequent conversations with Marty regarding jazz voicing for mandolins, and other of his future design ideas. Now, given the unique privilege of a hands-on evaluation of one of his designs recently, his Nautilus jazz-voiced prototype mandolin, we bring you a more detailed perspective of his craft in our latest addition to our Builders of the 21st Century.
Read review: Jacobson "Nautilus" A-body Mandolin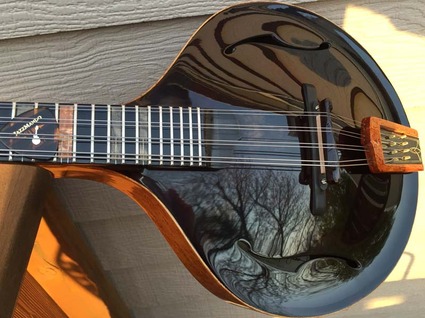 "Though relatively early in his career, Marty is already well known for his cosmetics and design departures, and this instrument is a brilliant example of his creative imagination."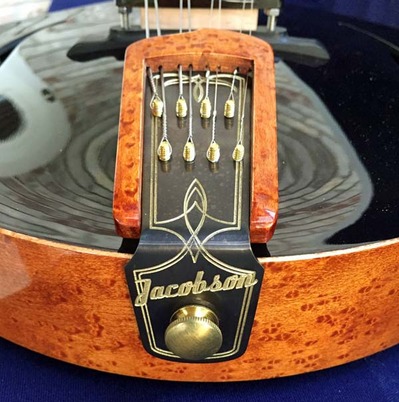 Posted by Ted at 5:10 AM

April 24, 2015 | Tom Bekeny at the Festival of the Mandolins
We mentioned the release of west coast musician Tom Bekeny, "Jazzolin" nearly two years ago. If you are anywhere near the bay area and are planning to attend the Festival of the Mandolins in San Francisco this weekend, but sure to catch Tom and his Missing Man Quartet, Sunday April 26th.
The quartet will be playing straight ahead jazz and will be joined by drummer Aaron Hipschman. The stage is set with many other great mando-centric acts at the festival like Ashley Broder, the Aurora Mandolin Orchestra and Paul Kotapish.
The concert starts at 1:00 pm. Tom will also be leading a workshop at 12:00 pm that addresses some of the differences in improvising in a traditional Bluegrass style vs Jazz.
More information.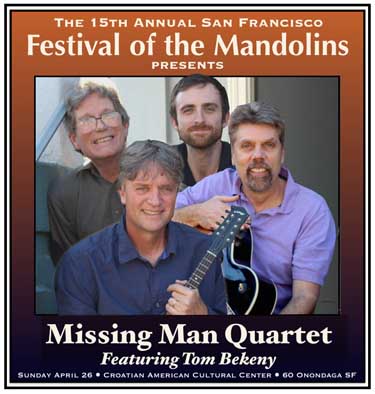 Purchase Jazzolin :
Amazon
CD Baby
iTunes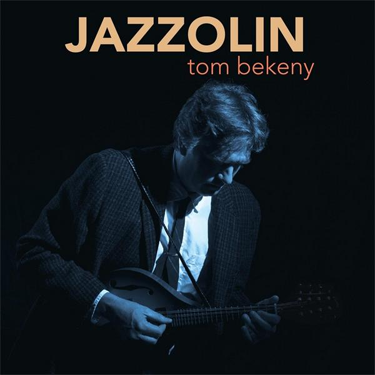 Posted by Ted at 5:10 AM

April 22, 2015 | A Mandolin Player's Guide to Jamming; Carl Yaffey
New to Mel Bay, "A Mandolin Player's Guide to Jamming." Crafted by multi-instrumentalist and Columbus musician, Carl Yaffrey, the book would be a perfect bridge for the completely novice mandolinist into a confident participation in a bluegrass jam.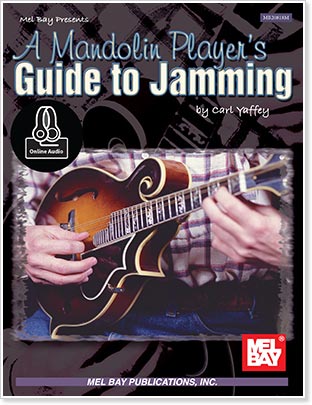 There's more to just learning the tunes. Things like how to take your turn, what to do and (more importantly) not do, and what you need for the basics of some basic familiar songs. It's also less intimidating taking your initial turns in a private practice session with accompaniment prior to that first step. Understand, this is not an encyclopedia, just a first step, the equivalent of training wheels to lean to bike or floaties to get over the fear of water in learning to swim.
Jazz jams can be even more intimidating simply because of the complexity of the chord vocabulary, but many of the rules of etiquette and communication are identical. If you are completely new to mandolin, this would be a good first step.
Accompanying audio download is available online at Mel Bay.
Contents:
About the Author
About the CD
Acknowledgements
Anatomy of a Jam Session
Appendix 1 - Playing and Practicing Chords
Appendix 2 - Some Typical Guitar Chords
Appendix 3 - Resources
Appendix 4 - Some Rules for Jamming
Appendix 5 - CD Tunes
Chords and Keys for Jamming
Jamming Etiquette
Participating in a Jam Session
Preface
The Right Hand
Purchase information: eBook | Amazon

Posted by Ted at 7:56 AM

April 19, 2015 | J.L. Smith (5-String) Gold Emando. Ready To Go
It's been six years since we connected with Florida transplant (formerly South Carolina), John Smith and his signature Telecaster body emandos. We've had a sea foam green 5-string that continues to reign around the JazzMando studio.
From our April 2009 Review: "Immediate reaction first: substantially heavy in physical weight to the shoulders, the instrument feels solid and offers the confidence of a veteran player's 'orkhorse' axe. This mass contributes to its high-octane sustain; tone can kick with the signature swamp-ash Telecaster "quack," although this body is a dense Alder wood. Spartan tone control choice and EMG pickup combination offer a no-fuss access to rich but penetrating sound. This is the most 'plug and play' electric we've experienced; some instruments need perpetual tone tweaking, knob twiddling, but the JL Smith dials right in to where you want to be, a ready choice between the aforementioned country spank and contrasting jazz fluid. A slight variation in treble yields this; any more knobs or additional pickups would needlessly detour you off the path to the ax's true sonic strengths."

The builder currently has a lovely gold 5-string in the Mandolin Cafe Classifieds. Contact John about a special price.
View Ad: J.L. Smith (5-String) Emando.: Ready To Go
Retro satin gold finish, Kent Armstromg mini-humbucker pickup, maple neck, rosewood fingerboard, Jerman bridge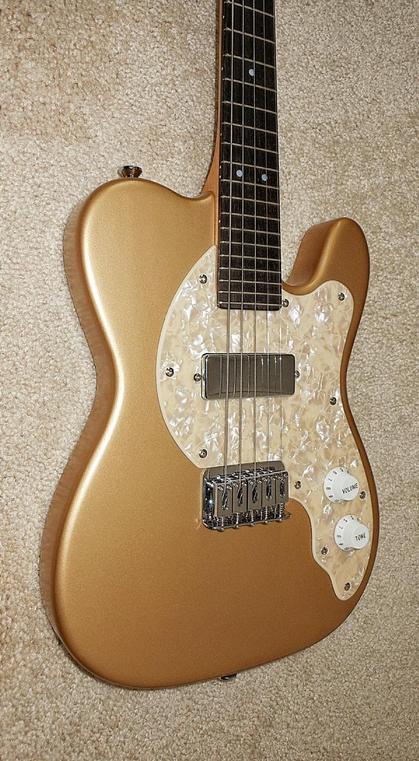 Posted by Ted at 11:36 AM

April 15, 2015 | Lucciano Pizzichini - Blues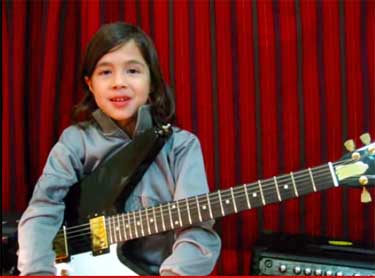 When you're 9 years old and learning guitar, just getting the four chords for "Louie Louie" is enough of a challenge. Then there's 9 year-old Argentinian prodigy, Lucciano Pizzichini (now 15).
If you thought going beyond the standard three chords of an elementary 12 bar blues is demanding, prepare to be discouraged. But impressed.
Video Link: Lucciano Pizzichini - Blues

He's a Gibson Guitar artist. Hope by now he has an L-5.
View Facebook Page.
Posted by Ted at 4:45 PM

April 14, 2015 | Free Arpeggio PDFs!
In case you missed it last week, we reprised our two 7th Chord Arpeggios exercise, Major and Minor. You don't want your improvisation to sound like your practicing scales or arpeggios, but we believe you need to have these patterns in your fingers as starting points.
Express the harmonic vocabulary of the song melodically. Knowing these is the best way to do that!
Read article (includes two free PDF exercises!): Major 7th & Minor 7th Arpeggios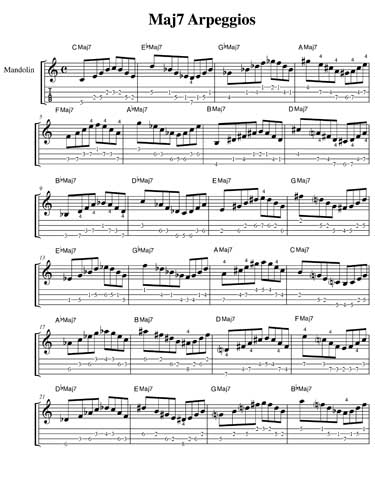 Posted by Ted at 4:59 PM

April 11, 2015 | Metallica Banjo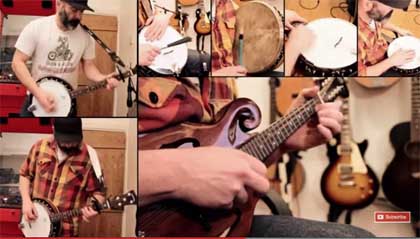 The cross section of metal fans and folk music enthusiasts is narrow indeed, but we still think many will find the following clever interpretation of the Metallica "Enter Sandman" from YouTube phenom, Banjo Guy Ollie titillating.
Fair warning: Video includes intensive use of banjo.
Video Link: Metallica "Enter Sandman"

Compare original Version: Metallica "Enter Sandman"(Official)
More Banjo Guy Ollie.
Posted by Ted at 7:36 AM

April 8, 2015 | Introducing Marty Jacobson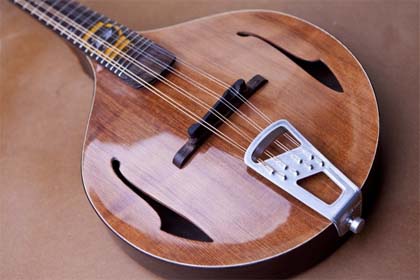 Jacobson #27
Smyrna Georgia builder Marty Jacobson came under our radar about a year ago when reporting on "The Wesley Prjoect" the work of Art and Animation professor, Alan O.W. Barnes of Atlanta. Since then, we've kicked around some ideas for new instrument designs, something Marty appears to have a wealth of.
For a real treat, check out some of the innovative mandolins on the Jacobson Fine Handmade Acoustic Instruments website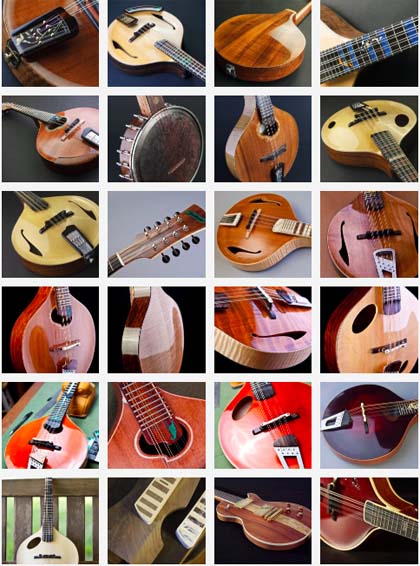 .
We are excited for the opportunity to review one of his latest creations and look forward to bringing you a hands-on look in the next couple weeks.
Stay tuned.
Posted by Ted at 7:01 AM

April 6, 2015 | New from Fernwood; Arcadia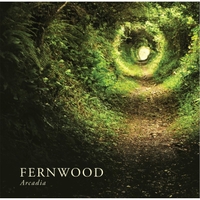 To satisfy your acoustic music craving, look no farther than the body of audio out of the Malibu, California studio of Gayle Ellet and Todd Montgomery, AKA Fernwood. We reviewed their first album Almeria almost seven years ago, captivated by their fresh "soundscape" music. All the recordings are literally "made by hand," none of the auto-tune, electronically sterile music of today's talent-challenged pop music scene. Delightfully refreshing.
They've since produced a follow up CD, Sangita (2009) and for 2015 their latest, Arcadia, an instrumental music narrative that aesthetically yearns in "an endless search for an unspoiled wilderness of great beauty, a utopian paradise." It's a sonic palette of folk and ethnic instruments expertly layered and produced. From their website: they combine "modern and classical music concepts, with the traditional sounds of Greek & Irish bouzouki, sitar, dilruba, quirquincho, Chinese ruan, Turkish cumbus, Moroccan oud, harmonium, gimbri, rababa, bulbul tarang, jal tarang, dotara, surmandal, tambura, manjira, tumbi, bugchu, gopichand, violin, mandolin, acoustic guitar, baritone guitar, tenor banjo, tenor ukulele, bells & chimes, acoustic piano, rhodes piano, upright bass, field recordings and other sounds.
YouTube Link: FERNWOOD - Vision at Vasquez Rocks

Purchase Information: Amazon | iTunes | CDbaby
Artist Website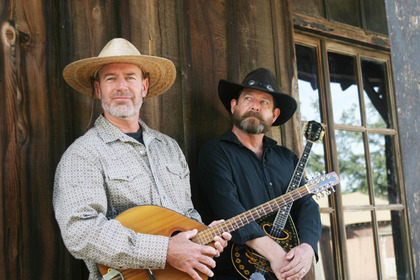 Posted by Ted at 8:31 PM

April 3, 2015 | D'Addario PW-CT-10 Headstock Tuner Reboot.
Our favorite mandolin tuner remains the D'Addario NS Micro PW-CT-12 clip-on headstock tuner. It's stealth form and adjustable display makes it ideal for discreet tuning behind the back of the headstock, but for bigger instruments like mandocello or tenor guitar, the newly released and larger PW-CT-10 is a great solution. The display is larger and less challenging on the eyes for the bifocal crowd.
This is a new incarnation of the original five year-old version, and packed with vast improvements and advances in technology. It sets up quickly and is highly responsive.
The tuner features a flip-up display that automatically powers the tuner on when opened and off when closed. The 360 degree rotatable display allows for use on right-handed and left-handed instruments and can be moved to optimum viewing position in use, and closed position for storage in the case. We leave it on the instrument at all times.
The $29.99 MAP pricing is a bit ambitious compared to other tuners on the market, but considering its features and benefits, the PW-CT-10 is still a good investment.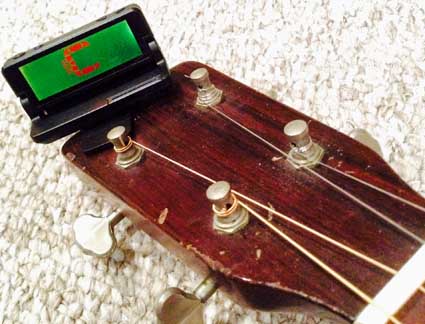 PW-CT-10 Tuner on the headstock of a '62 Martin Tenor Guitar
Features:
Reversible, multi-color display
Flip-up display powers on when opened and down when off
360 degree rotation
Wide calibration range 410 - 480Hz
Tunes acoustic and electric guitars, basses, mandolins, banjos and other stringed instruments
Tuner comes complete with a CR2032 battery
Video Link: D'Addario Clip-On Headstock Tuner Demo

Posted by Ted at 6:11 AM

April 1, 2015 | Dom 7th Chord Stream cards
We've found an economical means of sending our 4 pack picks flat envelope rate by adhering them to postcards. The cards themselves cost about as much as the postage savings, so it's a great way to get some of our materials to you in a pick order.
For a limited time, when you order a 4- or 10-pack of JazzMando Proplecs or Signature V-picks, we'll include our Dominant 7th Chord Streams card. Play these up the neck and transpose to any key and you can supercharge your blues playing beyond belief.
Read up on 7th Chord Streams up and down the fretboard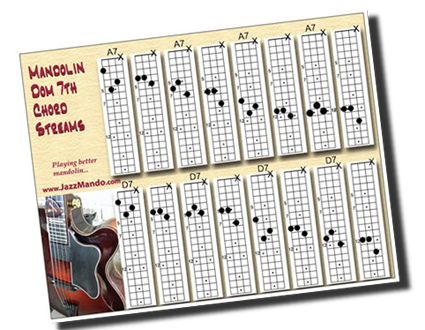 5-1/2" x 4-1/2"
Posted by Ted at 9:07 AM