« J.L. Smith (5-String) Gold Emando. Ready To Go | Main | Tom Bekeny at the Festival of the Mandolins »

April 22, 2015 | A Mandolin Player's Guide to Jamming; Carl Yaffey
New to Mel Bay, "A Mandolin Player's Guide to Jamming." Crafted by multi-instrumentalist and Columbus musician, Carl Yaffrey, the book would be a perfect bridge for the completely novice mandolinist into a confident participation in a bluegrass jam.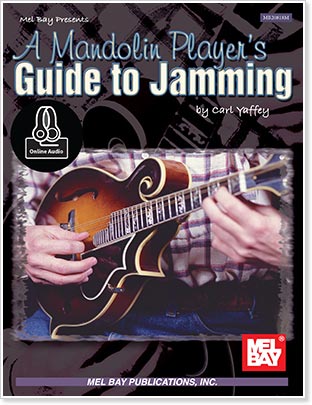 There's more to just learning the tunes. Things like how to take your turn, what to do and (more importantly) not do, and what you need for the basics of some basic familiar songs. It's also less intimidating taking your initial turns in a private practice session with accompaniment prior to that first step. Understand, this is not an encyclopedia, just a first step, the equivalent of training wheels to lean to bike or floaties to get over the fear of water in learning to swim.
Jazz jams can be even more intimidating simply because of the complexity of the chord vocabulary, but many of the rules of etiquette and communication are identical. If you are completely new to mandolin, this would be a good first step.
Accompanying audio download is available online at Mel Bay.
Contents:
About the Author
About the CD
Acknowledgements
Anatomy of a Jam Session
Appendix 1 - Playing and Practicing Chords
Appendix 2 - Some Typical Guitar Chords
Appendix 3 - Resources
Appendix 4 - Some Rules for Jamming
Appendix 5 - CD Tunes
Chords and Keys for Jamming
Jamming Etiquette
Participating in a Jam Session
Preface
The Right Hand
Purchase information: eBook | Amazon

Posted by Ted at April 22, 2015 7:56 AM