« Lucciano Pizzichini - Blues | Main | A Mandolin Player's Guide to Jamming; Carl Yaffey »

April 19, 2015 | J.L. Smith (5-String) Gold Emando. Ready To Go
It's been six years since we connected with Florida transplant (formerly South Carolina), John Smith and his signature Telecaster body emandos. We've had a sea foam green 5-string that continues to reign around the JazzMando studio.
From our April 2009 Review: "Immediate reaction first: substantially heavy in physical weight to the shoulders, the instrument feels solid and offers the confidence of a veteran player's 'orkhorse' axe. This mass contributes to its high-octane sustain; tone can kick with the signature swamp-ash Telecaster "quack," although this body is a dense Alder wood. Spartan tone control choice and EMG pickup combination offer a no-fuss access to rich but penetrating sound. This is the most 'plug and play' electric we've experienced; some instruments need perpetual tone tweaking, knob twiddling, but the JL Smith dials right in to where you want to be, a ready choice between the aforementioned country spank and contrasting jazz fluid. A slight variation in treble yields this; any more knobs or additional pickups would needlessly detour you off the path to the ax's true sonic strengths."

The builder currently has a lovely gold 5-string in the Mandolin Cafe Classifieds. Contact John about a special price.
View Ad: J.L. Smith (5-String) Emando.: Ready To Go
Retro satin gold finish, Kent Armstromg mini-humbucker pickup, maple neck, rosewood fingerboard, Jerman bridge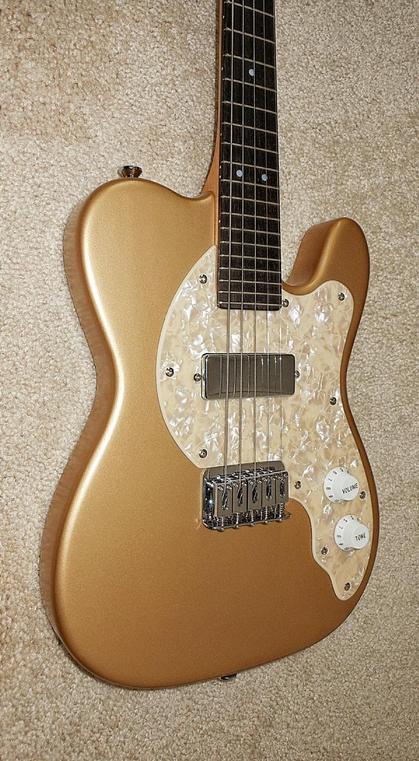 Posted by Ted at April 19, 2015 11:36 AM