« Dom 7th Chord Stream cards | Main | New from Fernwood; Arcadia »

April 3, 2015 | D'Addario PW-CT-10 Headstock Tuner Reboot.
Our favorite mandolin tuner remains the D'Addario NS Micro PW-CT-12 clip-on headstock tuner. It's stealth form and adjustable display makes it ideal for discreet tuning behind the back of the headstock, but for bigger instruments like mandocello or tenor guitar, the newly released and larger PW-CT-10 is a great solution. The display is larger and less challenging on the eyes for the bifocal crowd.
This is a new incarnation of the original five year-old version, and packed with vast improvements and advances in technology. It sets up quickly and is highly responsive.
The tuner features a flip-up display that automatically powers the tuner on when opened and off when closed. The 360 degree rotatable display allows for use on right-handed and left-handed instruments and can be moved to optimum viewing position in use, and closed position for storage in the case. We leave it on the instrument at all times.
The $29.99 MAP pricing is a bit ambitious compared to other tuners on the market, but considering its features and benefits, the PW-CT-10 is still a good investment.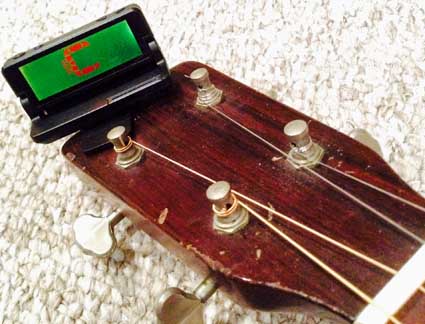 PW-CT-10 Tuner on the headstock of a '62 Martin Tenor Guitar
Features:
Reversible, multi-color display
Flip-up display powers on when opened and down when off
360 degree rotation
Wide calibration range 410 - 480Hz
Tunes acoustic and electric guitars, basses, mandolins, banjos and other stringed instruments
Tuner comes complete with a CR2032 battery
Video Link: D'Addario Clip-On Headstock Tuner Demo

Posted by Ted at April 3, 2015 6:11 AM