« Remembering the Royale | Main | March 10. Happy Birthday, Jethro Burns »

March 9, 2015 | 1962 Martin O-18T Tenor Guitar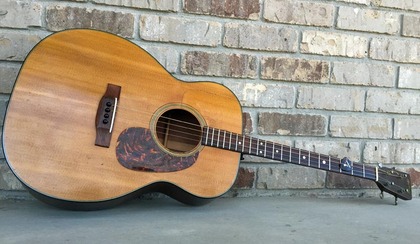 We were bitten by the tenor guitar bug last fall when we reviewed a Kala KGTR last fall. The instrument's shorter (21+) scale and low price point made it the perfect gateway drug into this wonderful 5ths tuned 4-string world. It was inevitable we search for something a little higher end, and the acquisition of a well-loved (but well-used) 1962 Martin O-18T tenor gave us a whole new audio tool chest in warm, vintage Martin tone.
The instrument was in need of a neck reset to get the string height down (pre-truss rod) to better playing comfort, but it was a smart investment. This guitar really sings with rich, linear sustain for melody and robustly supportive comping tone. Truly the best of both worlds, the only thing we'd like different is a little shorter finger stretching span than its 23" scale.
The work-around has been to reside up the neck more in the smaller frets. The FFcP training is perfect for this, and first finger usually hovers over the 5th-7th fret and everything higher allows the exploitation of full fretboard real estate.
Side note to you tenor guitar builders. 10th fret dot, not 9th! This is important! It's the way it must be done. (Ahem, Kala...)
If you watch eBay, you can generally see a Martin tenor available, usually in the $1500-2500 range depending on age and condition. It is a bit of a crap shoot, and we were fortunate enough to purchase this 53 year-old gem through the Mandolin Cafe Classifieds and a reputable seller (Thanks, Dwayne!). Despite some cosmetic dings and the investment in the neck reset, this was an incredible catch.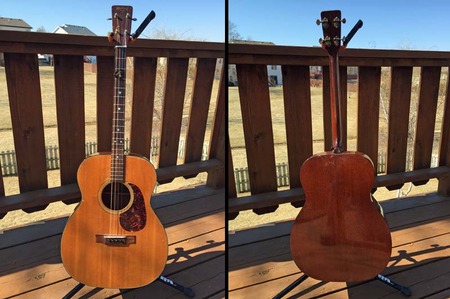 Our next step is a custom build, and we've already put a deposit on one from Boise, Idaho builder fave, Austin Clark who is in the process of developing his own line of tenors. We'll keep you posted.
Posted by Ted at March 9, 2015 4:49 AM