« Rolling up the neck with 7th chords | Main | 1962 Martin O-18T Tenor Guitar »

March 6, 2015 | Remembering the Royale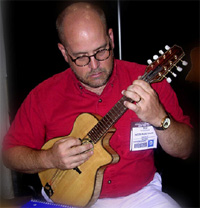 It was January of 2006 when we had our first private introduction to a prototype guitar-body 8-string mandolin through industry consultant and instrument entrepreneur Gordon Roberts, the Draleon Royale, built by Century Strings. The distributor of quality orchestral string instruments and an intriquing mid-price gypsy guitar really wowed us with the Maccaferri-inspired design at an impressively low mid $1K price point.
Both were available in a natural blonde and sunburst finishes.
We acquired one of our own, and later made some modifications in it, including a refret (larger frets) and fingerboard radius, as well a custom pickguard. We were sad to see production come to an end a few years ago, but hoping to see these resurrected someday. Perhaps a 5-string or mandola could be a possibility, too.
We can dream.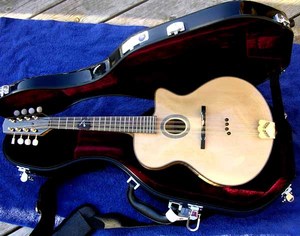 Read review: Draleon Royale; Century Strings
Posted by Ted at March 6, 2015 9:00 PM