Draleon Royale
Century Strings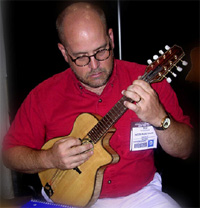 Let's just cut to the chase on this instrument. We love the Draleon Royale Gypsy Mandolin. The brilliant wood flaming, rosewood encircled contour and gypsy silhouette, the aesthetic and design panache, even before strapping it on, we knew it was predestined to be a JazzMando favorite. From first blush, the initial encounter at a sneak prototype preview months before these hit the street, we expected many great things.

---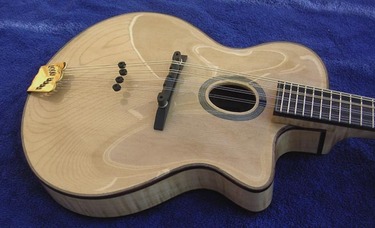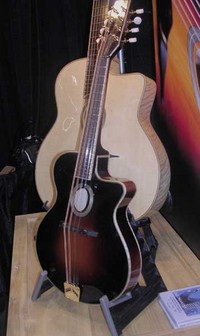 A little history: the brain-child of former Eastman mandolin/guitar developer Gordon Roberts, who enamored by the beautiful music wrought by the Gypsy Jazz guitars of Macaferri and Selmer, sought to introduce to the world an affordable instrument inspired by the same and utilizing the best wood craftsmanship of China with the assistance of business partner and company president, Alex Fan. Import instruments from this part of the globe have continued to get scary-good the past decade, and these two knew where to enlist the services of the China's best. The sophisticated world of jazz-box guitars and similar niche instruments have been well-served since the 90's as Chinese builders have embraced, tweaked, and produced these instruments with increasingly stellar results (think Ibanez Artcore guitars). Strategically, violin-centered import powerhouse Century Strings had already garnered some amazing local building talent; with Gordon's diligence, development did not stop with the guitar, mercifully spilling into this marvelous, well-thought 8-string mandolin.
We'd be remiss in not acknowledging early inspiration out of the work of world-class designer and cutting-edge builder Michael Lewis, as well. Coincidentally, shortly before the time Lewis' "D'jango" was a brief but significant part of the JazzMando research laboratory (see review), Gordon had brief lap time with this amazing instrument, and was inspired to see similar instruments introduced within a midlevel price range. Understand, this is nowhere near the premium caliber of a Lewis, nor is it in the $6K+ price range, either. Still, there are many features to be explored in the review that make the instrument a contender for a mandolinist at any level seeking acoustic jazz bliss.
Paris Swing introduced a gypsy jazz mandolin in the 2005 Summer NAMM (read review), about the same time the Royale was in its late prototype stage. Note, this is also a delightfully appealing option as well, but at the very entry end of the price spectrum. For the advanced beginner, or even the professional or apt hobbyist, a Paris Swing is a legitimate auxiliary instrument. However, this is where the Royale breaks off. At a higher price, it also wields much more sound potential and playability for one willing to make a more serious investment in equipment in the affordable mid $1K midrange price.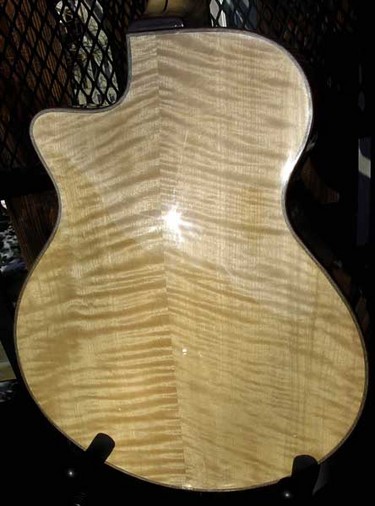 Click pictures for close up
On the instrument reviewed, this particular ensemble of solid woods, seriously-flamed maple, spruce, and rosewood is stunning visually, but the half-dozen plus we've seen were equally cosmetically appealing. Though the bulk of these blonde with rosewood trim, Century Strings displayed some amazingly handsome dark "coffee-burst" mandolins with rosewood binding in the 2007 Winter NAMM show. Aside from some tweaks of tailpiece upgrades, recently implemented tuner modifications and neck joint process, the Royale came off the drawing board in prime shape. This model includes a three piece neck, with a beautiful intersecting strip of rosewood complimenting the silhouette of rosewood body and neck binding. The headstock is beautifully understated and unassuming rosewood fretboard austere yet quite chic. We would have liked a radius on the fingerboard, but the thicker back of the neck still makes for a Rigel-like comfortable playing. The nitrocellulose lacquer finish is hand applied and rubbed.
A simple rosette (not sure if it's a decal or inlay, but it's convincing enough) surrounds an elegant Petite Bouche oval hole in the rich tradition of European Gypsy Jazz instruments. The violin-ish compound arching of the carved top makes for a fascinating look and indeed, significant impact on its overall sound and healthy projection. The back is wonderfully resonant, so much so that care must be made to not dampen it; prime candidate for one of Tony Pires' Tone-gards, or if nothing else angling the instrument forward from the parallel line of the player.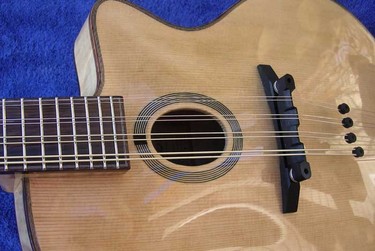 Obviously, the Royale is not a choppy or percussive Bluegrass instrument, but that's not to say it can't project. Full-bodied volume is easy to extract in practice and performance. The extremes of subtle pianissimo and string-spanking strident are effectively accessible and user-intuitive. It's very much a joy to play, dynamically versatile to pick and fingers.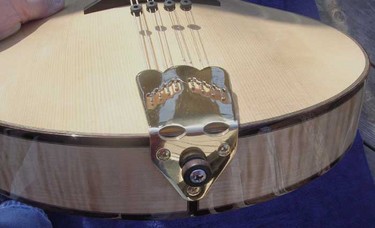 Risking blatant self-promotion, it's a poorly kept secret these instruments seem to sound best with flatwound strings. Call us biased, but staff is almost unanimous in that the JazzMando JM11 flatwound strings lend a round richness phosphor bronze could hardly lend the Royale. Plus, they are exponentially more comfortable to play on this instrument.
The case is uniquely next-generation. An inarguable resemblance to an Eastman fiberglass case, its four-latch security goes the next step in sealing the instrument from the rigors of environment. A backpack strap is also available for convenient travel.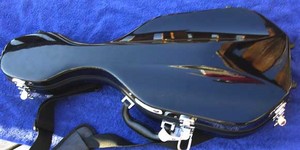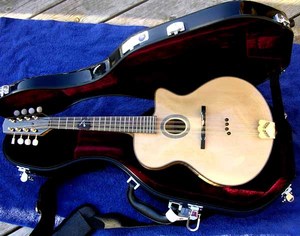 Nits
There are a few minor changes we would suggest, although tempered with overall market tastes these recommendations may very well be more personal than mainstream. The fingerboard is flat, and the demands of the closed-position playing of jazz and classical might fare better with a radiused fretboard. Thicker frets would also help, though there is nothing inadequate about the current ones.
We like the Spartan look of the headstock, but a small logo or engraving on the truss rod cover might be a dynamic identifier. Again, this is personal taste. A pickguard, also and individual preference, would be a more functional enhancement, but nothing says a player can't have one customized as an after-market addition.
The tuners on the instrument are adequate, but the black upgraded ones scheduled for future production will be a cosmetic enhancement, and offer better long-term endurance. The tailpiece and bridge are also passable, but if a player wanted something more professional, the instrument is most definitely worthy of investing in these personal upgrades. Concern in the development of the Draleon has been price point, and we understand keeping the tag attractive.
Think about it; at this price point, one could add the above upgrades to taste and still have invested well under $2000. The instrument makes high scores as a truly reasonably priced professional instrument alternative. It will be exciting to see what the future will bring the Draleon series; we expect many great things!
Website: Century Strings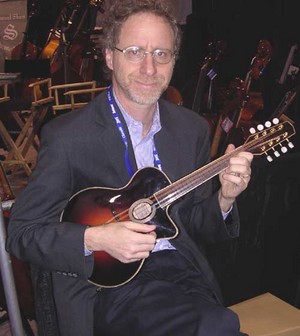 Friend, jazz mentor, and honorary JazzMando Research Assistant, Michael Lampert enjoying a Sunburst Royale at the Century Strings booth at 2007 Winter NAMM.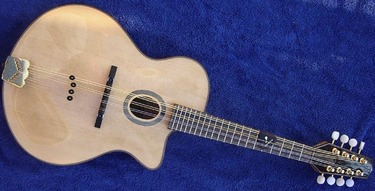 ---

Download pictures of the Royale and other fabulous eye candy in our Wallpaper page: JazzMando Wallpaper