Spotlight: Almeria
New from Fernwood,
Almeria.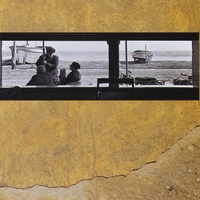 The bowed-string family of instruments has yielded several hundred years of rich textural notoriety, from simple string quartet accompaniments, to orchestral scores, to today's big-screen cinematic media ambiance. In contemporary music culture, we immediately think of the string "pad," an underlying atmospheric sonic palate generated by a violin section, deepened by the additional timbre of cellos and basses, even the last quarter century of synthesizer technology has embraced and imitated the sound, granted somewhat artificially.
What few arranger/composers have done is embraced the bonus subtlety of plectrum, the layered articulation of multiple plucked instruments like mandolin or guitar, let alone its more exotic relatives like Bouzouki, Ruan, or Sitar. What the two pioneers of cinematic sound Todd Montgomery and Gayle Ellet offer in their recent release, Almeria is a truly stunning and unique array of soundscapes in a "pan-cultural" approach to composition. Self described as "pastoral and psychedelic," their style blends a traditional American acoustic sound with starkly contrasting elements of global influence, including Irish, Eastern European, Middle Eastern, Indian, and Middle Eastern. It's cowboy, it's jazz, it's Oriental. Despite the extreme diversity, the music of Fernwood is far from confusing, and after listening to the tracks several times, there is a consistently clear, signature compositional identity.
Like the casual beachcomber can hear the sound of the ocean when placing a stray seashell up to the ear, any who listen to this pleasant music can hear their native Southern California (Malibu) geographic setting in their work. It's "no-pressure" art that does not extrovertly "sell," it casually assimilates and charms.
The CD opens with "Sandpiper," major 7th arpeggio cross-picking injecting a reflective, pastoral mood, the opening theme repeated in Rondo form. The extraordinary slide bouzouki lends a linear feel against the rhythmic pulse heard repeatedly throughout the project, and intensely in the subsequent "Open Seas" as the "gallop" of lower strings conveys its title, as if a sailboat were bouncing of the waves at a high, but steady clip.
We are treated to a bittersweet sitar in "Crow," the gentle melancholy harmonic construction woven over a peg-legged 5/4 time. From there, the harmonium is featured in a Balkan "Hungarian Holiday" with what might profess dissimilar voices, a sitar and Rhodes piano, but the duo work it into a convincing textural whole. The haunting melody is consistent and memorable throughout the whole song. The two are expert at crafting fresh, yet recognizable thematic material, and use tremolo effectively as an intense energy builder, especially in the Greek and Irish zouks over the backdrop of rubato arpeggiated plectra and lilting Rhodes piano in "Athenia."
One might consider the music of Fernwood predominantly modal, were it not for their exploitation of continually evolving shifting tonal centers. The Lydian (raised 4th) vocabulary betrays the "Americana" of "Makena" and "Ruidoso." (Having never actually been to Ruidoso, New Mexico, we're not really sure what the geography is like but from the scoring we get a glimpse of "Old West" a playful horsewhip of strings and hoedown humor. We assume it's nestled in some beautiful forested mountains, with lots of fresh clean air.)
It's the slide/plucked Irish bouzouki telling the story in "Crane," and the curious sitar counter point supports and contrasts at the same time, over the backdrop of a punctuating acoustic guitar. "East Window" is yet another songscape with its own intimate story; melancholy major 7th chord progressions snuggled into descending chromatic lines paint a picture of deep and personal introspection. Montgomery and Ellett are undeniably expert at crafting clever texture, the contrast of Rhodes piano and sitar on "Pelican," and the jazzy upright bass texture betrayed by the introduction of tremolo of Chinese ruan on "County Line."
Arguably, the most intimate of all the tracks, this gorgeous lullaby, "Nightingale" moves slowly but deliberately, fingers and plectrum wringing tone out of each note, Chinese ruan over dulcet Rhodes. It's a great way to sensitively end an inexhaustibly varied compilation of textures and timbres.
The whole project is performed flawlessly and multi-tracked by these talented individuals. It's confident and flashy, but never overtly flamboyant.
We look forward to hearing more!
Selections:
1 Sandpiper
2. Open Seas
3. Crow
4. Hungarian Holiday
5. Athenia
6. Makena
7. Ruidoso
8. Crane
9. East Window
10. Pelican
11. County Line
12. Nightingale
Purchase: Almeria
MySpace Page: Fernwood
Artist Website


Check out other new release artist recordings