Jacobson
Nautilus A-body Mandolin
Smyrna Georgia builder Marty Jacobson came under our radar about a year ago when reporting on "The Wesley Project" the work of Art and Animation professor, Alan O.W. Barnes of Atlanta. Since then, we've been given the privilege of hands-on evaluation of one of his designs, his Nautilus jazz-voiced prototype mandolin.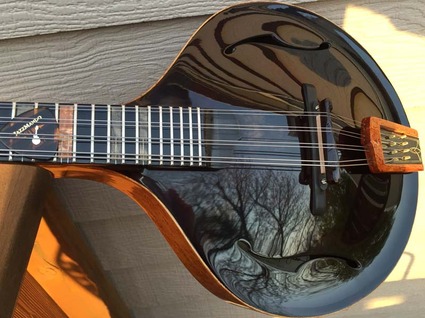 The quest for "jazz" mandolin tone qualities is inarguably personal and individual. Depending on your ensemble environment, size and area acoustics, taste varies. A Gypsy-jazz player probably wants something bright and penetrating; a progressive or drum-driven group might expect similar volume and timbre. For our purposes, a small acoustic trio or duet that allows the instrument acoustic space to breathe, the bias is for a mandolin devoid of copious piercing harmonic overtones. The complexity of chords in a jazz vocabulary demands purity of string fundamental, so our own bent is for a warm, rich string sound, and not a lot of conflicting highs, and of course, the ability to propel and sustain melodic line. Ultimately, instrument choice coincides personal taste and playing style, always at the mercy of pick, string, and pickup options. Plenty of today's greats make great jazz on more traditional body styles and phosphor bronze strings.
The Nautilus came strung with D'Addario FW74 flatwound strings, and may be the first instrument we've encountered that might do as well or better with a brighter string. Its voice is stalwartly warm, capable of great nuance that risks getting buried in a large or brassy acoustic group. It's a terrific solo instrument, and its wealth of sustain would also do well in a classical setting where line trumps percussive necessity.
Though relatively early in his career, Marty is already well known for his cosmetics and design departures, and this instrument is a brilliant example of his creative imagination. The mirror gloss blackface body and "S" soundhole detours are the first features that catch the eye, but the gestalt of matching Birdseye and Buckeye through the fingerboard, tailpiece, and headstock give the instrument a unique and signature look. An uncompromising eye for detail, his instruments plead a place within an elite class of world class boutique builders. His fretboard alone is a virtual nesting doll of detail inside detail.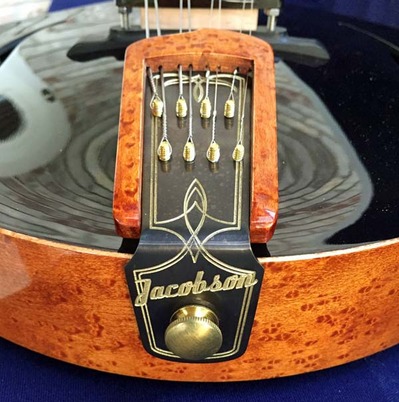 The Rubner matte brass tuners and custom hand crafted tailpiece are additional design choices that put his craft in the upper echelons of mandolin boutique, and when you explore the many other past options he's created on his website, you'll get an even larger view of how far he has pushed, yet clung on to some basic traditions of classic construction.
We're impressed with the level of comfort in the compound radiused Gabon ebony fingerboard, with its Buckeye burl fret block inlays. The fret edges are painstakingly polished, virtually no finger bite, the larger, more modern "banjo" size, great for linear line, arguably superior for all but the traditionalist more at home with the older early 20th century style thin frets.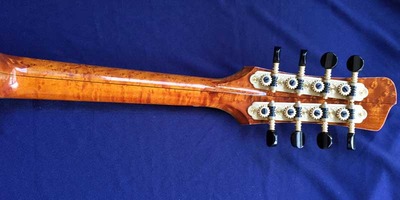 He explained to us, "This instrument is my first attempt at an instrument voiced for jazz. I remember walking into a room backstage where two friends with signed Loars were noodling around, at that time I thought that was about the most amazing sound on earth, and counted myself lucky to get to hear it every Monday evening. Then all the sudden I heard an even more amazing sound from across the room. It was Don Stiernberg warming up on his Grand Artist. That was about thirteen years ago, and I was seventeen at the time. Ever since, I've been wanting to get to the point that I could capture some of that flavor in an instrument. Initially I thought I would try to duplicate "it" exactly, but I learned that building instruments is a lot more complicated than that.
So to me, this is not a copy of anything. The instruments I was most inspired by in making this one were Don's Grand Artist and Nugget, and more recently, Dix Bruce's Schneider F-4. I almost made this an oval-hole instrument, but I felt I'd really be on a better track if I could get this to work and still retain the power and articulation of an f-hole instrument. I think it does.
As usual, if it's suited to jazz, it's also suited to anything where a warm tone and legato playing style make sense, but I tailored the appointments on this instrument to fit the jazz vibe to some extent as well. To me that means being well rooted in tradition, but with unexpected elements where appropriate."
We agree that his "S" hole over oval was the better choice for this model. The mandolin projects its best sound about six to eight feet away from the player. An oval hole might have muddied this impact.
Understand, this is not the instrument with the power to smack sound to the back of a concert hall or conquer banjos. It's the voice of a compelling ballad singer, not an opera diva. Its strength is a confident aural contemplation, not persuasion.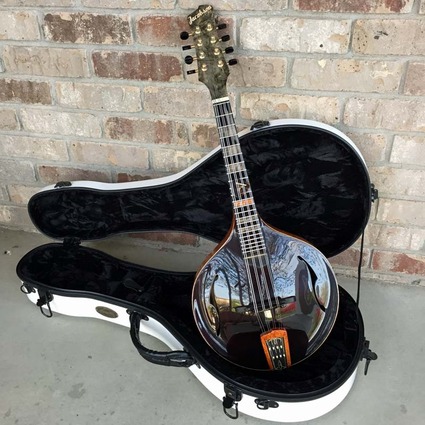 Click images for closeup
Specifications:
13-7/8" scale, Open X bracing
S-shaped sound holes (in F-hole place)
Sitka spruce top, highly figured hard birdseye maple back and sides with modern thin varnish finish
5-piece C neck (medium profile) w/carbon fibre reinforcement
Compound radius Gabon ebony fingerboard, Buckeye burl fret blocks
(Birdeye maple at 12th fret)
Buckeye burl headstock w/maple logo
Large ("Banjo" frets) .80x.40"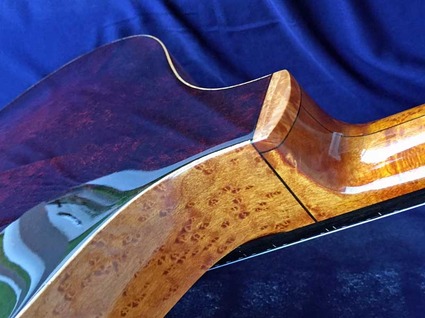 Prototype price approximately $3500

---

Builder information: Jacobson Fine Handmade Acoustic Instruments

See more of the innovative options on the Jacobson website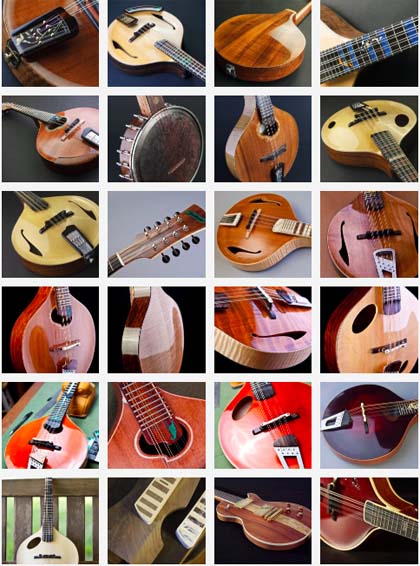 .

---

Read up on other world class mandolin builders: