« February 2015 | Main | April 2015 »

March 30, 2015 | Aaron Weinstein; Lady Be Good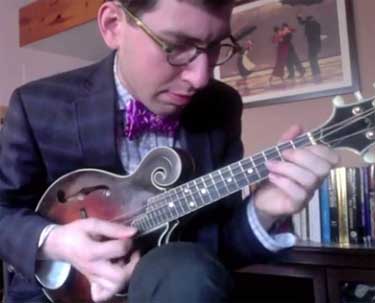 More Aaron Weinstein chord melody magic? Why, yes! Thank you...

Video Link: Aaron Weinstein "Lady Be Good"

Purchase music of Aaron Weinstein
Posted by Ted at 7:28 AM

March 28, 2015 | Escaping the gravity of nostalgia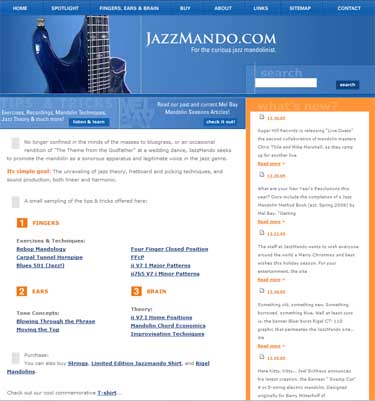 JazzMando 2005
Whenever you move from one house to another, you go through things and evaluate the priority of your possessions. Generally, a good rule of thumb is if you open a box and realize you have missed (or used) the contents within the last year, you either dispose or sell. Exceptions, certainly, but you can't go through life carrying everything you ever accumulate. It's often hard to navigate daily life through the gravity of nostalgia.
We're in the process of prioritizing the JazzMando site, and in order to offer an efficient and effective site, we've determined a housecleaning is long overdue. We've already started back in year 2005 and have begun to delete files and news articles in our What's New section, you'll be seeing most of the older irrelevant pages being removed over the next couple months. We feel we've gotten better over the years, and probably won't be as ruthless with the "scrapbook" of article as we get closer to the present.
We encourage you to open up the What's New Archives, scroll to the bottom and work your way up. With over 1600 pages in this section alone, it would be much more meaningful to trim it down to just a few hundred.
We will also reorganize some of the Tips & Tricks articles and reviews into something more navigable as we make a conversion from MovableType to a format more current. It will take a few months, but ultimately we want the site to be more of a permanent archive resource for new players.
Meantime, plan some time to read the archives before they are gone. Starting from the bottom up, they're organized by the month, past to current.
Click link and scroll to the bottom: JazzMando Archives
Posted by Ted at 7:31 AM

March 25, 2015 | Cool swag in the JazzMando Logo Store
Last year we added some exciting new swag in our JazzMando Logo Store. Several items including the "What it means to be a mandolinist" mugs, sports bottles and shirts, a few new chord shirts, and a cool revision of our pick "pocket" shirt!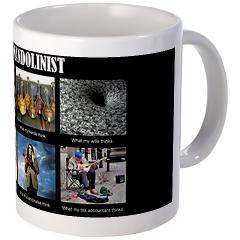 Mandolinist (wide) Mugs
What it means to be a mandolinist.
$14.99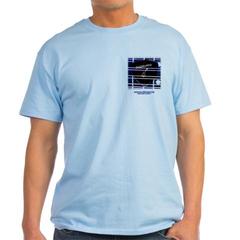 Jazzmando Pick Pocket Tee
Sport a picture of the internationally popular JazzMando signature ProPlec pick. Adored (and well-used!) across oceans, the graphic is a high resolution shot of the JM pick in all its splendor.
Natural, ash grey, and light blue
$18.99

We incurred additional ongoing expense with expanding space on our server, so anything you can purchase helps us pay some of the costs of the otherwise free resources we offer here.
View even more merchandise at the JazzMando Logo Store.
Posted by Ted at 6:19 AM

March 23, 2015 | Mandolin Cafe celebrates Grisman 70th Birthday
Mandolin Cafe Site Admin Scott Tichenor and company have published a stirring tribute to one of the century's key mandolin advocates, David "Dawg" Grisman. It would be hard to come up with the name of anyone who's had a bigger responsibility for innovating and archiving some of the best music ever created by our 8-string wonder. Dozens of fret luminaries have posted a brief memento of how the 70 year-old artist has created a space for artists and new ways of using the mandolin in new (and traditional folk) styles of music.
Take some time to read the thoughts from the likes of Matt Flinner, Don Julin, Mike Marshall, Don Stiernberg, John Reischman, and many more.
Read article: Happy 70th Birthday, David Grisman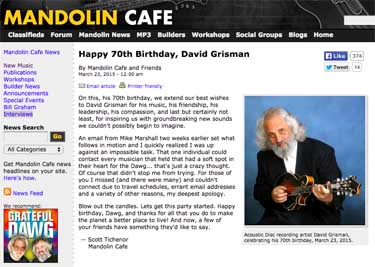 Posted by Ted at 5:32 AM

March 19, 2015 | 12 years of JazzMando.
Here we are acknowledging our 12th anniversary, from March 19, 2003 . We continue to carry the torch to bring better mandolinning to the world, although we will be heralding some changes to the site in the not too distant future. If we can find the right assistance, we'll be transitioning to a more archival, tips resource. We face a big challenge of cleaning up and restructuring the almost 2400 entries we've accumulated into something easier to get around.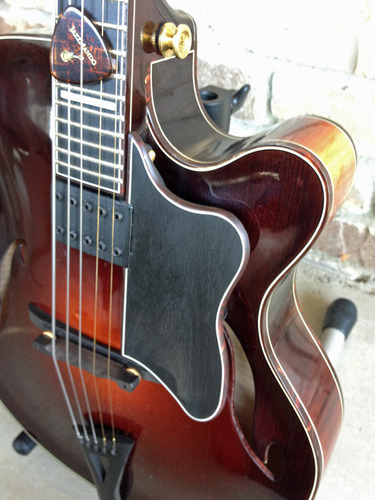 We started the site primarily focused on jazz theory on the fretboard, but later broadened out the mission to resources and assistance playing mandolin to include other genres, especially those that benefit from better-developed closed finger playing through our FFcP approach. We're also proud of the collaborations on some great instruments over the years including the Rigel Q-95, Old Wave SoloComp JM, Clark JM,& JM5, Sorensen Sprite JM, and of course the flagship "Getting into Jazz Mandolin" book.
We continue to post thrice weekly news updates, weekly tips column, and host Mandolin Sessions archives.
Sign on with some of our social networking sites if you haven't already:
Facebook: JazzMando Page
Twitter: @FFcPmandolin.

Posted by Ted at 8:35 AM

March 16, 2015 | Sorensen SXS mandolin
Steve Sorensen SXS mandolin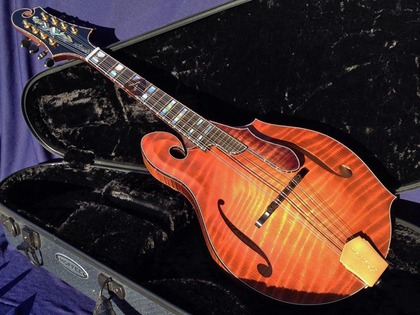 In December of 2012, we had the pleasure of spending some intimate moments with the new prototype SXS mandolin from southern California builder, Steve Sorensen, our third review of his craft, it seems his building only gets better.
The immediate striking difference is the unique scroll. A non-traditional take on the Florentine, more of a shepherd's crook, and a daring aesthetic statement for a high-end instrument. More accurately though, he credits hot rod lines of the scroll to the inspiration from curves of a Bumblebee Trans Am. Not only pleasing to the eye, it balances the weight of the instrument for the player arguably better.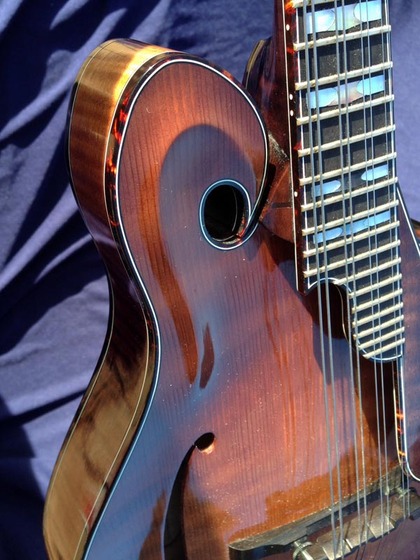 Read Review: Sorensen SXS mandolin
Builder's Website: Sorensen Strings
Review: Sorensen "Sprite" Asymmetrical 2-point mandolin
Review: Sorensen "Sprite" JM

Posted by Ted at 5:41 AM

March 13, 2015 | Found: Archive Aaron Weinstein Video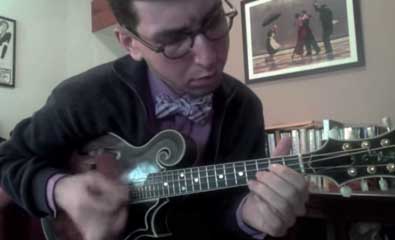 We love posting chord-melody legend Aaron Weinstein's amazing YouTube videos. Our latest discovery is a true surprise--a small taste of his earliest talents.
Enjoy!

Video Link: Aaron Weinstein's First Concert.

More mature Aaron Weinstein recordings.
Purchase music: Aaron Weinstein
Posted by Ted at 4:34 PM

March 11, 2015 | March 10. Happy Birthday, Jethro Burns
Everytime March 10th rolls around, we are compelled to pay homage to the great mandolin legend and personal hero, and especially this year for what would have been Jethro Burns' 90th birthday. Five years ago, we came across a terrific article by writer, K.F. Raizor repeated in her Raizor's Edge blog "Hey, Dude!"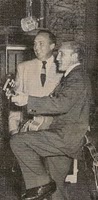 From the column: "On another occasion Burns fenced with his longtime partner at 35,000 feet. While returning from one of Homer and Jethro's engagements in Las Vegas Jethro was called to the cockpit of the plane. When he arrived he found the captain waiting for him. The captain informed Jethro he needed to be searched, and Burns consented. After he was patted down and his personal effects returned to him, the pilot apologized, 'I'm sorry, but we had it on good authority that you were smuggling drugs.'
'No problem.'
As Jethro started back for his seat the first thing he saw as he passed through the curtain was Homer, in his seat, doubled over in laughter. As Jethro neared Homer's seat Haynes asked innocently, 'Anything wrong?'
'Nothing,' Jethro replied. 'The captain wanted my autograph, that's all.'"
Happy Birthday, Jethro. You brought the world such joy, and we're reminded of this through your recordings and YouTube video libraries.
Read Article: "Hey, Dude!" (Be sure to listen to audio link at the bottom of the page.)
Posted by Ted at 7:16 AM

March 9, 2015 | 1962 Martin O-18T Tenor Guitar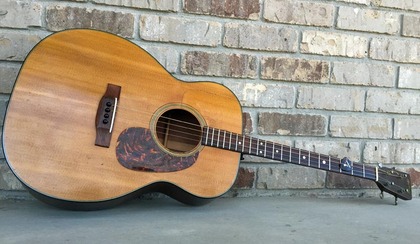 We were bitten by the tenor guitar bug last fall when we reviewed a Kala KGTR last fall. The instrument's shorter (21+) scale and low price point made it the perfect gateway drug into this wonderful 5ths tuned 4-string world. It was inevitable we search for something a little higher end, and the acquisition of a well-loved (but well-used) 1962 Martin O-18T tenor gave us a whole new audio tool chest in warm, vintage Martin tone.
The instrument was in need of a neck reset to get the string height down (pre-truss rod) to better playing comfort, but it was a smart investment. This guitar really sings with rich, linear sustain for melody and robustly supportive comping tone. Truly the best of both worlds, the only thing we'd like different is a little shorter finger stretching span than its 23" scale.
The work-around has been to reside up the neck more in the smaller frets. The FFcP training is perfect for this, and first finger usually hovers over the 5th-7th fret and everything higher allows the exploitation of full fretboard real estate.
Side note to you tenor guitar builders. 10th fret dot, not 9th! This is important! It's the way it must be done. (Ahem, Kala...)
If you watch eBay, you can generally see a Martin tenor available, usually in the $1500-2500 range depending on age and condition. It is a bit of a crap shoot, and we were fortunate enough to purchase this 53 year-old gem through the Mandolin Cafe Classifieds and a reputable seller (Thanks, Dwayne!). Despite some cosmetic dings and the investment in the neck reset, this was an incredible catch.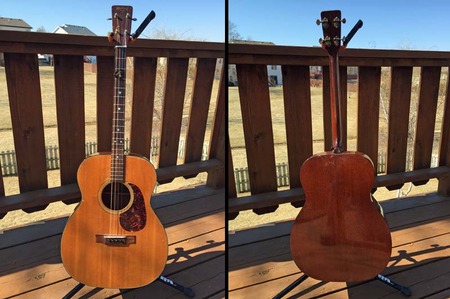 Our next step is a custom build, and we've already put a deposit on one from Boise, Idaho builder fave, Austin Clark who is in the process of developing his own line of tenors. We'll keep you posted.
Posted by Ted at 4:49 AM

March 6, 2015 | Remembering the Royale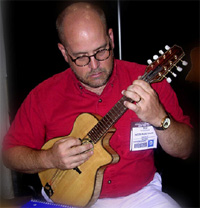 It was January of 2006 when we had our first private introduction to a prototype guitar-body 8-string mandolin through industry consultant and instrument entrepreneur Gordon Roberts, the Draleon Royale, built by Century Strings. The distributor of quality orchestral string instruments and an intriquing mid-price gypsy guitar really wowed us with the Maccaferri-inspired design at an impressively low mid $1K price point.
Both were available in a natural blonde and sunburst finishes.
We acquired one of our own, and later made some modifications in it, including a refret (larger frets) and fingerboard radius, as well a custom pickguard. We were sad to see production come to an end a few years ago, but hoping to see these resurrected someday. Perhaps a 5-string or mandola could be a possibility, too.
We can dream.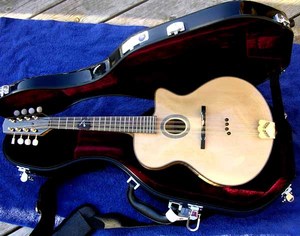 Read review: Draleon Royale; Century Strings
Posted by Ted at 9:00 PM

March 4, 2015 | Rolling up the neck with 7th chords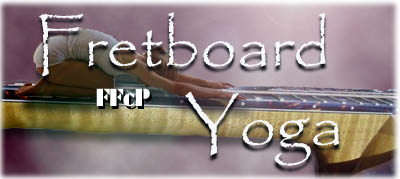 We had some crazy positive feedback on Social Media with our posting of dominant 7th chord inversions up the neck a couple weeks ago from our weekly Tips and Tricks column. The music theory nomenclature may sound esoteric and dry, but if you're willing to just skip that and play through the chords, it can open a whole new world of comping.
We followed up the week after with the same thing in minor 7th chords. Note, with the first set the world is your oyster when playing basic blues progressions. The second is steady stream of material for any minor modal jazz pieces.
Review:
7th Chord Streams up and down the fretboard
Minor 7th Chord streams up the neck
Don't forget to grab the free PDF printouts when you're there!
Posted by Ted at 1:20 PM

March 2, 2015 | 31 years ago--Spinal Tap!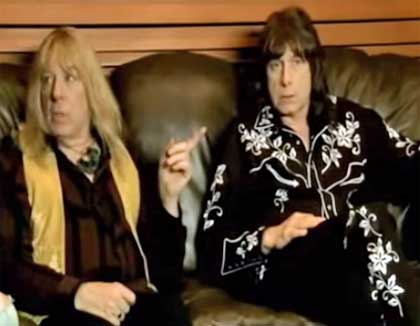 Being huge fans of the mockumentary, we had to pay tribute to the release of the arguably funniest movie about the rock life ever produced. Spinal Tap videos continue to resurface on YouTube, and the following does not fail to disappoint.
"The fact is, jazz is mistakes. You're playing it wrong...
Jazz is an accident. Waiting to happen. Glad to have happened..."
View Video: Spinal Tap on Jazz

"Miles Davis. He kept putting this thing on the end of his horn--to make it sound less like a trumpet.
What's wrong with him?"

Posted by Ted at 5:43 AM