« Cool swag in the JazzMando Logo Store | Main | Aaron Weinstein; Lady Be Good »

March 28, 2015 | Escaping the gravity of nostalgia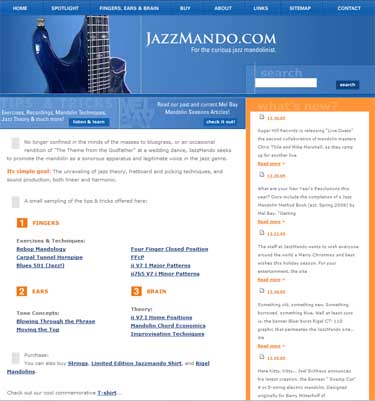 JazzMando 2005
Whenever you move from one house to another, you go through things and evaluate the priority of your possessions. Generally, a good rule of thumb is if you open a box and realize you have missed (or used) the contents within the last year, you either dispose or sell. Exceptions, certainly, but you can't go through life carrying everything you ever accumulate. It's often hard to navigate daily life through the gravity of nostalgia.
We're in the process of prioritizing the JazzMando site, and in order to offer an efficient and effective site, we've determined a housecleaning is long overdue. We've already started back in year 2005 and have begun to delete files and news articles in our What's New section, you'll be seeing most of the older irrelevant pages being removed over the next couple months. We feel we've gotten better over the years, and probably won't be as ruthless with the "scrapbook" of article as we get closer to the present.
We encourage you to open up the What's New Archives, scroll to the bottom and work your way up. With over 1600 pages in this section alone, it would be much more meaningful to trim it down to just a few hundred.
We will also reorganize some of the Tips & Tricks articles and reviews into something more navigable as we make a conversion from MovableType to a format more current. It will take a few months, but ultimately we want the site to be more of a permanent archive resource for new players.
Meantime, plan some time to read the archives before they are gone. Starting from the bottom up, they're organized by the month, past to current.
Click link and scroll to the bottom: JazzMando Archives
Posted by Ted at March 28, 2015 7:31 AM