« May 2015 | Main | July 2015 »

June 29, 2015 | Chris Thile to take over Prairie Home Companion hosting. For real!
All the internet chatter started over at the Mandolin Cafe appears to be verified, even by the hometown paper, the Minneapolis Star Tribune that founder and long time MC at the popular weekly public radio show, Prairie Home Companion is handing the baton (or Blue Chip pick?) over to internationally acclaimed musician and mandolin royalty Chris Thile.
Garrison Keillor has attempted retirement many times the past decade and a half, but this time he appears to have a plan, and that includes the new young host.
It was intriguing absorbing the buzz on the Cafe, stages of verification and validation growing strength and credibility by the hour Sunday.
Read article: Garrison Keillor's retirement: Is he for real this time?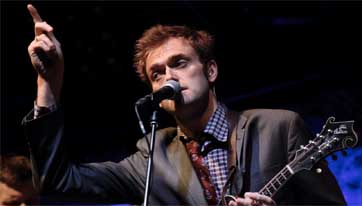 We don't know what's more exciting, hearing more Chris Thile mandolin or less Garrison Keillor's hack baritone vocals.
Posted by Ted at 9:50 AM

June 25, 2015 | High Note: Austin Clark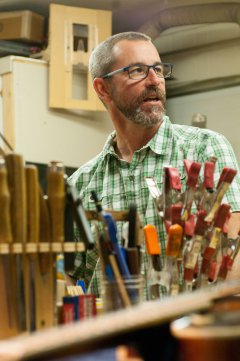 Fantastic online article on perennial JazzMando builder fave Austin Clark in the webzine "Built in Boise." The piece documents the history of Austin's entry into the business, from professional chef in Kansas to becoming an internationally sought source for quality boutique mandolins and guitars from his shop in Boise, Idaho.
The author mentions a certain reviewer who "has since ordered three Clark Mandolins for his personal collection."
Wonder who that might be?
Read Jeff Reynolds article: High Note.
Visit builder site: Clark Mandolins

---

Video link: Old Devil Moon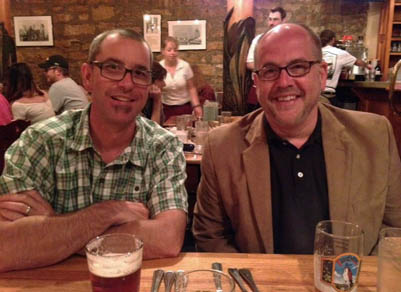 Austin Clark, Ted Eschliman in Lawrence, KS, 9/12
Posted by Ted at 3:11 PM

June 22, 2015 | Connecting Chords
In our April 2011 edition of Mandolin Sessions, we looked at the "static" changes of a typical 12-bar Blues progression and explored how we could use inversions of the 3-note chord fingerings to inject a little variety into your comping. For our subsequent June entry, we took this a step farther and showed you ways to connect these chords in a systematic, yet intuitive manner.
We can't stress enough how these simple forms can supercharge the way you play rhythm. See what we mean.
Read article: Static Changes: Connecting Chords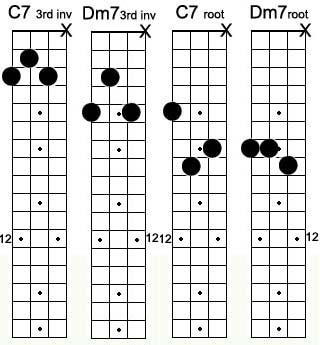 Posted by Ted at 7:40 AM

June 17, 2015 | Sierra Hull's "new" tenor
We love tenor guitars, especially this early 20's Gibson in the hands of this talented little lady. Check out this impromptu video Sierra recently posted on her Facebook Page.


Today's jam with my new tenor guitar....

Posted by Sierra Hull on Tuesday, June 16, 2015
Purchase music: Sierra Hull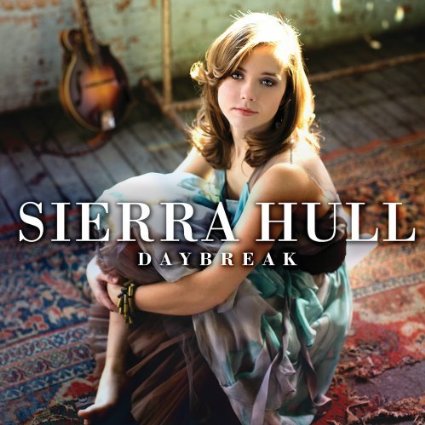 Posted by Ted at 2:27 PM

June 15, 2015 | Chris Biesterfeldt; Urban Mandolin
In fall of 2013 we raved about Chris Biesterfeldt's freshman recording boasting "his train-songish rendition of the classic 70's Weather Report jazz-fusion fave Teen Town is dead-on, laugh out loud accurate, and one of the freshest acoustic string jazz interpretations you'll hear." The heavily in demand Broadway multi-instrumentalist orchestra veteran's CD is available for purchase from your favorite online resources and we highly recommend including this in your "go-to" mandolin library. The 16 song collection of mostly classic bebop with some stirring pop side trips is a fret barn burner.
Classify under "Jazz Fusion Mandolin."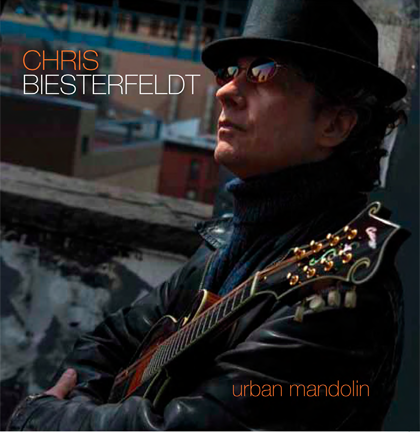 Chris Biesterfeldt; "Urban Mandolin" Release 11/5/2013
Jazz trio with mandolin, upright bass and drums like you've never heard before!
Read review: Chris Biesterfeldt: Urban Mandolin
Purchase information:
CD Baby
iTunes
Amazon

Tracks:
1. Bebop (Dizzy Gillespie)
2. Quasimodo (Charlie Parker)
3. Freedom Jazz Dance (Eddie Harris)
4. Bach G-Minor Presto (Johann Sebastian Bach)
5. I Can't Make You Love Me (Mike Reid / James Allen II Shamblin)
6. Teen Town (Jaco Pastorius)
7. Bright Size Life (Pat Metheny)
8. Ready and Able (Jimmy Smith)
9. Armando's Rhumba (Chick Corea)
10. Bye-Ya (Thelonious Monk)
11. Witch Hunt (Wayne Shorter)
12. Segura Ele (Benedicto Lacerda / "Pixinguinha" Alfredo Vianna)
13. God Only Knows (Brian Wilson / Tony Asher)
14. Back at the Chicken Shack (Jimmy Smith)
15. Some Skunk Funk (Randy Brecker)
16. Rollo Interior (Frank Zappa)
Posted by Ted at 5:32 AM

June 10, 2015 | Mandolin Cafe Ball Caps Limited $12 offer!
We were excited to see these back on the market from our friends over at the Mandolin Cafe earlier this year.
Seems a great opportunity is upon everyone to grab one at a reduced price, but only a couple days here, only $12.00 through Friday 9:00 PM Central Standard (US) Time.
Purchase information: Red Mandolin Cafe Hat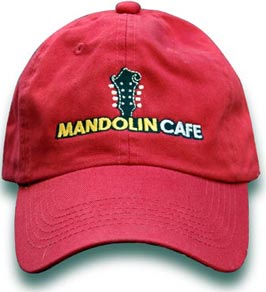 $12.00 through June12, (regularly $14.00) USD plus shipping. While supplies last!
U.S. - $5.60 shipping/handling (USPS Priority shipping)
Canada - $8.80 First Class, U.S.
All other international locations - $12.75 First Class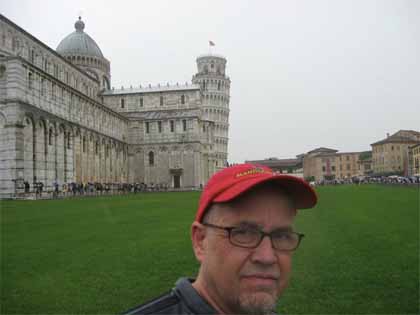 We never travel without it!
Posted by Ted at 6:10 AM

June 4, 2015 | Max and Lauri Girouard 10-string
We've been long overdue to check in on our Rhode Island friends, the innovative building team of Max and Lauri Girouard, and they've got some interesting things newly in (and now out!) of the oven.
Their latest is a drool-worthy blister sugar maple back and sides, black top 10-string mandolin. (Custom made Rubner tuners above.)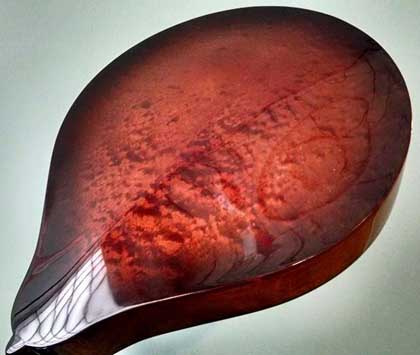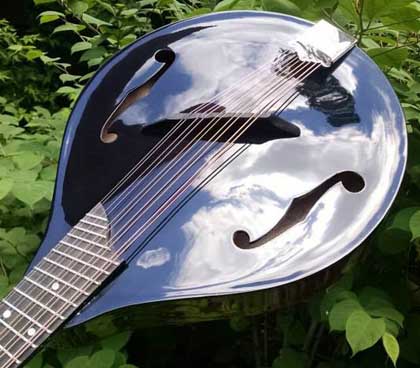 Of course the first striking aspect is the fanned fretboard (do not adjust your monitor!). We're well-documented fans, no pun intended, of this way of attacking the tension disparity of a five-course instrument, especially a double course.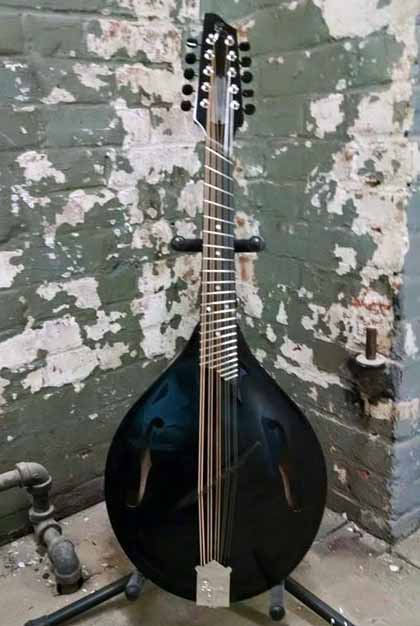 Word is out they have another one about done, and as far as we know, it's a spec build. We assume it might be up for sale, or another one built from scratch to your specifications. We enjoyed our own jazz voiced A-body 8-sring reviewed in our Builders' Spotlight. The Girouards have gone on to achieve international exposure and success.
Builder contact: Girouard Mandolins and Stringed Instruments, LLC
Pawtucket, Rhode island 603-475-7883
Email: Girouardmandolins@yahoo.com
Posted by Ted at 5:23 AM

June 1, 2015 | Sorensen Headstocks
We've mentioned a few of these before, but SoCal builder Steve Sorensen recently posted some more detailed highlights of his headstock aesthetics on his Facebook Page.
We thought we'd bring this droolworthy art here.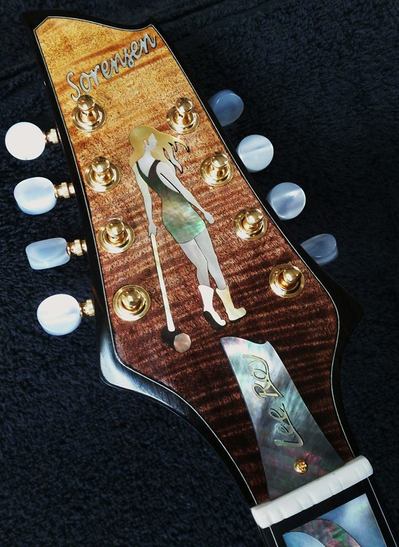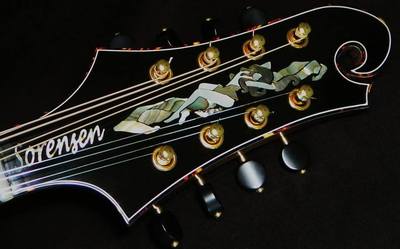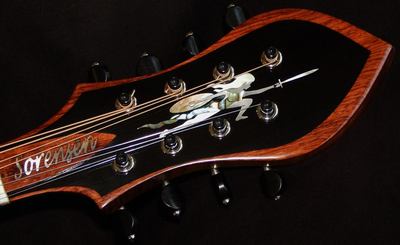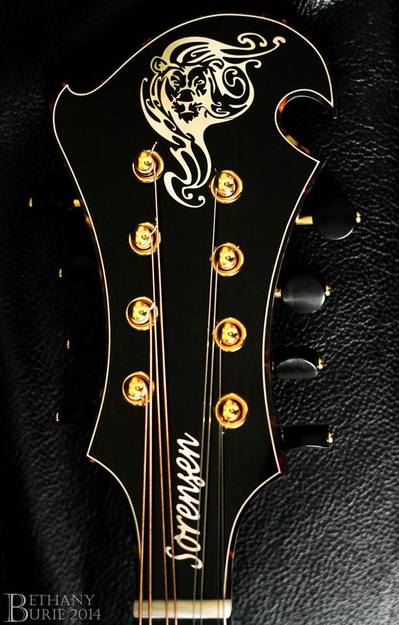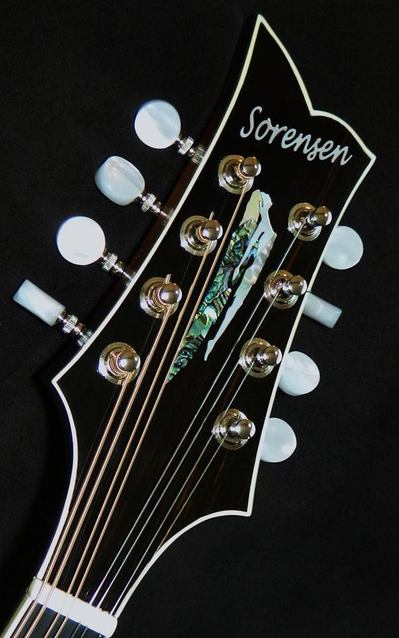 Builder website: Sorensen Strings
Instruments: Gallery
Review: Sprite Blueburst JM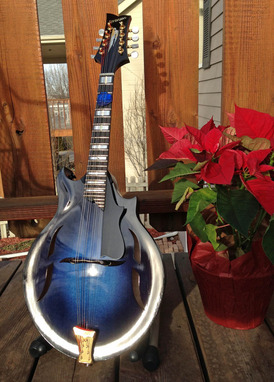 Posted by Ted at 5:31 AM