« Mandolin Cafe Ball Caps Limited $12 offer! | Main | Sierra Hull's "new" tenor »

June 15, 2015 | Chris Biesterfeldt; Urban Mandolin
In fall of 2013 we raved about Chris Biesterfeldt's freshman recording boasting "his train-songish rendition of the classic 70's Weather Report jazz-fusion fave Teen Town is dead-on, laugh out loud accurate, and one of the freshest acoustic string jazz interpretations you'll hear." The heavily in demand Broadway multi-instrumentalist orchestra veteran's CD is available for purchase from your favorite online resources and we highly recommend including this in your "go-to" mandolin library. The 16 song collection of mostly classic bebop with some stirring pop side trips is a fret barn burner.
Classify under "Jazz Fusion Mandolin."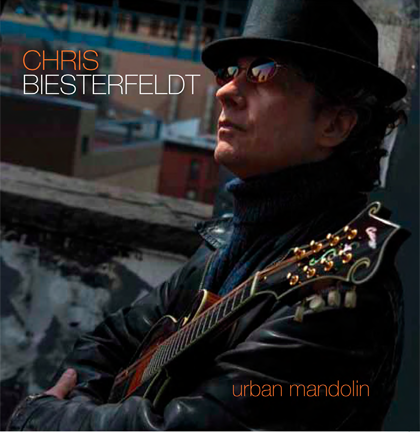 Chris Biesterfeldt; "Urban Mandolin" Release 11/5/2013
Jazz trio with mandolin, upright bass and drums like you've never heard before!
Read review: Chris Biesterfeldt: Urban Mandolin
Purchase information:
CD Baby
iTunes
Amazon

Tracks:
1. Bebop (Dizzy Gillespie)
2. Quasimodo (Charlie Parker)
3. Freedom Jazz Dance (Eddie Harris)
4. Bach G-Minor Presto (Johann Sebastian Bach)
5. I Can't Make You Love Me (Mike Reid / James Allen II Shamblin)
6. Teen Town (Jaco Pastorius)
7. Bright Size Life (Pat Metheny)
8. Ready and Able (Jimmy Smith)
9. Armando's Rhumba (Chick Corea)
10. Bye-Ya (Thelonious Monk)
11. Witch Hunt (Wayne Shorter)
12. Segura Ele (Benedicto Lacerda / "Pixinguinha" Alfredo Vianna)
13. God Only Knows (Brian Wilson / Tony Asher)
14. Back at the Chicken Shack (Jimmy Smith)
15. Some Skunk Funk (Randy Brecker)
16. Rollo Interior (Frank Zappa)
Posted by Ted at June 15, 2015 5:32 AM