« June 2015 | Main | August 2015 »

July 29, 2015 | Classifieds find: Arrow G5 (5 String) Mandolin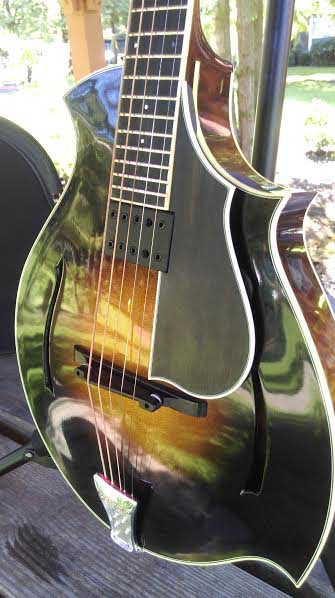 5-string Arrow G5
We first became familiar with the work of west coast premier builder Paul Lestock over a decade ago when we became the proud owner of one of his signature 4-string "Jazzbo" mandolins. Styled like a classic L-5 guitar, the instrument boasted a terrific dynamic range, warm tone, and world-class playability.
At the time he was building his own signature Arrow body style mandolins and mandolas, in 4-, 5-, and 8-string models. The instruments became harder to find, as the craftsman became more reclusive, forgoing a strong internet presence and focusing his time on regional builds and some word-of-mouth international contacts. Though rare, these instruments are highly sought after because of their tremendous quality. (Paul is still building, but you have to work a little harder to find him.)
Lately, JazzMando friend and popular artist/clinician Brian Oberlin has listed his personal 5-string Arrow G5, and while a new build demands close to 5 grand, this one (built 2011) screams "deal" at $3300 US. You can bet this was well cared for, and you can even hear it played in the hands of the artist himself.
Listen:

Audio Demo
Purchase: Mandolin Cafe Classifieds
Specs:
Scale length - 14 and 15/16" (just shy of 15")
Neck width at nut - 1.311" (about 1 5/16")
Neck width at 12th fret - 1.562" (about 1 9/16")
Top - Sitka Spruce.
Back and sides - Big Leaf Western Maple.
Fingerboard and finger rest - Ebony.
Pickup - Custom, hand wound by Kent Armstrong. (Volume wheel on underside of finger rest, adjustable poles at each string)
Tailpiece - Allen (accepts ball end or loop end strings, strap button is also a 1/4' input)
Case - Travelite with built in hygrometer.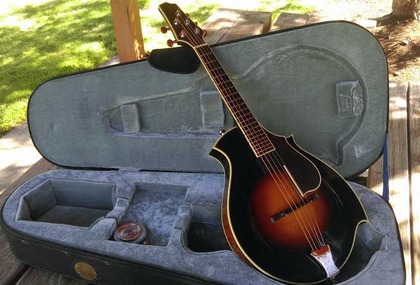 Click for closeup
Read more about Paul Lestock: Jazzbo 4-string
Posted by Ted at 8:56 PM

July 26, 2015 | Ethan Ballinger tenor guitar
We've been fans of Ethan Ballinger since the release of his first project, "Wish Upon a Falling Star," chiefly because of his compositional prowess. In the video below, he shows off his fantastic chops on tenor guitar.
Enjoy!
Video Link: Ethan Ballinger "Merle's Boogie Woogie"

Purchase album: Wish Upon a Falling Star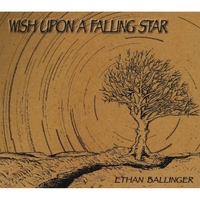 Posted by Ted at 6:06 AM

July 22, 2015 | Ovation to restart U.S. production
We've always been fans of the Ovation US Made MM68, and were disheartened when the instrument was pulled from production in its Connecticut headquarters and ultimately stopped US building of everything in December of last year (2014). Definitely not for the traditional mandolin purist, we felt the sonic qualities and playability offered a sound solution for the touring musician. Many guitarists shared this sentiment, placing confidence in the Ovation tech sensibility.
Good news for the Ovation purist. Production will return. Music Trades reports in the article below. We're hoping the US Made MM68 will return, too. Maybe the MC868 mandocello if it's not asking to much.

---



Music Trades Online

, July 22, 2015.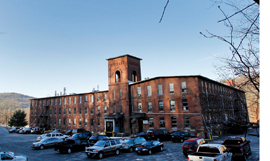 DRUM WORKSHOP has signaled its commitment to the Ovation brand with a decision to restart U.S. production of the distinctive Roundback guitar. Machinery, finishing equipment, and assembly lines are currently being reactivated at the New Hartford, Connecticut plant, the home of Ovation production for almost four decades. Shipments of guitars are set to resume later in the year. Drum Workshop CEO Chris Lombardi, who acquired Ovation along with Gibraltar Hardware, LP, and Toca Percussion, and distribution rights for Gretsch drums from Fender Musical Instruments last January, said, "A U.S. production site is critical for maintaining the integrity of the Ovation brand, and it contributes to the sale of the imported Ovation product as well."

Closed last year, the Ovation guitar plant in New Hartford, CT is gearing up to resume production.

Ovation's New Hartford plant was shuttered in April 2014, after Fender management made a strategic decision to focus resources on Fender-branded products and divest its KMC Music subsidiary and other non-core brands. When Drum Workshop completed the acquisition on the eve of the 2015 NAMM show, Lombardi confessed that he was unsure of how exactly to proceed with the Ovation line. "With our experience in the percussion market, we had definite plans for Gretsch, Gibraltar, Toca, and all the other KMC percussion brands. But guitars were new for us." As he visited customers around the world, a strategy began to take shape.

From a marketing standpoint, there was unquestionably a strong global demand for U.S.-made Ovation guitars. Distributors in Europe and Japan were particularly interested in seeing production restored and promised large orders. Questions about the viability of reopening the factory were quickly resolved when Lombardi made his first visit to New Hartford. He had expected to find the Ovation tooling and production equipment packed up in railroad cars, but was startled to see it carefully set up on the factory floor. A core team of four dedicated Ovation staffers had kept the equipment in place in hopes that someone would restart production. In addition, other factory staff had signaled their interest in returning to work. Lombardi explains, "With an experienced staff, the equipment in place, and a strong order book, the decision was easy. Getting production back was just a question of setting up the dust collection system, hooking up electricity, and renegotiating the lease."

Bill Xavier, the newly hired Ovation product manager, says that the first production models will most likely be a continuation of the long-running "Collectors Series" limited editions, designed to celebrate the 50th anniversary of the Roundback. "We're planning some very special products that will appeal to both the committed Ovation fan and any other player who appreciates a fine instrument."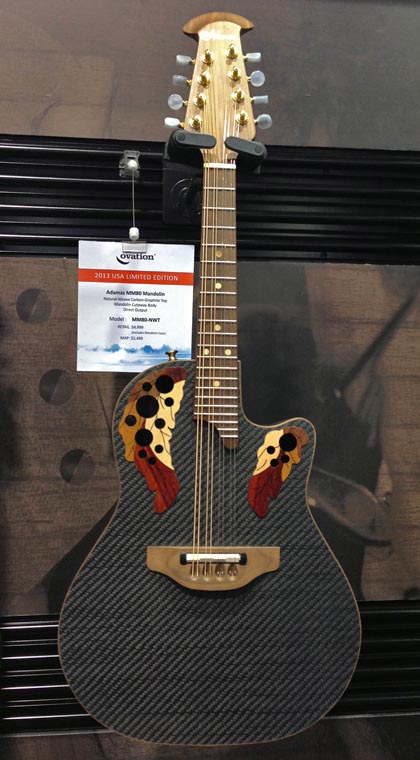 2013 NAMM: Ovation MM80 carbon fibre top mandolin
Posted by Ted at 9:32 PM

July 19, 2015 | Swinging with a metronome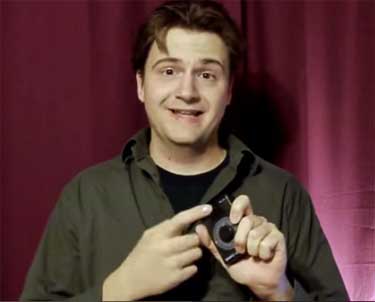 We've mentioned the before, the notion of using backbeats on a metronome, but the concept is very clearly demonstrated in the JazzGuitarLessons video below. Mark does a great job by showing how to start with a slow tempo and adapt.
If you come from a classical training background, you are no stranger to the metronome and its therapeutic impact on developing good time. One of the drawbacks though is sometimes your subdivisions can be a little too precise, too robotic in jazz. Opening the sound up to a backbeat allows the space to properly swing, without losing time.
It can be a little difficult out of the gate, but once you spend time with it, you'll find it invaluable training. We recommend a good metronome with a heavy click, preferably a woodblock sound. If you have a drum machine, setting the hihat to a backbeat "chick" is even better.
Enjoy:
Video link: Swinging with a metronome on 2 & 4


Purchase recommended metronome: Seiko SQ50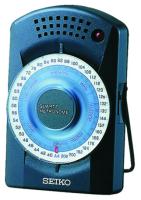 Posted by Ted at 7:30 PM

July 15, 2015 | Fingers/Ears/Brain
We love feedback. Especially when someone totally out of the blue "gets it."
We recently read a comment from a fan weighing in on our concept of "Fingers/Ears/Brain," outlined in the "Getting Into Jazz Mandolin" book, as well as on this website: "I purchased this book to help me learn to play by ear. I am an admitted tab addict. I have always wondered how people learn to play by ear. Especially in a jam session. The 'Introduction and Philosphy' section of this book caught my attention and the light bulb went off. This book may be geared to Jazz but I believe it can help me learn to play by ear. The path seems simple enough 1) develop your fingers to find the correct notes, 2)develop your ear to hear the notes your fingers play, 3)develop your brain to comprehend the musical style and theory.
I hope that this book helps me develop my ear so that I am comfortable playing at a jam session without tabs. I believe this book is a great method to develop my technique and ear at the same time so I can accomplish my goal. Learning a little jazz will be fun too."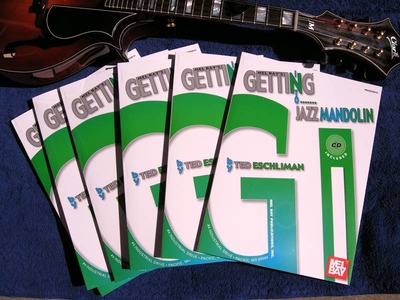 Get your copy today!
Amazon Link: Getting Into Jazz Mandolin
Yahtzee! Though the original intent of the book was to introduce the Folk/Bluegrass market to some of the jazz vocabulary, we feel strongly there is more application here than just jazz. The ability to explore chromatic realms will make all of these studies valuable for equipping the mandolinist for classical, pop, and Choro music.
Ah, discovery. Enjoy!
More about this concept: Fingers/Ears/Brain
Posted by Ted at 5:46 AM

July 13, 2015 | Summer NAMM 2015 highlights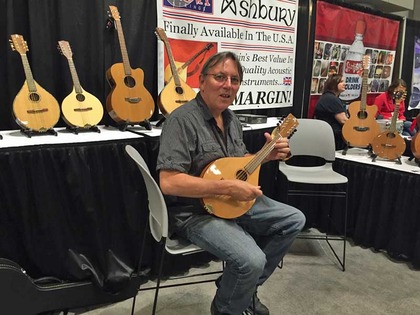 Gordon Roberts, Ashbury Strings
We already mentioned a few days ago our biggest breaking news at Summer NAMM in Nashville, the introduction of Ashbury mandolin family instruments. Normally we don't see much at either NAMM show as far as new in the mandolin world, but there were a few surprises outside of the usual pictorial eye candy at the Weber, Saga, Breedlove, and Music Link booths. We did post a few on the JazzMando Facebook page, but we want to focus in on some intriguing highlights.
First, at the Kala booth we got to see a Bill Griffin prototype Mandolele, a 4-string (nylon!) guitar bodied instrument. We had the chance to plug in, and were pretty impressed. Not talk of price just yet, as the focus of the marketing staff was to poll interested parties in what could be provided on an affordable entry level product. The highly successful ukulele company has been in expansion mode for some time, introducing a tenor guitar last year, and a handful of new thin-bodied guitars.
We'll keep you posted as we hear more.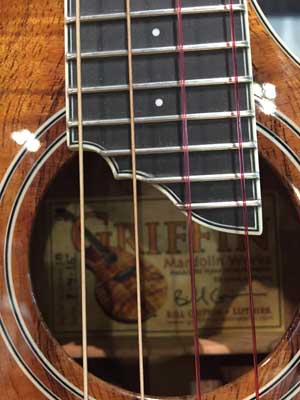 Martin Guitars actually had a custom tenor guitar in the booth. It was a fairly stock build with spruce top, mahogany back and sides. List price was shy of $5300 US. It's not widely known, but the legendary guitar company will build a custom tenor if you contact your local Martin dealer.
Big surprise in the ESP booth was a couple F-body Takamine mandolins. The Takamine line left its cozy 5 decade relationship with the Kaman Music Corporation last winter when Fender sold off a good share of its assets, and to our knowledge, there never was a mandolin made under the name. The instruments displayed there were in the $6K range, which seemed ambitious.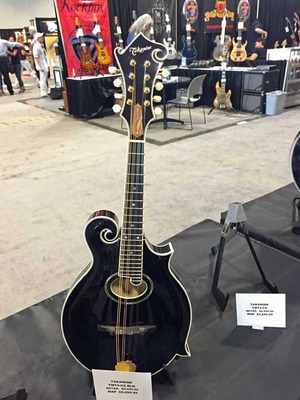 Roland introduced and demoed a new Boss RV6 reverb pedal which we think will compete with some of the high price boutique reverbs. Streeting around $149, this is luscious, rich tone with some delay options that deserve serious consumer attention.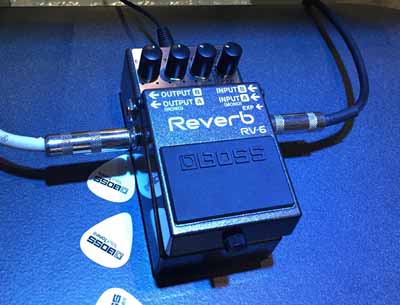 Of course there are always some booth shenanigans we couldn't pass up posting. The Jammin' Johns doesn't need much explanation. We're assuming they don't make a banjo version so as to keep men from intentionally missing inside the bowl.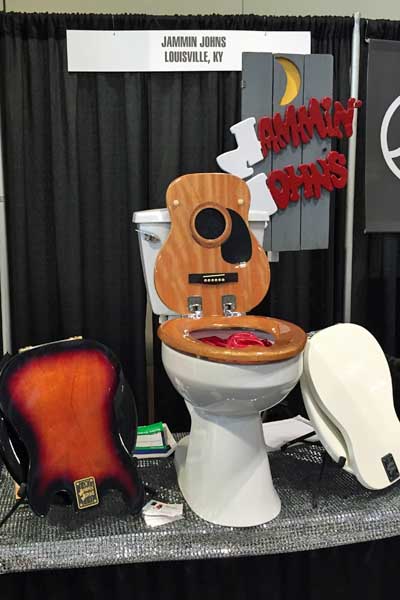 More pictures in our FaceBook Summer NAMM 2015 album.
Posted by Ted at 5:19 AM

July 11, 2015 | Ashbury Mandolins, Zouks, Tenor Guitars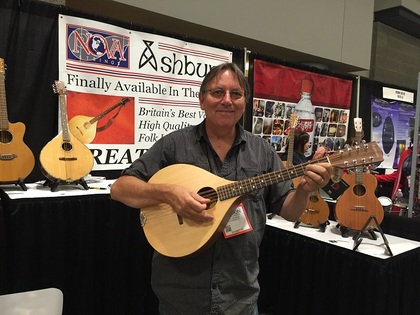 News from Summer NAMM 2015, Gordon Roberts is back. Not that he ever really left, but the Baltimore based fretted instrument aficionado and entrepreneur has been somewhat under the radar since his days with Eastman Guitars and Century Strings (Draleon mandolins & guitars), where he had started a mandolin market import quality revolution over a decade ago.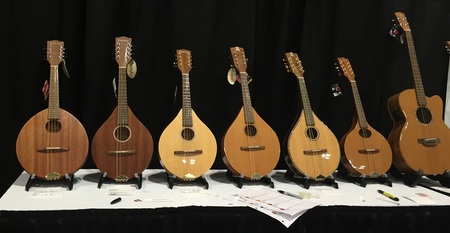 At the Summer 2015 NAMM convention in Nashville, Tennessee, we were blessed with the opportunity to bring the first news of a new launch of Ashbury Strings, an import line of Celtic mandolins, Zouks, mandolas, and tenor guitars. These were initially designed for the British market, but have recently crossed the ocean for an upcoming release in September of this year for Nova Strings. An ambitious cross section of acoustic instruments, these are targeted to range from $300 to $1750 US, including case (or bag).
We had the chance to get familiar with the AT-40 Tenor guitar which will likely street price in the low $300 range. Asian origin (Vietnam), the instruments are crafted and supervised by someone who knows what they are doing. We enjoyed the spruce top, open grained wood of this particular instrument. Fretting was respectful, and if we had any qualms it was the misplacement of a 9th fret marker common to guitar, but a big no-no for mandolins and 5th tuned instruments. We need that to be a 10th fret marker!
Some of the midrange plus instruments come stocked with pickups (Headway) already installed, so there's a lot of bang for buck. The Celtic style mandolins are crisp in sound, but offer surprising fullness. They aren't intended for "chop," optimally more for melody and a clean drone style of playing. Many have ornate cosmetic trim too, though no Florentine body styles grace the line.
We'll be excited to see what commotion Gordon can stir in the US market with these later this year. We expect good things!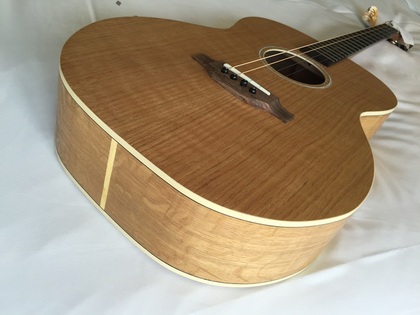 More information coming!
Posted by Ted at 8:55 AM

July 2, 2015 | New from Berklee Press: Exploring Classical Mandolin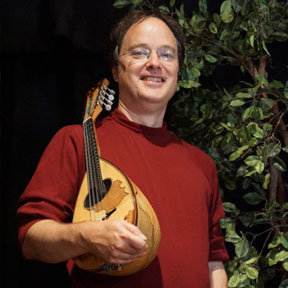 Exploring Classical Mandolin
Technique & Repertoire
August Watters
Berklee Press
Distributed by Hal Leonard Publishing

---
New from Hal Leonard and Berklee Press, a book from one of our favorite mandolin pedagogicalists, August Watters, Exploring Classical Mandolin; Technique & Repertoire. The New England composer/arranger and teacher is a leading authority in what can be considered "today's revival of this elegant instrument." His work as an internationally sought clinician has served him well in compiling an exceptionally authoritative work.

The book is organized into three sections. Part 1, practice methods including concepts and etudes, Part 2, classical mandolin repertoire, & Part 3, broader concert music arranged for solo mandolin. The approach is indisputably notation based, so anyone coming to the mandolin from a classic tradition whether mandolin or another instrument, will find the strategy more synergetic with their earlier educational experiences. There are many mandolin materials already published that teach mandolin concepts through folk music, TAB, and aurally, but this is best for the musician with some facility in reading music.

The book is also broader in historical and stylistic reach. Typically, the American mandolinist comes from a heavy folk/bluegrass approach not only to playing the instrument, but understanding its past and place amongst other instruments. Watters does a much more comprehensive analysis of its roots in a three century tradition, and injects the wider perspective of the mandolin on a global scale, including Italian, northern European, Japanese and even Israeli. This is not the approach for a mandolinist stuck on the concept of the instrument's purpose in melody and "chop," not a glorified cowbell. This is the mandolin in its fullest capacity.

Albeit, the techniques of picking and left-hand placement, including stroke variations and grip, and proper fret shifting are classical, but inarguably universal for ALL styles of playing. Basic theory concepts like arpeggios and chord function are attacked from a drill/exercise approach, but highly useful in developing the ear along with the hands. We became aware of Watter's scale variations a decade ago and still implement them in personal daily practice.

The advanced beginner to intermediate student will enjoy a slightly different approach to higher concepts of chord melody and improvisation. Usually it's chord symbol, theory, and some splicing of melody into the execution. This takes chord vocabulary and compound picking patterns and fuses them into another manner of tackling the skill. Same destination, different road.

The repertoire is diverse though chiefly European, but includes some folk tunes and is great for anyone to learn to enjoy and play for others.

Comparisons might be made to the recent release of Don Julin's Mandolin for Dummies. The question might come up, which of these two books should I get if I'm looking for something comprehensive, and I want history and international perspective in addition to some tips on techniques and exercises? Both will give you this, and if the answer cant be "get BOTH books," we'd suggest the beginner or advance beginner who comes from a formal education, including sight reading and some familiarity with classical literature might benefit more from this book.

One thing we want to make clear however, this is not just for the classical aficionado as the title implies. We fear the market scope might deny the broader tastes of the mandolinist who want the "classic" training and technique that will enhance any player's skill and aesthetic perspective.

Online video demonstrations and audio also available.

Purchase information: Exploring Classical Mandolin;Technique & Repertoire
August Watters
Berklee Press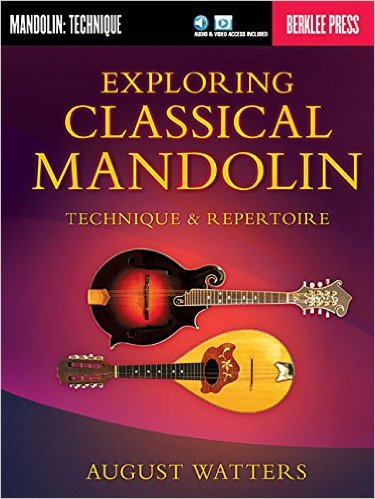 Posted by Ted at 8:18 PM