« Swinging with a metronome | Main | Ethan Ballinger tenor guitar »

July 22, 2015 | Ovation to restart U.S. production
We've always been fans of the Ovation US Made MM68, and were disheartened when the instrument was pulled from production in its Connecticut headquarters and ultimately stopped US building of everything in December of last year (2014). Definitely not for the traditional mandolin purist, we felt the sonic qualities and playability offered a sound solution for the touring musician. Many guitarists shared this sentiment, placing confidence in the Ovation tech sensibility.
Good news for the Ovation purist. Production will return. Music Trades reports in the article below. We're hoping the US Made MM68 will return, too. Maybe the MC868 mandocello if it's not asking to much.

---



Music Trades Online

, July 22, 2015.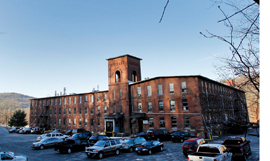 DRUM WORKSHOP has signaled its commitment to the Ovation brand with a decision to restart U.S. production of the distinctive Roundback guitar. Machinery, finishing equipment, and assembly lines are currently being reactivated at the New Hartford, Connecticut plant, the home of Ovation production for almost four decades. Shipments of guitars are set to resume later in the year. Drum Workshop CEO Chris Lombardi, who acquired Ovation along with Gibraltar Hardware, LP, and Toca Percussion, and distribution rights for Gretsch drums from Fender Musical Instruments last January, said, "A U.S. production site is critical for maintaining the integrity of the Ovation brand, and it contributes to the sale of the imported Ovation product as well."

Closed last year, the Ovation guitar plant in New Hartford, CT is gearing up to resume production.

Ovation's New Hartford plant was shuttered in April 2014, after Fender management made a strategic decision to focus resources on Fender-branded products and divest its KMC Music subsidiary and other non-core brands. When Drum Workshop completed the acquisition on the eve of the 2015 NAMM show, Lombardi confessed that he was unsure of how exactly to proceed with the Ovation line. "With our experience in the percussion market, we had definite plans for Gretsch, Gibraltar, Toca, and all the other KMC percussion brands. But guitars were new for us." As he visited customers around the world, a strategy began to take shape.

From a marketing standpoint, there was unquestionably a strong global demand for U.S.-made Ovation guitars. Distributors in Europe and Japan were particularly interested in seeing production restored and promised large orders. Questions about the viability of reopening the factory were quickly resolved when Lombardi made his first visit to New Hartford. He had expected to find the Ovation tooling and production equipment packed up in railroad cars, but was startled to see it carefully set up on the factory floor. A core team of four dedicated Ovation staffers had kept the equipment in place in hopes that someone would restart production. In addition, other factory staff had signaled their interest in returning to work. Lombardi explains, "With an experienced staff, the equipment in place, and a strong order book, the decision was easy. Getting production back was just a question of setting up the dust collection system, hooking up electricity, and renegotiating the lease."

Bill Xavier, the newly hired Ovation product manager, says that the first production models will most likely be a continuation of the long-running "Collectors Series" limited editions, designed to celebrate the 50th anniversary of the Roundback. "We're planning some very special products that will appeal to both the committed Ovation fan and any other player who appreciates a fine instrument."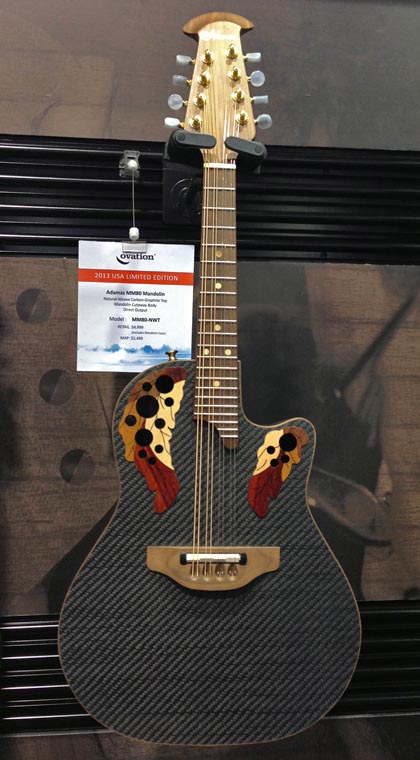 2013 NAMM: Ovation MM80 carbon fibre top mandolin
Posted by Ted at July 22, 2015 9:32 PM