« New from Berklee Press: Exploring Classical Mandolin | Main | Summer NAMM 2015 highlights »

July 11, 2015 | Ashbury Mandolins, Zouks, Tenor Guitars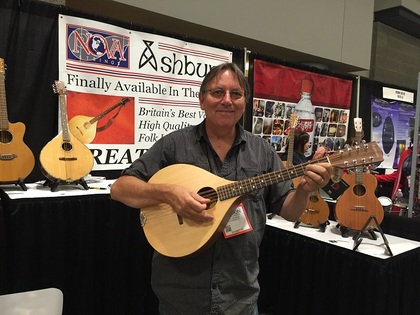 News from Summer NAMM 2015, Gordon Roberts is back. Not that he ever really left, but the Baltimore based fretted instrument aficionado and entrepreneur has been somewhat under the radar since his days with Eastman Guitars and Century Strings (Draleon mandolins & guitars), where he had started a mandolin market import quality revolution over a decade ago.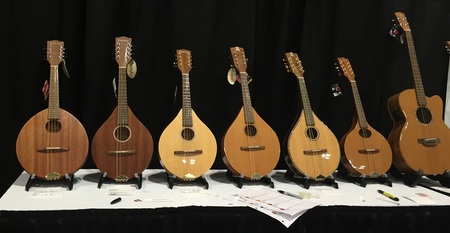 At the Summer 2015 NAMM convention in Nashville, Tennessee, we were blessed with the opportunity to bring the first news of a new launch of Ashbury Strings, an import line of Celtic mandolins, Zouks, mandolas, and tenor guitars. These were initially designed for the British market, but have recently crossed the ocean for an upcoming release in September of this year for Nova Strings. An ambitious cross section of acoustic instruments, these are targeted to range from $300 to $1750 US, including case (or bag).
We had the chance to get familiar with the AT-40 Tenor guitar which will likely street price in the low $300 range. Asian origin (Vietnam), the instruments are crafted and supervised by someone who knows what they are doing. We enjoyed the spruce top, open grained wood of this particular instrument. Fretting was respectful, and if we had any qualms it was the misplacement of a 9th fret marker common to guitar, but a big no-no for mandolins and 5th tuned instruments. We need that to be a 10th fret marker!
Some of the midrange plus instruments come stocked with pickups (Headway) already installed, so there's a lot of bang for buck. The Celtic style mandolins are crisp in sound, but offer surprising fullness. They aren't intended for "chop," optimally more for melody and a clean drone style of playing. Many have ornate cosmetic trim too, though no Florentine body styles grace the line.
We'll be excited to see what commotion Gordon can stir in the US market with these later this year. We expect good things!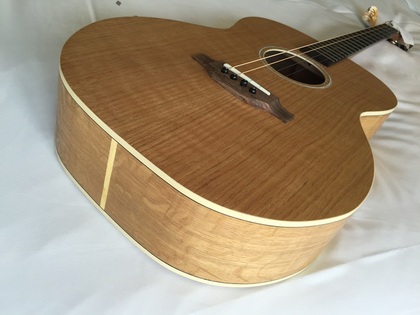 More information coming!
Posted by Ted at July 11, 2015 8:55 AM