« Summer NAMM 2015 highlights | Main | Swinging with a metronome »

July 15, 2015 | Fingers/Ears/Brain
We love feedback. Especially when someone totally out of the blue "gets it."
We recently read a comment from a fan weighing in on our concept of "Fingers/Ears/Brain," outlined in the "Getting Into Jazz Mandolin" book, as well as on this website: "I purchased this book to help me learn to play by ear. I am an admitted tab addict. I have always wondered how people learn to play by ear. Especially in a jam session. The 'Introduction and Philosphy' section of this book caught my attention and the light bulb went off. This book may be geared to Jazz but I believe it can help me learn to play by ear. The path seems simple enough 1) develop your fingers to find the correct notes, 2)develop your ear to hear the notes your fingers play, 3)develop your brain to comprehend the musical style and theory.
I hope that this book helps me develop my ear so that I am comfortable playing at a jam session without tabs. I believe this book is a great method to develop my technique and ear at the same time so I can accomplish my goal. Learning a little jazz will be fun too."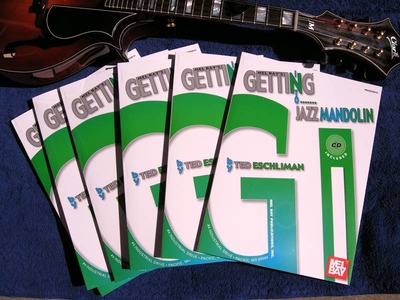 Get your copy today!
Amazon Link: Getting Into Jazz Mandolin
Yahtzee! Though the original intent of the book was to introduce the Folk/Bluegrass market to some of the jazz vocabulary, we feel strongly there is more application here than just jazz. The ability to explore chromatic realms will make all of these studies valuable for equipping the mandolinist for classical, pop, and Choro music.
Ah, discovery. Enjoy!
More about this concept: Fingers/Ears/Brain
Posted by Ted at July 15, 2015 5:46 AM