« December 2010 | Main | February 2011 »

January 31, 2011 | Guitarra Baiana "VALKYRIA" 5-string
We enjoyed watching this video even before the English subtitles were included. From Rio de Janeiro, Guitarra Baiana expert Marcos Moletta describes the features and specs of his latest design in a collaboration with luthier Fabio Batanj, "Valkyria," a stunning Flying V white 5-string electric mandolin. In the demo he walks us though specs like pickup configurations, woods, and passionately describes in his native Portuguese, the influences on the overall design aesthetic.
Enjoy the 14 minute presentation and explore some of his video archives in his YouTube channel.
Video link: Guitarra Baiana "VALKYRIA" (5 String Solidbody Electric Mandolin)

Artist MySpace Page: Marcos Moletta
More videos: YouTube Channel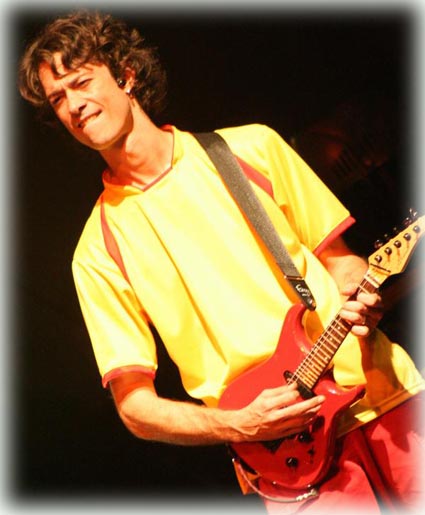 Posted by Ted at 6:26 AM

January 29, 2011 | Improvisation in an ensemble
There are plenty of resources here on JazzMando.com that offer you the basics of the craft of improvisation. FFcP movability, tonal centers, form, harmonic progressions, these are tools to invest time into making your personal music making more satisfying, but we also need to devote some attention to how this all fits in the context of ensemble interaction.
What better place to understand this than in the context of a comedy improvisation troop? The players here completely depend on their abilities to react, reinvent, and develop theme and dramatic tension/release within a group. Each member is not only responsible for their own contribution, but to how they make the team look better.

Jazz can be very self-indulgent when all the focus is on the individual's skills. A long-winded solo can be quite dull when it does little to propel the group. Accompaniment that noodles and distracts has the same dimming effect. We stumbled across a terrific Michelle James TED video that outlines how successful improvisation ensembles make a sum greater than its parts. The video is about 15 minutes, and well worth your time to inspire some thought on how you might fit and interact with the members of your group.
Check out this week's Tips and Tricks entry, "Improvisation: Ensemble Hatching."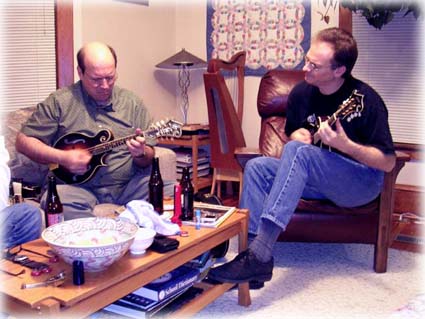 Late night jam, John Eubanks' knee, Don Stiernberg, Scott Tichenor.
Posted by Ted at 5:48 AM

January 27, 2011 | New from Mowry Strings
We've reviewed instruments from the magic workbench of Bend Oregon woodsmith, Andrew Mowry before, but his latest batch of completed instruments has us tongue tied. If these sound as good as they look, and we have no reason to expect otherwise, these are going to make some eager mandolinsts very happy. We're particularly fond of the matching mandolin/mandola siblings in the fist picture.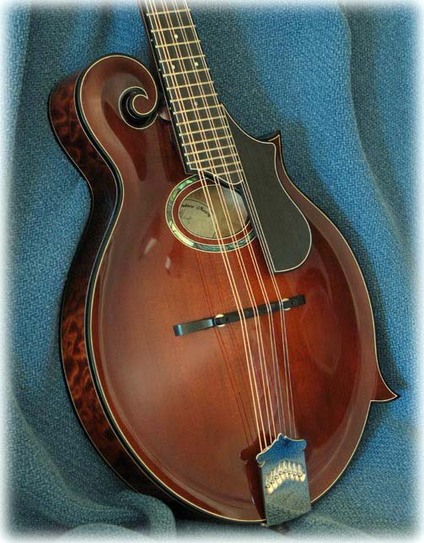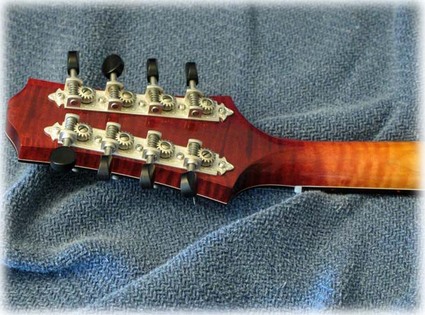 We're perpetually impressed with the Andrew's headstocks. Each is unique, but still holds the Mowry signature aesthetic essence.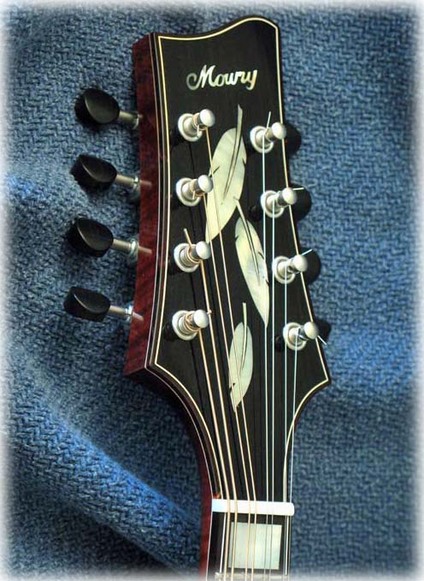 Stunning craftsmanship!
Builder website: Mowry Strings
Read Archive reviews:
Andrew Mowry Two-point
Andrew Mowry Octave Mandolin
View the Mowry Strings Facebook photo album: Completed instruments 1/11

Posted by Ted at 2:51 PM

January 25, 2011 | Announcing 2011 Django in June, June 14-19
The Django in June website has been updated for 2011 and ready to take registrations for full-immersion Django Camp.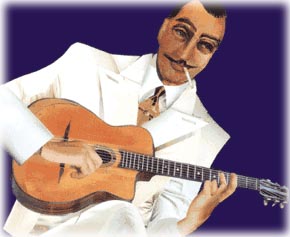 The first music camp in the US dedicated entirely to the Gypsy jazz tradition, Django Camp represents an unparalleled opportunity to both kick back and dig deep with expert teachers and enthusiastic students of the style. Whether you want to build a strong Gypsy jazz foundation or add another floor above the one you've got, guidance, inspiration and camaraderie are offered at a depth you won't find anywhere else this side of the Atlantic.

The dates for 2011 are June 14-19. (Tuesday evening through Sunday noon, with an early arrival option on Monday the 13th.) Held on the beautiful Smith College campus in Northampton, Massachusetts, early bird tuition rates are in effect. (Cost goes up monthly after February.)
The program for players of guitar, violin, accordion, mandolin and bass, is offered by the same concert artists you'll enjoy on the mainstage later in the week. Sharing a violin/mandolin chair are two bright, rising stars of the jazz violin scene, Aaron Weinstein (who has worked extensively with both Bucky and John Pizzarelli) and Jason Anick (most recently, of the John Jorgenson Quintet). Previous mandolin teachers included John McGann and Jamie Masefield.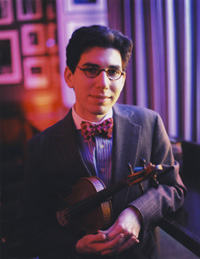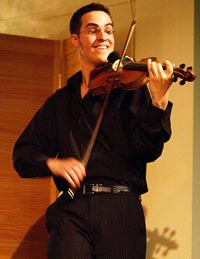 Online jazz mandolin lessons - Jason Anick

Posted by Ted at 5:19 AM

January 23, 2011 | Stjepan Hauser and Luka Sulic - Smooth Criminal
Not much mandolin content here, but this YouTube video should be a creative inspiration to acoustic string musicians everywhere. The young internationally acclaimed Croatian classical cellists, Stjepan Hauser and Luke Sulic really tear it up in this clever arrangement of Michael Jackson's pop hit, "Smooth Criminal."
View video: Stjepan Hauser and Luka Sulic - Smooth Criminal

It would be hard for two mandolinists to simulate the aural drama of the cello's tenor and bass register cababilities, unless of course one of them was mandocellist master Mike Marshall. It's also interesting to see the Luis and Clark carbon fibre cellos in action, of the same company that manufactures the popular New-MAD mandolins.
Posted by Ted at 10:14 AM

January 21, 2011 | JBovier 2011 Models
Specific details were thin on the new 2011 JBovier acoustic mandolin models at the recent winter NAMM show, although we did have a chance to snap a photo in the booth.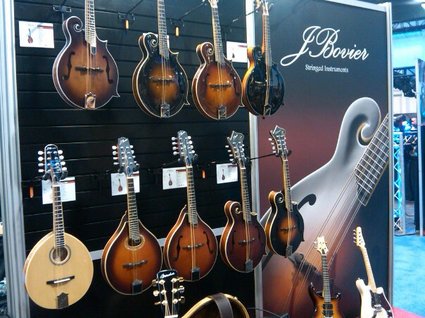 Company founder Jeff Cowherd, who was unable to attend this year's festivities explained, "I had shipped the new 2011 models (Army-Navy, F5-Studio, F5-Special) direct to NAMM from my shop, so Musiquip had not even laid eyes on them until they unpacked them to hang on the wall." In addition, the innovator reports a new 2011 version of the F5 Dorado that is not pictured. We hope to have more information on this and pricing of the new stuff soon. The market is wide open for a modern incarnation of the Army/Navy pancake mandolin.
If you'll recall, JBovier introduced a line of hearty new vintage instrument inspired electric mandolins in 2009, the EMC and EMC-5, and ELS and ELS-5.
Keep 'em coming, Jeff!
Website: JBovier Stringed Instruments
Read archive reviews:
JBovier F5Z
JBovier EMC and EMC-5 electric mandolins

Posted by Ted at 5:51 AM

January 19, 2011 | Now available in ebook: Getting into Jazz Mandolin
With the growing popularity of ebook readers, recent massive sales of Nooks, Kindles, iPads, and many other second tier options this last Christmas season, there remains little doubt the electronic reader has arrived. You can't deny its ability to store, reload, manipulate text, and in many devices, surf the web and play music. We were amazed at the recent NAMM show how many iPads were used for business and communication, only to be switched with the swipe of an icon into multimedia entertainment. The row of our plane trip out to California was thick with travelers viewing movies on the three hour flight.
We had the opportunity to speak with Collin Bay, Artist Relations/Product Development, the third generation of the publishing family leadership at the Mel Bay Publications NAMM booth. The astute 20-something was deeply in touch with the impact of this technology on a publishing consumption that had evolved remarkably little, even from the invention of the printing press almost five centuries ago.
Bay was optimistic about their ability to adapt to these changes. Though barely a decade ago they had already invested heavily ramping up their physical press capabilities, the niche print music industry pioneers had already been bracing for the next generation of electronic distribution. "We'll always want the classic texts in print, but I remember in college buying only ebooks, simply because of the limitations of space in my cramped New York apartment," confessed the multi-talented writer, musician, and industry captain. "We're already preparing for the next change."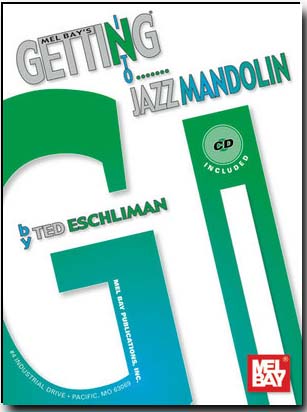 We're excited to see "Getting Into Jazz Mandolin" included in the Mel Bay ebook catalog. Already own a hard copy? Why not pick up an ebook version you can store in your eReader, too?
Convenience is always a commodity worth paying for.

Purchase: Getting Into Jazz Mandolin eBook/CD Set
by Ted Eschliman
Posted by Ted at 5:31 AM

January 17, 2011 | Sweet chords. A look back.
Our main mission on the JazzMando website is to introduce you to some alternative ways to express yourself on the mandolin fretboard. Sometimes it's just a simple matter of learning some cool chord voicings. We did just that in a February 2008 archived Mandolin Sessions article, tabbing out some aural treats for you.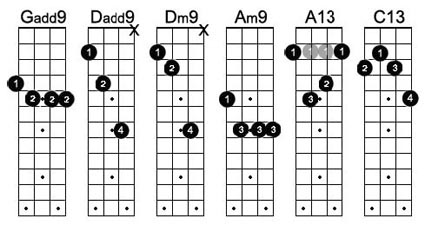 Doesn't take much, sometimes just a simple Add9 or 6. Sometimes it's just as simple as opening the voices a little bit. We also don't need to get trapped in the every-string-every-note rut. Two- and three-note chords work amazingly well in many contexts, too.
We presented a series on "Lizard Ear" chords in the Mandolin Sessions archives, but the earliest glance was the aforementioned "Sweet" Chords; Fresh chord voicings and their context." Get out your ax and savor some harmonic goodness.
Review article: Mandolin Sessions, Feb 2008
Check out the more than seven years of articles listed in our archive table of contents:

Posted by Ted at 4:50 AM

January 15, 2011 | News from NAMM; update
Stiff and sore from two completed days and "trade show feet," we've made the rounds through some of the highlights at the 2011 Winter NAMM show. The frustrating aural din of the environment makes it nearly impossible to effectively pick and audition instruments, but we found a lot of exciting things to report and managed to snap a few amateur pics along the way.
Our biggest news is the return of Michael Kelley mandolins. The premier mid-line instruments had been conspicuously absent the last several NAMM shows, and talks with the product development and marketing team revealed problems with some of their sourcing. Not content to put out inferior product, they made the hard choice of completely pulling the mandolins until they could return with consistent quality control and manufacturing confidence. No longer absent, we saw several respectable models, and reports are the warehouses are shipping soon and filling many dealer back orders. We think their already loyal customer base, as well as new fans will be enthusiastic.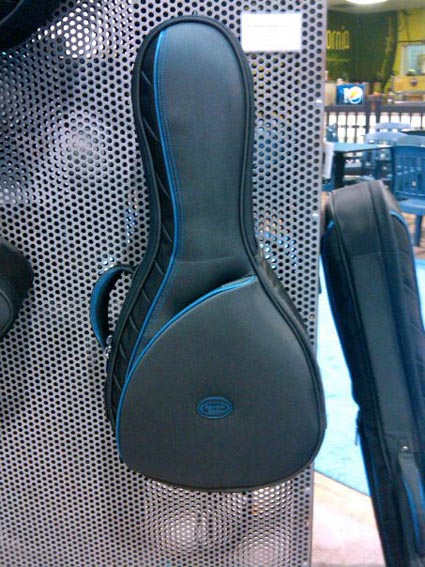 We saw several instrument cases of interest, the Reunion Blues RB Continental bag (you know, the one in the YouTube vid where they drop the guitar off the roof?) is now available in mandolin. Lightweight in design, ergonomic straps, and maximum protection, they should do well with these. We hope to have a hands-on review soon. We also checked in with the Concord case folks about their adjustable interior mandolin case. This one is an extension of their world renown violin/viola case family.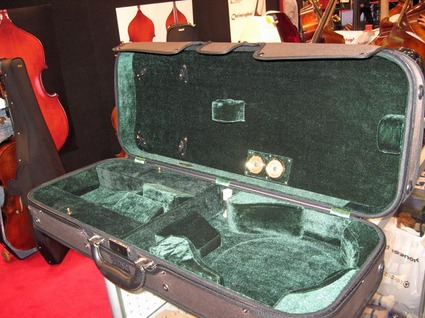 Hidden at the back of the TKL booth was this fabulous Cabellas-like design case. Great for taking your ax to the Great Outdoors. Except you might not find it again.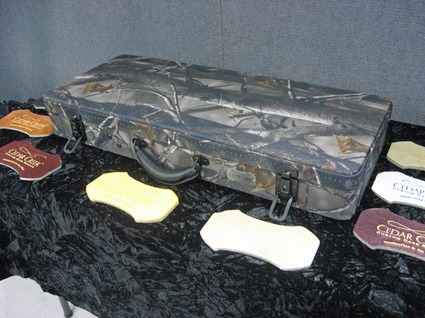 We always have to snap some shots of the Breedlove instruments, and their recent merger with Beadell Guitars displayed some more of the line in a separate hall, in addition to the traditional "underdog" Hall E. It will be interesting to see how the two companies affect each other's mission.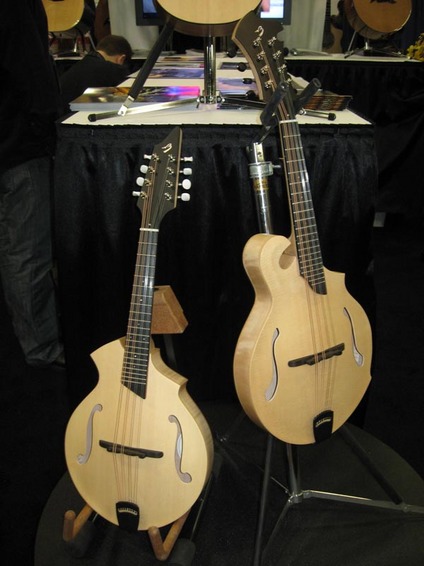 We had to stop by our favorite print music publisher's booth and check out the progress of our favorite best-selling Mel Bay book: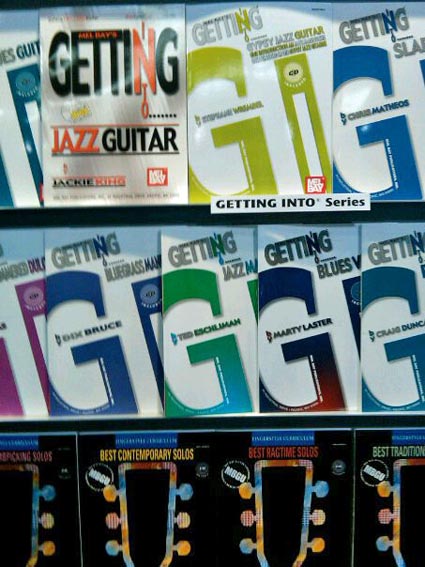 Other favorite stops included the Gold Tone booth, and some cool new iPad stands over at German based K&M:
An intriguing finish was the burl in the grain of this Morgan Monroe intermediate instrument. Understand, the flash disrupts a true visual representation in the photo; the grain of the wood makes it apear to swirl. It really is a sunburst. .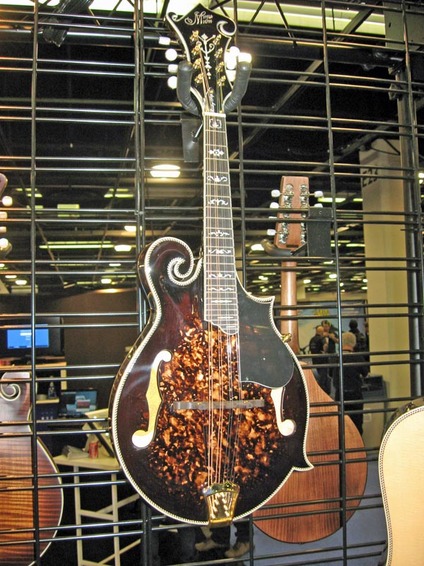 We also enjoyed seing the completed trio of the initial David Grisman "DG" series instruments at Eastman Strings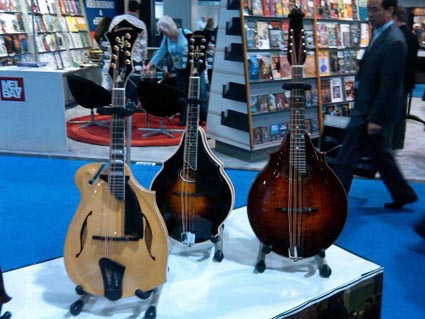 We do have a few more pictures in a Facebook Photo Album if you're inclined, including a quick shot of the James Condino 10-string fanned fret mandola. That's one we hope to steal some quieter moments to experience.

Posted by Ted at 6:25 AM

January 13, 2011 | Winter NAMM 2011
We have the crew out in California at the Winter NAMM show ready to bring you reports of the latest and greatest in the mando world, but we did allow them a day reprieve before the festivities begin. Nothing like a day with "the Mouse" to kick back and recharge.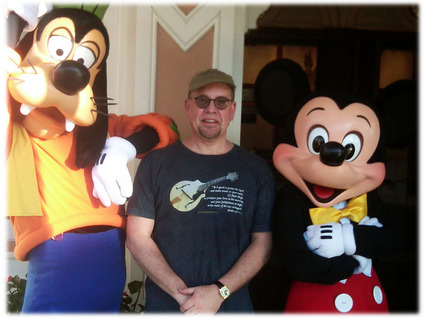 We're looking forward to hooking up with some of our mandolin friends, and even though we won't be hosting a Mandolin Cafe gathering this year, we still hope to make some contacts. Our intention is to document new instruments and toys in pictures, so we'll keep you posted.
Bear in mind, the Merchandise Center is temporarily shut down, but we'll be back to shipping again after Monday's government holiday on Tuesday.
Stay tuned...

Posted by Ted at 6:35 AM

January 11, 2011 | Mandolin Cafe iPhone App V.2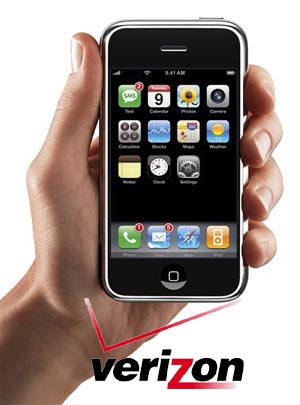 With the impending news of the new Verizon iPhone, we're pretty excited about the opportunity of expanding the user base of the iconic smartphone, and timing is good for anyone interested in more effective handheld access to news from the Mandolin Cafe with their own release of the iPhone app V.2 update.
We mentioned the initial efforts of Mandolin Cafe admin, Scott Tichenor and Florida mando geek and computer programmer Steve Smith last October on the release of their new Mandolin Cafe iPhone App. We've already aquired it on the new iPod Touch 4th gen and the iPad with great success. Check the latest mandolin news, newly listed Classified ads, chord finder, builder database, and a compelling sample of some of the best forum topic threads from an RSS feed.
New in version 2: expanded forum access and created a separate Forum area that contains all forum subsections which then leads to a list in each sub-area to the newest available thread discussions. Clicking into individual discussions still takes you directly to the forum in a web page environment but that will change in the future.
Chords: expanded chord selection. For many chords, there are now alternates. To view alternates, just swipe your finger right to left over the chord. There is a text message that indicates what chords have alternates and this is an area we intend to develop after stepping back and taking a break.
Of course it doesn't have the full functionality of the website itself, but it has many of the most important parts. (You wouldn't be able to fit all that in the palm of your hand, anyway.) Best part: the app is free!
Check it out!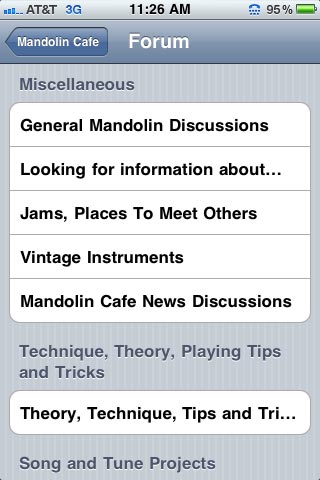 News: Mandolin Cafe iPhone App
Posted by Ted at 4:51 AM

January 9, 2011 | James Condino 10-string Fanndola
We're on record as being huge fans of the handiwork of mad genius North Carolina builder James Condino, having reviewed three of his instruments, among them the iconic green Cricket and of recent, his "One-off." We had the privilege of a sneak preview of his latest on the way to a premier in the Winter NAMM show's "Museum of Making Music." The woodsmith was among an elite group selected for display at the international event. We haven't found out if it's going to be behind glass our we will actually be able to play it for the time being, but as it's a fanned-fret 10-string, we're about crawling out of our skin to see it.
We're a little skimpy on the details of wood and other specs, although he has reported "This one is #4 for me. #5 will be a two point round back and I think that #6 will be a Brazilian rosewood cylinderback. I'm doing the preliminaries now, the build start in September. One thing that I have done recently is moved the neutral fret from 12 to 8. This makes a HUGE difference in playability and your position at the nut is much more subtle."
We can't wait to see what he does with the design. Until then, get a load of this gorgeous eye candy. Click on the images below for close-ups. If your heart can stand it...
Builder's website: James Condino
Contact james@dreamguitars.com
Read Builder's article: The Mechanic's Corvette
Posted by Ted at 8:00 AM

January 7, 2011 | Neil Gladd, Classical Mandolinist/Composer
We like to keep track of some of our Facebook friends' fan pages, and the latest entry is Washington DC area classical mandolinist/composer, Neil Gladd. The musician is one of our own national treasures and remains active as a guest performer with chamber ensembles, contemporary music groups, and orchestras.
Neil weighs in "I created this page a few days ago, and have 5 recordings online that you can listen to, so far: 2 studio recordings and 3 from live concerts. Click on "Band Profile" to hear them!"
From his biography, "Neil Gladd received his B.A. in Music from Virginia Tech in 1978, and is currently based in the Washington, DC area. He has appeared as a mandolin soloist at Carnegie Recital Hall, Merkin Hall, the Kennedy Center, the Smithsonian Institution, at mandolin festivals in Germany, Sweden, Belgium and Japan, as well as in recital in Canada, England, France and throughout the U.S. His repertoire ranges from Bach to Vaudeville to contemporary music, and more than a dozen new works have been written for him. In addition to his work as a performer, Mr. Gladd is a composer and an authority on mandolin history and recordings."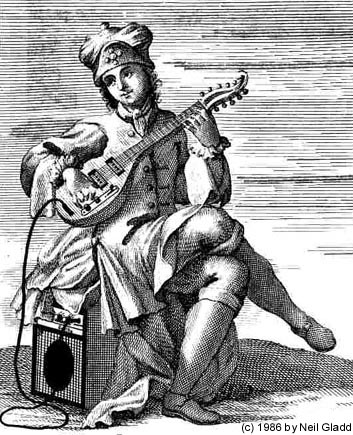 Website: Neil Gladd
Visit Neil Gladd Facebook Fan Page
Posted by Ted at 6:30 AM

January 5, 2011 | Last chance: Psalm Shirts
We mentioned these prototype boutique shirts last September. We've decided not to bring them to market so this is your last chance to pick up the remaining. We've since whittled the supply down to two Large and one Extra-Large; they're available first-come, first-serve.
UPDATE: We now have only one Large left
We're just asking production costs and shipping, $19.95 (add $8.00 for international orders).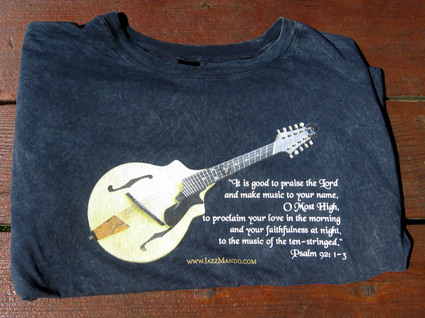 More details about them here: Psalm 92 Shirt
We should point out you will look much better in the shirt than the chubby guy in the link picture (even though he's lost 24 pounds since that was taken last summer). The are a better than average quality, which in addition to the four-color graphic is why they are higher priced. Their $35 retail price tag made them cost-prohibitive to mass produce.
Send us a message on the contact menu at the top of the page if you're interested.
Posted by Ted at 5:08 AM

January 3, 2011 | Jason Anick; Sleepless
We mentioned virtuoso jazz violinist Jason Anick last week and a superb YouTube video, but January 1st was the live launch date of his debut solo CD, "Sleepless." We've already had the opportunity to spin this several times, and are stunned by the artist's technical skills and musicality. Though the bulk of the recording is his world class fiddling, good enough to earn him a permanent touring spot with premier guitarist John Jorgenson and his quintet, he does some incredible work on the project with electric and acoustic mandolins.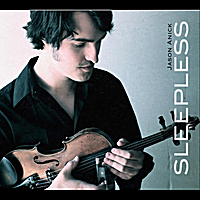 The thirteen song collection includes some familiar Django jazz standards, but also some well-crafted original compositions, as well as a tribute to the Fab Four in a cover of the Beatles' lesser known Abbey Road single, "You Never Give Me Your Money." Beyond the obvious finesse of his violin skills, what is most compelling is how intimately musical his mandolin phrasing is. Despite the inherent percussive confinement of pick, his interpretations flow in long, bow-like lines. He builds with crescendos and decrescendos confidently, as if acoustic mandolin were his primary instrument. His electric technique is equally nuanced and sophisticated harmonic improvisational vocabulary complex but smooth on the ear at the same time.
Joined by the aforementioned John Jorgenson, Anick has also enlisted the services of former JJQ rhythm guitarist, Buos Aires expatriot Gonzalo Bergara and JazzMando fave, Berkelee Professor John McGann. The playing is splendid and the CD is 2011's very first "must-have" for any jazz violin/mandolin fan.
Highly recommended!
Track listing:
1. Swing 42
2. Sleepless
3. Landslide
4. I Can't Give You Anything But Love
5. Tears
6. Le Feu Le Plus Beau
7. Sent Home
8. You Never Give Me Your Money
9. Keeper
10. Nuages
11. Bird's Eye View
12. Sweet Georgia Brown
13. Minor Swing
Purchase CD: Sleepless
Artist website: Jason Anick

Posted by Ted at 5:18 AM

January 1, 2011 | New Year. Resolution...
We all have things we want to accomplish in the new year, goals to set and achieve, and it's usually the simple, focused ones that get accomplished. One of ours for 2011 is to revisit our "Professional's Sound Lab," the page of audio tracks we've set up to support the Getting into Jazz Mandolin book and pester some more of our favorite professionals for some more entries. We did pretty well right off the bat as you can see below, but it's time to expand the rich ear candy that can make this book an even better experience for the hundreds of customers who have made the investment of money and time.
Check out these and some of the other helpful 'ii V7 I' and Turnaround tracks recorded by premier jazz mandolinist, Don Stiernberg and New Orleans multi-instrumentalist John Eubanks.

---

PROFESSIONAL'S SOUND LAB

Audio: Other Artist's Interpretations GIJM songs (Pages 33, 36, 84, 102, 107)



Will Patton: Lydia O' Lydia; Artist website



Mark Wilson: Fascinatin' Doll; Artist website



Mark Wilson: Dorian's Grey

Don Julin: Chick'n Apple Scrapple; Artist website



Don Julin: Lydia O'Lydia

Craig Schmoller: Lydia O' Lydia; Artist website



Jamie Masefield: Yes, I'll Always Be There; Artist website



Jamie Masefield: Chick'n Apple Scrapple
More Webtracks.
Pickup your copy of the book where these tunes come from: Getting into Jazz Mandolin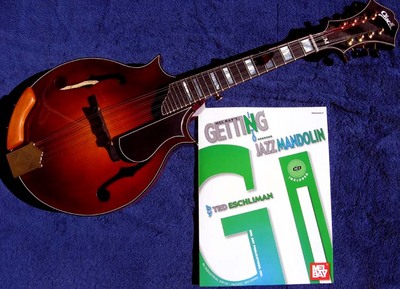 Posted by Ted at 6:23 AM