« January 2011 | Main | March 2011 »

February 28, 2011 | World Dominants
We hope you've been able to keep up with this. Our latest Tips and Tricks entry is the second of a three part series on mandolin 3-note fingerings of the V7 chord. What's great about this is how comprehensive this is in tapping the potential of the crucial component of the Tonal Universe up and down the fretboard. The first week we looked at the four blocks (yes, that's it! Only four to learn!). The second installment covered how we can smoothly progress from one to the next in a Circle of Fifths progression.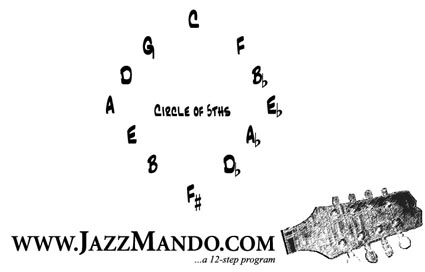 We can't stress enough how crucial these fingerings are, let alone how competent familiarity can inject intuitive freshness into your comping. Next week we'll look at the passing chords you can inject between, in order to get even more fluidity into your background accompanying.
Read Articles:
3-note Chord Dominants; Part 1 (Inversions)
3-note Chord Dominants; Part 2 (Circle of Fifths)




Posted by Ted at 5:40 AM

February 26, 2011 | New budget Snark Tuner! Introducing the SN5.
We're getting the cart WAY ahead of the horse, but the company that brought you the epically popular Snark Chromatic Tuner, is introducing a new streamlined (translate "less expensive") SN5 tuner designed for guitar, bass, and violin.
Of course, we'd like to say they were designed for mandolin.
Unlike the SN1 & SN2 clamp-on at $29 and $39 respectively, and their sister SN3 & SN4 handheld versions, these will carry a lower list price of $19. Expect the street price to be under $10, plus handling. Players rave about how responsive these are, and how easy to read. These will also be encased in a more subtle black finish: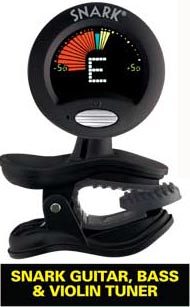 SN-5 Features:



Fast and ultra accurate tuning


Full color display


Fully chromatic


Display rotates 360 Degrees for optimum viewing


Clip stays where you put it



Look for these to be available from your favorite stores, starting April. (We might even carry them here in the JazzMando Merchandise Center.)

More information on other available current models: Snark Tuners
Posted by Ted at 5:29 AM

February 24, 2011 | JM Family Flatwound strings. Smooth Feel, Warm Tone

A time-tested favorite (first introduced in 2005), JM11s are in plentiful supply in the JazzMando Merchandise Center and ready for you to experiment with on your mandolin. If you seek a warmer, richer sound, and don't expect a percussive "slap" out of your mandolin, these may be what you are looking for. Praised for their longevity, the polished custom Flatwound Labellas are designed with a much closer, tighter wrap which resists corrosion and wear from oxidation and player perspiration, similar to the world renown Thomastiks at less than half the price. The steel alloy lends a crisp, subtle "punch" for a sophisticated bell-like articulation. Player comfort from the smooth strings makes these feel as great as they sound! Red chenille winding grips the tuners on the wound G and D strings.
Initially designed for the closed position playing of jazz and classical music, these will also work well for the folk, and blues mandolinist. Understand, they won't offer the killer, zingy open-string projection you seek in a loud acoustic jam setting, but they will give you definition and a warm character for more intimate solo and small ensemble environments.
Order them from the convenient online JazzMando Merchandise Center. Shipped within 24 hours.
Sales:
JM11 Flatwound Mandolin
JM10B Ball-end Flatwound Mandolin (electric)
JD13 Flatwound Mandola
Need a polish cloth or picks? Got them too!
Posted by Ted at 5:50 AM

February 22, 2011 | Weber. The handcrafting part.
When our hands and ears experience the final product, often we are naive to all the intricacies of the craftsmanship behind our instruments. Of course, mandolins are not just stamped out of trees by robots (or even elves), and it's fascinating to see some of the human magic that goes into making wood and steel into a tangible tool in our aesthetic experience of making music. It's not just the overall design and complex aural engineering, but the hours of attention and patient detail no machine could ever replace.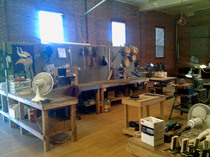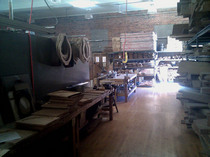 Pictures courtesy of Levy Littvay

We recently mentioned the Gallatin A body mandola we have in the works at the Weber cottage of woodsmiths, and were privileged to an informal glimpse into what goes into bringing spruce and maple back to life again. In the video below, the neck has been attached and the chiseling to make body, fretboard and neck ready for finishing is a fascinating snapshot of the process. We appreciate being able to see the instrument in this incarnation, and can't wait to see the final results in mere weeks.
You might want turn the sound down because of the background noise (imagine working in that din all the time!).
Video link: Gallatin A-body D hole mandola

Read: Sound to Earth--Weber Factory Tour
Posted by Ted at 5:37 AM

February 20, 2011 | All of Me; Jason Anick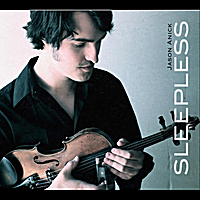 One of our favorite jazz standards is the timeless 1931 Gerald Marks and Seymour Simons classic, "All of Me," and rising star Jason Anick is certainly up to the task. His delightful interpretation will leave you grinning as he teases the fretboard extremes of his Saga electric mandolin in this casual, but competent video.
We've mentioned the John Jorgenson Quintet sideman and jazz fiddle prodigy before, raving about his newly released solo album, "Sleepless" earlier this winter. We continue to spin this CD (metaphorically at least, in our iPod Touch), and enjoy his masterful phrasing and fresh "Gypsy" perspective.

Video Link: All of Me; Jason Anick

Extra points if you catch the "My Melancholy Baby" quote midway through the clip.

CD Review: Jason Anick; Sleeples

Posted by Ted at 7:35 AM

February 18, 2011 | Mandolin Cafe Ball Caps. Today's the day!

Folks have had to wait for months while these have been out of stock, but expected to hit the MC warehouse in Kansas today is the new shipment of Mandolin Cafe Ball Caps. Four fashion colors, Olive, Khaki, Charcoal, and adrenalin racing Red. Each order ships with 2 free Mandolin Cafe case stickers.
You'll see quite a few of these being worn around the JazzMando office. Most of the guys have at least two; we prefer the relaxing Khaki for outdoor activity, the darker elegant Charcoal for evening formal wear.
Only $13.00 plus shipping, you'll want to demonstrate your affection for the instrument and this incredible online resource, the Mandolin Cafe Website, by donning one of these. Get your pre-order in and avoid standing in the long lines when they ship tomorrow.
Order information: Mandolin Cafe Ball Caps

Posted by Ted at 5:57 AM

February 16, 2011 | American String Teacher's Journal review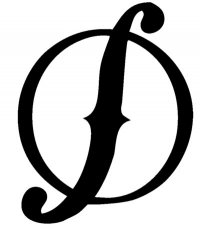 We were thrilled to have "Getting to Jazz Mandolin" reviewed in the recent November issue of the American String Teacher's Journal. The educational organization doesn't usually pay much attention to the fretted side, but an occasional mention happens our way, and in this case, thanks to frequent contributor, Dr. Robert Woody, Sr., Professor at the University of Nebraska at Omaha. A talented multi-instrumentalist himself, "Doc" is a devoted fan of the mandolin, and has also contributed articles to Mandolin Quarterly, and is highly read in the area of Psychology, as well as Music Education. We're grateful for his kind words:
From the article: "Contemporary mandolin materials tend to be in the bluegrass genre or collections of simple tunes. Such sources provide basic information, but seldom venture into a sequence of learning experiences beyond fundamentals. Getting to Jazz Mandolin is unique. It seeks to provide information in a progressive manner, with emphasis on theory and practical (but creative) finger patterns.

Eschliman uses homespun language, sometimes a bit 'folksy' to explain theoretical idea and offer understandable linkage to technique. Arpeggios for a variety of chords and inversions, numerous drills, altered scales, cadences, comping, and progressions further the jazz objective. Labels are applied to imprint the interaction between scales and chord patterns.
The 'getting to jazz' concept is the basis for learning the full fingerboard (many mandolin methods neglect the upper positions). In keeping with the importance of scales for appreciating music, Eschliman blends the emphasis on fingering into modes, such as advancing scale-based passages upward, with introducing the concepts of intervals and chords. The fixed four finger closed position (FFcP) is emphasized, and its application on different strings and at different frets.
The book expects the student to have solid knowledge of music and at least intermediate (if not advanced) performance competency. Eschliman points out that the learning experience requires fingers, ears, and brain. Within his approach to jazz mandolin, the "brain" is certainly a critical aspect. An extensive set of support materials and articles are available on his website (www.jazzmando.com). This book and CD is valuable for teaching others or oneself or developing a scholarly approach to jazz mandolin."
American String Teacher website: ASTA
Purchase book Getting into Jazz Mandolin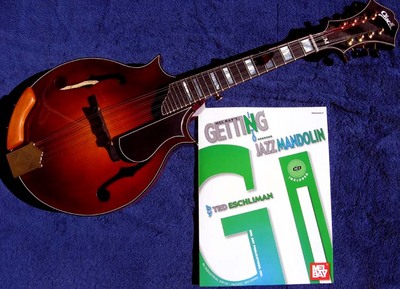 Posted by Ted at 5:36 AM

February 14, 2011 | New models from JBovier Mandolins
Coming in April to JBovier dealer showrooms, three exciting new models of acoustic mandolins. We raved last year about the addition of some outstanding electric mandolins, and founder and head designer, Jeff Cowherd has been back on the drawing board working some tweaks on two Florentine models, and a welcome return to the past in an intriguing affordable Army/Navy flat top. We mentioned seeing these at Winter NAMM, but with them being so new, details were a little sparse.
Jeff weighs in, "My intention for 2011 was to offer a line of JBovier mandolin models that will appeal to a wider group of players... both in affordability and quality. To begin with I designed (3) new mandolins for 2011 starting with the "AN" (Army-Navy) model for under $300, the "F5-Studio" for under $650., and the fine quality "F5-Special" as the new top-of-the-line. Also, the familiar "A4", "A5X", "F5-Tradition", & "F5Z" models will have lower prices for 2011, to help players like me who are "financially challenged".
We raved about his affordably priced profesional model Zebrawood F5Z in a 2009 review, and are eager to see these new additions hit the floor this spring.
Click images for close up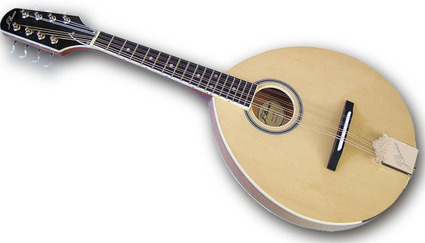 Army/Navy
Solid Sitka Spruce top, Mahogany neck, back and sides
Tone bar bracing
Inlaid headstock logo
Acrylic position dots
Single ply binding, synthetic bone nut
Wilkinson Jinho tuners
Flat Ebony fretboard & bridge
Chrome endpin & hardware
Two-way adjustable trussrod, Dowel rod neck joint
.080 frets
Available in Natural Gloss (NG)
Builders note: The "A/N" will have a traditional 2-piece adjustable bridge & saddle... NOT fixed w/ saddle insert as shown.
$379 List price, $299 Street price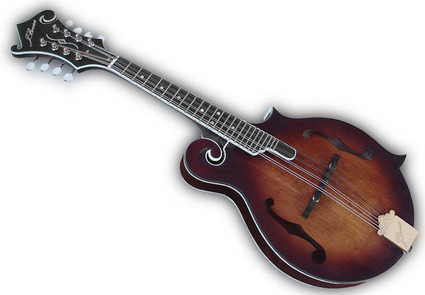 F5 Studio
Solid Sitka Spruce top, flamed Maple neck, back and sides
Tone-bar bracing
Inlaid headstock logo & decor
Three line binding, synthetic bone nut
Wilkinson J-105-C tuners
Flat Ebony fretboard & bridge, Ebony endpin
Nickel hardware
Two-way adjustable trussrod, dovetail neck joint
.080 frets
Available in Aged Oil Brown (ABO)
$849 List price, $699 Street price
Builders note: The "F5-Studio" will have a normal (abbreviated) JBovier fretboard extender... NOT have the long fretboard extender as shown.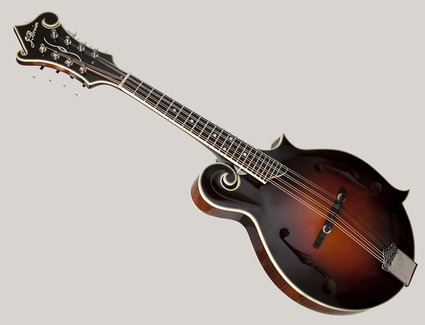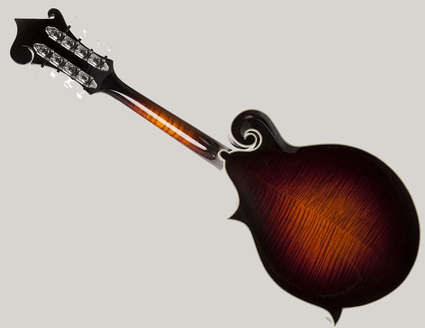 F5 Special
Solid Carved European Spruce top, highly-flamed Maple neck, back and sides
Vintage profile tone-bar bracing
Inlaid headstock logo & special decor
Mother of pearl position dots
Three-ply binding, bone corners
Tusq nut
Gotoh/Vintage Design tuners
Radiused Ebony fretboard & bridge, Ebony endpin
Nickel hardware
Adjustable trussrod, dovetail neck joint
.080 frets
Available in Nitrocellulose Gloss Sunburst (SB)
$2199 List price, $1699 Street price
Builders note: The "F5-Special" will include a Hiscox "Pro II" Case

Manufacturer Website: JBovier Mandolins
Custom Shop Website: JBovier Custom Shop
Posted by Ted at 5:56 AM

February 12, 2011 | Impossible nail-through-wood trick
Sometimes you just marvel at the ingenuity of a clever woodworker. We often have no idea how it is they accomplish what they do, bending and torturing wood into an unnatural form such as the sides of a mandolin or guitar. Once in a while these actions get truly bizarre, as in the following YouTube video.
Seeing the final result without knowing how it's done would perplex any good Boy Scout.
We're thinking this might be fun to incorporate in a mandolin headstock some way.
Dream on...
Posted by Ted at 5:36 AM

February 10, 2011 | Free Downloads
Of course we're not above suggesting you purchase the strings, picks, and book we sell here that support the site, but we also like to introduce you to the broader Jazz Mandology concepts taught through some terrific FREE downloads, stuff you can print out or store as a PDF in your eReader. From the stock 'ii V7 I' chords to a plethora of FFcP lessons, you can find months of things to practice and hone your fretboard prowess.
Jake recently wrote us, "I just wanted to let you know that all of your free downloads as well as tips and tricks have helped my playing and enjoyment of playing immensely. A must for any mandolin player serious about practice. I guess I must order your book too! Thanks Ted."
We always appreciate the kind words and suggest you explore our FREE downloads page to see if there's something you've missed over the last seven years we've been adding to them.
Check it out: FREE downloads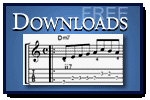 ---


Posted by Ted at 9:14 AM

February 8, 2011 | Fretboard Toolbox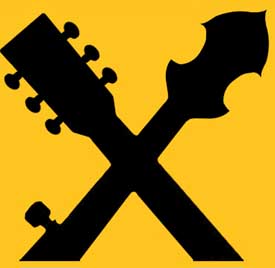 Music theory is always a good tool to supercharge the process of understanding and internalizing the fretboard and scale/note relationships, but sometimes a novice can get lost without some kind of graphical tool to wrap the cerebral concepts around. Like trying to understand where Arizona is in relationship to Montana, let alone Vermont or Bangladesh, having the visual tool of a map or globe is a shortcut to the brain developing some kind of spatial reference.
We get into some pretty esoteric concepts around here with our high falutin' 'ii V7 I's and Lydian Dominants, and sometimes it doesn't hurt to check out tools that might make stepping out on the trip to mando mastery a little more efficient. Outside of a few chord charts and some FFcP TAB, we don't offer much in fret visuals, and perhaps it's time to recommend an outside source that might offer a strong graphical aid in grasping some of the basics of fretboard layout in the simpler concepts like Major and Minor Scales and Pentatonics, especially for beginners. Such is the case with Scott Sharp's "Fretboard Toolbox," basic chord, scale, and mode construction "jig."
The following is an excellent video of the framework of his approach and how this may help you:
Video link: Free Mandolin Chord-Building Lesson- Fretboard Toolbox

More advance mandolinists will be farther down the road than this, but if you've just started this trip, or know someone that can play a little by ear and wants to really understand what she or he is doing, the materials would be a terrific first step.
Visit website: Fretboard Toolbox
Purchase information: Buy One Now
Free Samples: Free pages!
Other instruments available, too!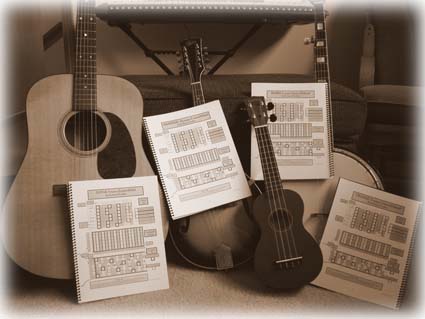 Posted by Ted at 5:06 AM

February 6, 2011 | Personal Weber mandola build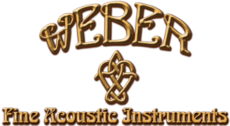 Might have been a dangerous project last November researching the Sound to Earth website " Design a Weber" feature. We fell victim to its allure and ended up biting on a lovely Gallatin A bodied D-hole Mandola.
We've been able to put it on the mental back burner this winter, but now that Mary Weber has forwarded personal "baby" pictures to the JazzMando email box, we're struggling to contain the enthusiasm.
Namaste...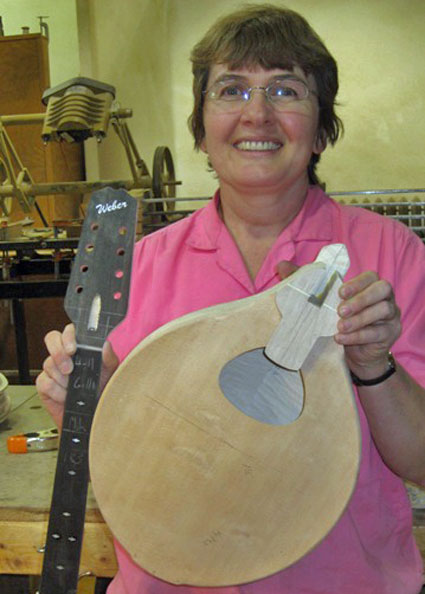 We opted out of the stereotypical JazzMando eccentric aesthetic panache, going the more traditional route with their classy Worn Leather finish. That wicked cool teal-burst pictured on their front page was admittedly a temptation, but it never hurts to err on the conservative side if there is any remote chance long term for resale. About the only upgrade is the antiqued gold hardware. As you can see, the neck and body are cut and sanded and finish will be the next step: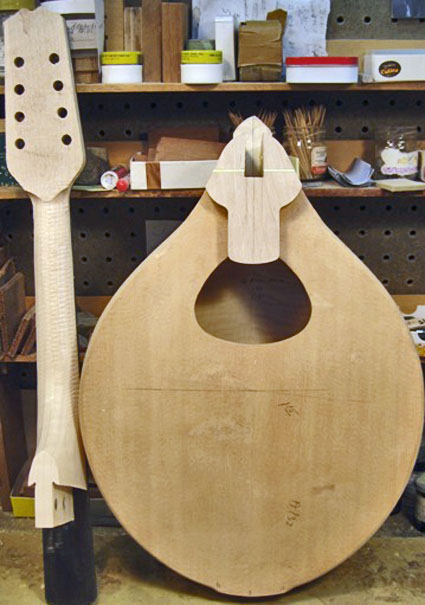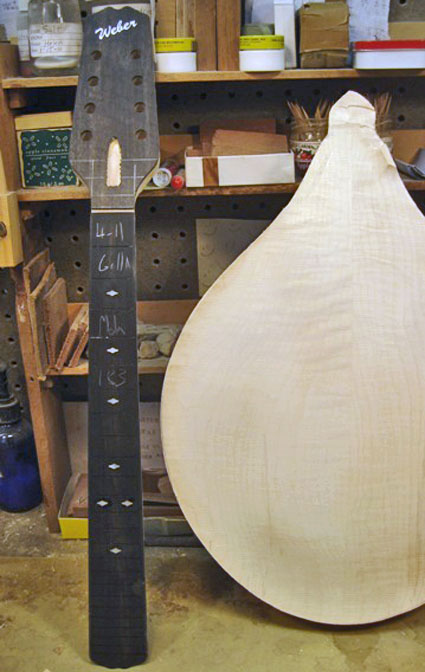 We've received some personal testimonies from other D-hole Weber dolaists that these are terrific instruments since placing the order. We're only a few weeks away, but doing as best as possible not to get giddy.
Read: Sound to Earth--Weber Factory Tour
Enjoy: Sound to Earth--Design a Weber simulation
Visit: Weber Fine Instruments Facebook page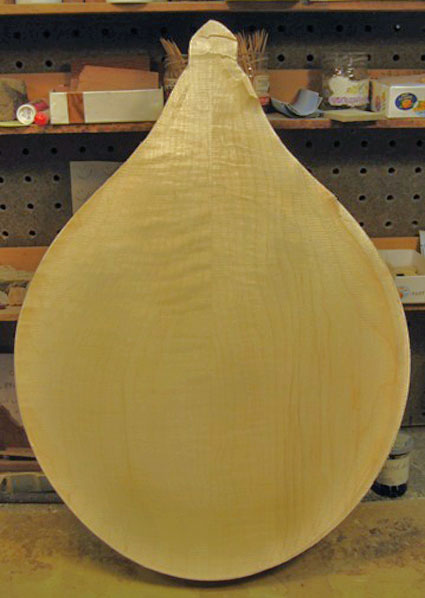 Posted by Ted at 7:27 AM

February 4, 2011 | February Mandolin Sessions--Minor Blues
The February Mandolin Sessions articles from Mel Bay are online, and our latest installment of Jazz Mandology tackles the Blues. We've covered on this site how jazzers like to break the three chord mold, injecting some advanced theory notions and expanding some of the individual chords with variations on 'ii V7 I'. This time we dig a little deeper into minor variations.

From the article, "Blues is one of the simplest American music art forms, an unpretentious 12-bar pattern that has been the framework for "pure" folk/roots Blues, as well as an integral ingredient in early Rock and Roll, adopted and adapted by jazz musicians, and infused with a more sophisticated set of changes and harmonic complexity."
Time to shake it up a little... Are you in the "mode"?
Check it out: Minor Blues: Fresh patterns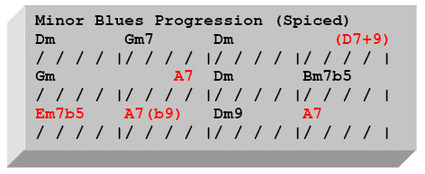 Posted by Ted at 4:59 AM

February 2, 2011 | 10 Questions for Aaron Weinstein
We were recently extended the privilege of administrating an in-depth interview with jazz violin/mandolin virtuoso, Aaron Weinstein in the Mandolin Cafe's interview series. We've mentioned him on the JazzMando website before, his uncanny knack for chord melody, well documented on his YouTube channel. We've exchanged email with him a few times over the past couple years, and he's been the topic of casual discussion many times with his mentor, jazz mandolin giant, Don Stiernberg. It was great to go deep and cover some of the questions no doubt many of you readers have had after the wonderment and awe we've already posted here.
Here's your chance! Check out the sensational young artist's story:
10 Questions for Aaron Weinstein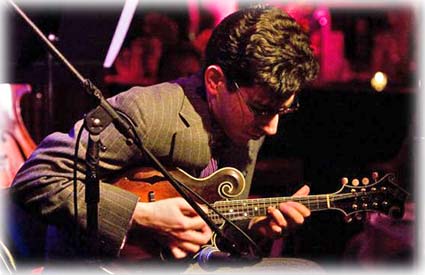 Previous JazzMando articles:
King of Strings
Swing Cafe
Aaron Weinstein wants to be happy
Aaron Weinstein Jazz
More mandolin magic from Aaron Weinstein
Aaron Weinstein, "Pennies From Heaven"
Announcing 2011 Django in June, June 14-19

Posted by Ted at 5:25 AM