« Fretboard Toolbox | Main | Impossible nail-through-wood trick »

February 10, 2011 | Free Downloads
Of course we're not above suggesting you purchase the strings, picks, and book we sell here that support the site, but we also like to introduce you to the broader Jazz Mandology concepts taught through some terrific FREE downloads, stuff you can print out or store as a PDF in your eReader. From the stock 'ii V7 I' chords to a plethora of FFcP lessons, you can find months of things to practice and hone your fretboard prowess.
Jake recently wrote us, "I just wanted to let you know that all of your free downloads as well as tips and tricks have helped my playing and enjoyment of playing immensely. A must for any mandolin player serious about practice. I guess I must order your book too! Thanks Ted."
We always appreciate the kind words and suggest you explore our FREE downloads page to see if there's something you've missed over the last seven years we've been adding to them.
Check it out: FREE downloads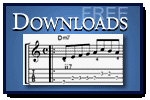 ---


Posted by Ted at February 10, 2011 9:14 AM