« All of Me; Jason Anick | Main | JM Family Flatwound strings. Smooth Feel, Warm Tone »

February 22, 2011 | Weber. The handcrafting part.
When our hands and ears experience the final product, often we are naive to all the intricacies of the craftsmanship behind our instruments. Of course, mandolins are not just stamped out of trees by robots (or even elves), and it's fascinating to see some of the human magic that goes into making wood and steel into a tangible tool in our aesthetic experience of making music. It's not just the overall design and complex aural engineering, but the hours of attention and patient detail no machine could ever replace.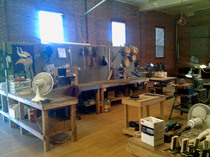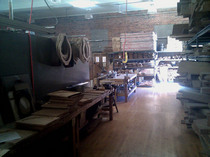 Pictures courtesy of Levy Littvay

We recently mentioned the Gallatin A body mandola we have in the works at the Weber cottage of woodsmiths, and were privileged to an informal glimpse into what goes into bringing spruce and maple back to life again. In the video below, the neck has been attached and the chiseling to make body, fretboard and neck ready for finishing is a fascinating snapshot of the process. We appreciate being able to see the instrument in this incarnation, and can't wait to see the final results in mere weeks.
You might want turn the sound down because of the background noise (imagine working in that din all the time!).
Video link: Gallatin A-body D hole mandola

Read: Sound to Earth--Weber Factory Tour
Posted by Ted at February 22, 2011 5:37 AM