« 10 Questions for Aaron Weinstein | Main | Personal Weber mandola build »

February 4, 2011 | February Mandolin Sessions--Minor Blues
The February Mandolin Sessions articles from Mel Bay are online, and our latest installment of Jazz Mandology tackles the Blues. We've covered on this site how jazzers like to break the three chord mold, injecting some advanced theory notions and expanding some of the individual chords with variations on 'ii V7 I'. This time we dig a little deeper into minor variations.

From the article, "Blues is one of the simplest American music art forms, an unpretentious 12-bar pattern that has been the framework for "pure" folk/roots Blues, as well as an integral ingredient in early Rock and Roll, adopted and adapted by jazz musicians, and infused with a more sophisticated set of changes and harmonic complexity."
Time to shake it up a little... Are you in the "mode"?
Check it out: Minor Blues: Fresh patterns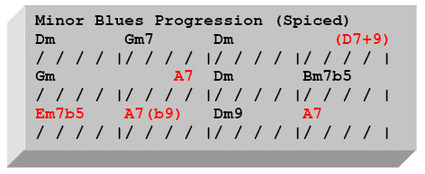 Posted by Ted at February 4, 2011 4:59 AM