Andrew Mowry
Guitar-bodied Octave Mandolin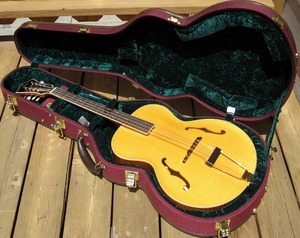 We're already on record as being very impressed with the craft of Bend, Oregon builder Andrew Mowry. His impressive assymetrical two-point mandolin fit nicely in the hands, sang with robust yet round tone, and captured the eye with its clean aesthetic detail. (You can read this review here: Mowry Asymmetrical Two-point Mandolin.) Needless to say, when recently offered the chance to review one of his guitar-bodied octave mandolins, we expected to be similarly awed. We were not disappointed; every element of cosmetic perfection and attention to tone production surpassed estimation.
Every first-class instrument requires a premium protective case, and the Ameritage custom it came in was as beautiful as it was functional. Our only reservation was the burdensome weight strutting it long distances. Still, this is nothing you'd want damaged in transportation; the best insurance you could have avoiding such tragedy is this kind of portable fortress.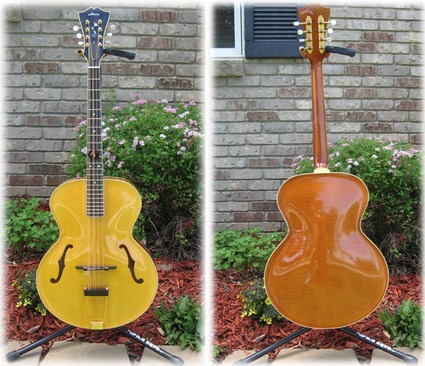 The guitar-body shape is not a radical departure from tradition; sans expensive scroll cosmetics or lap corner, it's become a quite popular and logical alternative of recent. The physical volume requires a neck/body balance that straps or sits well, and this shape has already done admirable duty for guitarists for decades. Mowry does add some compelling bling to the basic silouhette with his signature headstock élan. We've long admired his headstock detailing; other headstocks in his past repertoire are worth exploring at his website, by themselves. Schaller tuners in this instrument, although he's content to offer the customer individual choice.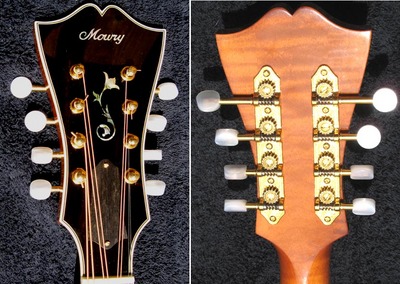 Unlike his mandolin necks, Andrew does not use a non-adjustable trussrod, opting to support the longer scale tension with a conventional one-way trussrod. He tries to keep all his instruments as lightweight and stiff as possible using reverse-kerfed lining and laminated internal blocks. Of course, compared to a mandolin, the OM feels heavy, yet its overall weight is ergonomic and sensibly comfortable to the shoulders strapped on.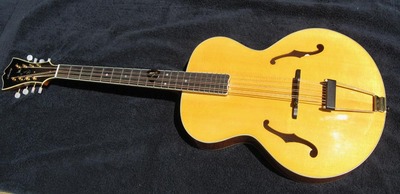 Wood choices were Engelmann spruce (red spruce X-bracing), and the neck, back, and sides are red maple. The finish is French-polished shellac (spirit varnish) and the pictures really don't do the blond top justice. The honey-amber back and sides set apart by the ivoroid binding are also a visual treat, revealing a brilliant flame in just the right light.
Although the neck floats only slightly above the body with a smaller gap one would find on a regular mandolin, we'd probably still prefer to include a pickguard, admittedly a very much personal preference.
Note the choice of ball-end strings on the custom tailpiece. Because of the industry's current limited available variety of loop end strings, we wish more builders would offer this. The tailpiece uses the hanger from a trapeze archtop tailpiece with the addition of the ebony crosspiece and other modifications. Andrew adds, " I'm doing two things (that come to mind) differently since I built that octave. I'm making the body just a little deeper to try to bring out the low end a little more, and I'm making larger bridges. I'm not a fan of traditional archtop guitar bridges, which always seem big to me. However, the bridge on that octave is probably a little too small."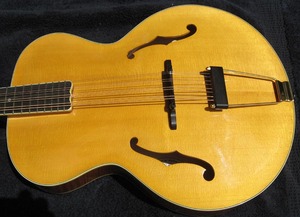 We struggled with the heavier gauge strings (13-52) as sent to us, but this is something a player will want to experiment with. We would likely use flatwound electric guitar strings, but if one were to use a lighter phosphor bronze, a player would have to be willing to sacrifice some tone and sustain for closed finger playability. It's all a trade off, but in the bigger picture, the OM is capable of some rich, robust tone, and a wide variety of dynamic range and nuance, the mark of world-class craft.
At a 21-1/2" scale, we should also mention, closed-finger playing is somewhat of a challenge. One would have to make some adjustment for octave/mandocello fingering to get the most out of it. We prefer a shorter scale for the FFcP (Four Finger closed Positon) strategies, but again the trade-off would be a sacrifice of sonic power and volume. One seeking optimal full-body presence will undoubtedly want this larger size. With lighter strings, this instrument would work arguably better for jazz and classical, but as is, it is a Celtic monster, capable of resounding open-string drones.
Andrew Mowry is on our very short list of cutting edge builders in today's "Golden Age of Mandolin Luthierie." Highly recommended!
Builder's website: Mowry Strings
Contact: Andrew Mowry
Read up on other world class mandolin builders: