The Mechanic's Corvette
James Condino
As a child I spent my summers working in the various marinas around the junction of the St Lawrence river and Lake Ontario. I just took it for granted that everyone spent their summers riding around the water in beautiful old mahogany runabouts- Chris Crafts, Hutchinsons, Rivas and the like. One of the fellows I worked with was a mechanic who drove the most beat up and road weary Corvette I had ever seen. When I asked him about fixing it up, I got a short story on how he was always working on so many other folk's cars that by the end of the day, he had enough. As long as his ran, he could muscle his way through the rest.
A lot of luthiers are the same way. Whenever someone comes by my shop for the first time visit, they always want to know where my huge collection of great instruments is. Since I build them all day long, my closets should be bursting with instruments. Yet, when I ask almost every one of my luthier friends the same question, we all get a laugh. As a whole, most luthiers only have one or two instruments around, if that. They tend to be the ones that are only in some various stage of (in)completion or that never made the cut to go out the door, just like the mechanic's corvette.
Case in point; here is my "Road Warrior" mandolin on one of my benches straight in from my daily cycle commute. That's right, just strapped on to the outside of my backpack. It rained a bit on the way in today, so I pedaled harder and got a good draft of wind flowing to keep the droplets from gaining too much of a stronghold on the outside of the case. The case handle fell off on a river trip a few years ago, so I improvised with a bit of cordilette out of the rescue kit; more comfortable than the factory issue... That's a new 3/4 double bass body in the background along with a couple of mandolin shells.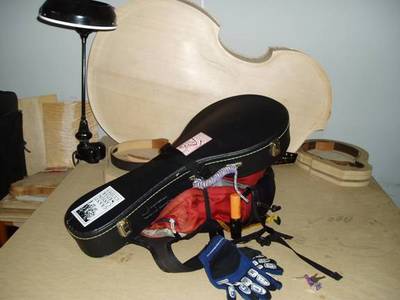 The road warrior is the shop test rig. Just over two years old, it has been down 300 miles of the Colorado River in the Grand Canyon by raft twice, ridden the Amtrack from Seattle to San Diego, battled public busses and a rough hurricane season in Baja where the heat and humidity melted the fingerboard off the neck (the entire neck melted off my wife's 1880s fiddle!), been left out in the desert sunshine by accident and got so hot that the shellac completely melted into the case fur, survived a cross country move, held up to approximately 500 days of bicycle commuter abuse, and countless festival jams, late night pub sessions, and band practices, and yes, post consumer alcohol has damaged the French polished shellac finish on more than one occasion.
The folks that know me well understand that when I say, "I'm field testing an instrument", I don't mess around. I once carried my guitar overland strapped to the back of my pack in a customized gig bag for 50 days into the Mt Everest basecamp at right around 18,000 foot elevation. In the last ten years, I've broken two cases and one guitar through the case from taking them with me while working on commercial river trips. At last count, I had over 5000 miles on one of my guitar drybags when I retired it. Being two weeks down into one of the southwestern river corridors and being able to play music at night in the slot canyons with your friends is amazing...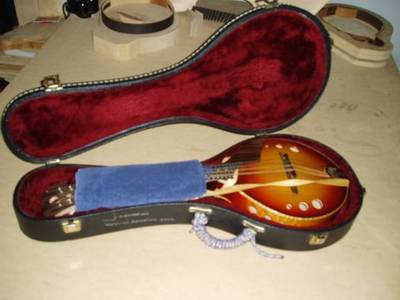 Notice the fancy custom fitted old shop towel inside to hold things down while bunny hopping curbs.
Shop test rig? Whenever I have a new idea that I'm working out for the next order, the Road Warrior gets the first round of action. This instrument started life as the New Century model on my website. Here is the original back strap from the first headstock--a snakehead. A while later I was working out this new design, so the snakehead came off and the new one was V-joint grafted and then the graft was hidden within the headplate caps. This happened after the snakehead neck was replaced from the Mexico trip. You should see a ten string variation of this in about six weeks. In addition to the ports, it has a nice taper that I like a lot.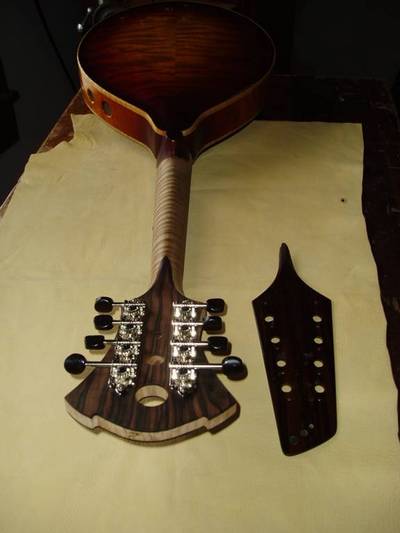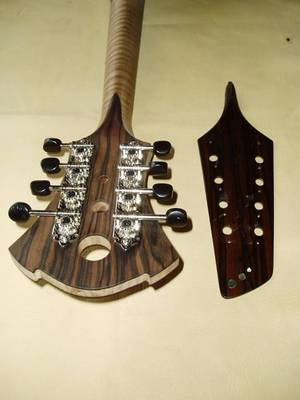 The tuning machines are the demo set of Elites that I wrote about a few months ago in Mandolin Magazine, going through their daily paces for my test evaluation. I'm working on getting a new set of Alessi's custom made, so these might get bumped soon.
I know the nut is looking a bit rough; I can't seem to toss out any worn Mammoth Ivory blanks, so I usually shim them a bit, recut them, and get another year use out of them. The logos and inlay never go on until someone writes the check for an instrument and we settle on the details; the same is true for colors. This instrument has been finished twice, and will most likely get done again next month when I run it side by side with a couple of other mandolins. More practice runs for the paid instruments.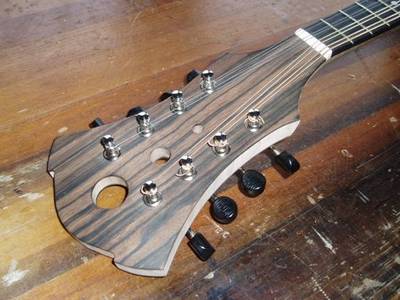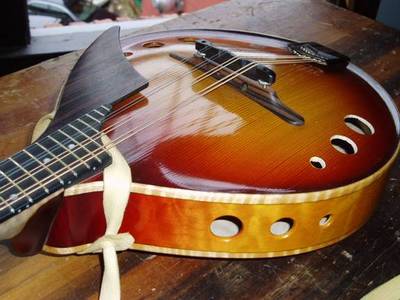 You can see the rough cut of the new bass side soundholes coming out of Top #2. This one is Adirondack Spruce, approximately 104 years old and was salvaged from a barn in upstate New York. Fingerboard #2 currently at 29 mm wide nut. The sideports have been there all along. Everyone has their own opinions on sideports. I've been using them pretty consistently since 1995. I have them on all of my own personal instruments, including the upcoming double bass. Makes me smile, smile, smile...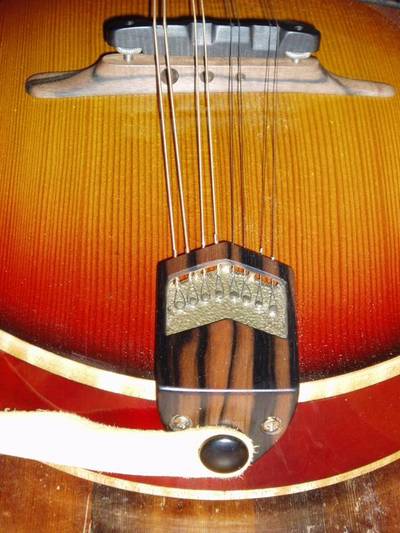 More ever-changing bridge and tailpiece ideas. You can see how I got frustrated with the tiny tailpiece string holes and took my Dremel tool to the slot and opened it up so that you could remove and replace the string without crimping the loop. I think this is Bridge #3 or 4. The saddles have been ebony, striped ebony, and bone.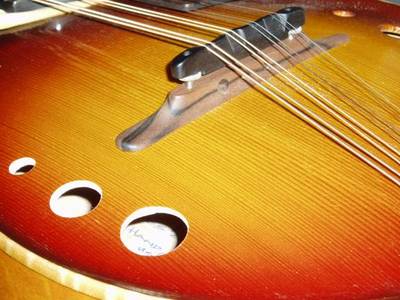 Another angle of the bridge backside. I spend a lot of time trying to get just the right cut and figure for that one little piece some days. Nice coarse cut soundholes and handwritten inside label...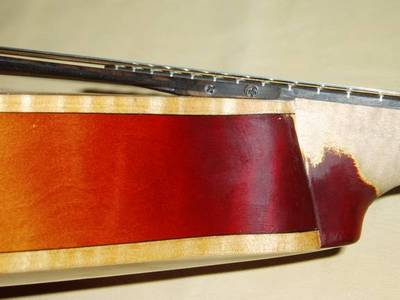 The sixth mockup of the floating pickguard design along with a nice clean fitting Neck #3.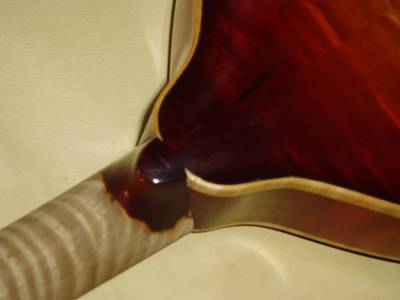 The low profile button shown with a few "road diggers" and the classical guitar influenced wooden binding mitres. By this point there is not much left of the button, having been through two back removals and brace design changes, and several re-neckings. The neck replacements usually get finished to match the rest of the body, but within a month or two, they always seem to have been tinkered with and the profile changed.
---
So what's a shop rig? It's an ever-changing test rig that morphs around depending on the new ideas floating through the shop. Parts changes happen more often than string changes. It is a loaner for my best customers who come by to get one of their favorite mandolins worked on for a while or during a major restoration, it is used on recordings, it gets in a quick "Whiskey Before Breakfast" medley busking downtown outside the shop at lunchtime, it runs rivers, climbs mountains, sings in deep desert canyons, and stays up late at night howling at the moon with my rowdy picking friends. It is also one of only two working mandolins that you can regularly find in operation at my shop. The Cricket is number two, but that is a different animal altogether.
At least once a year I go through my entire pile of fine woods, pull the best set from the pile, and build a beautiful instrument just for myself so that I can have a nice finished example around for interested customers to check out. Within a couple of months, someone makes me an offer that I can't refuse, and I'm back with the Road Warrior slung on my backpack with some new pickguard design, outpacing cars in downtown traffic... living the dream in the luthier's life...
j. condino
Website: www.condino.com

---

Read more about The Cricket!