« December 2011 | Main | February 2012 »

January 31, 2012 | New Guitarra Baiana model--Signature Marcos Moletta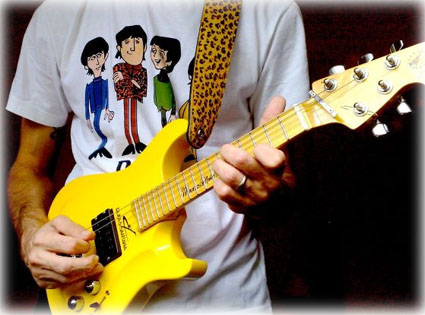 We've been following Brazilian musician Marcos Moletta for several years, paying special attention to his assortment of amazing electric mandolins, from his white Flying V to his recent Caico built acquisition, a lovely lemon yellow electric 5-string. According to the virtuoso instrumentalist, "This is great for me, one more color on my palette ... is a timbre pulled to mids, and the 3 key positions actually offers 3 timbres, being the middle position, humbucker style and ends with its single coil."
Watch as he demonstrates with his usual finesse, the finer features of this amazing new toy in this impromptu video:
Video link: Caico MM 2012 sample


Previous links:
Marcos Moletta; Gypsy Jazz on Electric Mandolin
"Peaches en Regalia" on Electric Mandolin (Guitarra Baiana)
Artist YouTube channel: MMDEVA
Posted by Ted at 5:31 AM

January 29, 2012 | John Reischman's Mandolin
Many have heard the incredible playing of mandolin tonemeister John Reischman, but not all are aware of the story of how he accumulated his legendary Lloyd Loar instrument. This great video from Fretboard Journal gives us great insight into the history and as a bonus, some tips in the middle (4:42) on how adjusting the angle of the pick can draw better tone out of the string. A tremendous trick for rounding your own sound.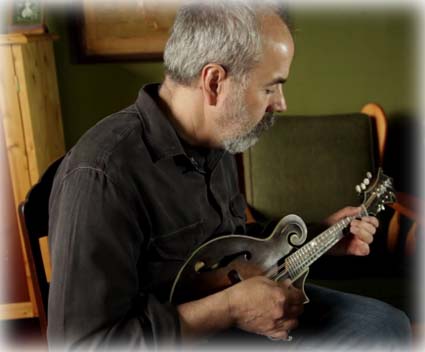 We had the chance to talk with John personally in 2004 chauffeuring him from the airport to Mandofest in Lawrence, Kansas. He's a great combination of approachable, warm, and supremely disciplined. You can hear it in his playing.
Enjoy...

John Reischman's Mandolin from Fretboard Journal.
"In the world of mandolins, Lloyd Loar-signed Gibson F-5s from the early 1920s are considered the cream-of-the-crop. They've been the instrument of choice for legendary virtuosos like Bill Monroe and David Grisman and they often sell for around a quarter of a million dollars. Among the 200 or so Loars known to exist, Vancouver, British Columbia's John Reischman has arguably one of the very best."

Read Mandolin Cafe Interview with John Reischman
Thoughts on tone from Reischman and other pros.
Posted by Ted at 6:01 AM

January 27, 2012 | Music geekdom. Tonal functions go clubbing.
We enjoy the wit and artistry of band directors, Ed and Thom at Dudley Middle and Dudley High School and how they deal with the band program in the online feature "Tone Deaf Comics." We've tried to express the notion of major scale "functions" in previous articles, but never in a way this unconventional.
Clubbing...
Visit their Facebook page, or check out the website for more cerebral niche humor:
Link: Tone Deaf--a comic for anyone that has ever been in band

Posted by Ted at 5:52 AM

January 25, 2012 | Strings revisited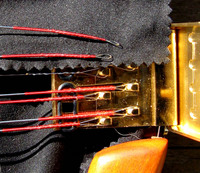 It's been nearly three years since we reported a manufacturing issue that now seems to be sufficiently corrected with D string loops on the JazzMando JM11 sets. What was happening was some of these were wound too tightly on the loop, yield a circumference too small to fit on standard tailpiece tangs. In a few instances, this has affected the string's core, making it impossible to intonate correctly up the fretboard.
We were able to provide replacements for those that had D string problems, and other than a few left over from the old batch, we've not had concerns since. We did change the packaging last year, but that didn't change the string at all. They still have the same smooth comfort and playability that have made them a perpetual best selling flatwound string for the last seven years.
Review article: JM11 String Consumer Alert
Purchase information: JM11 strings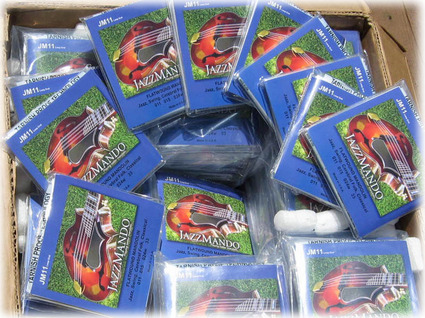 Posted by Ted at 6:09 AM

January 23, 2012 | New Yamaha THR10 Desktop Amp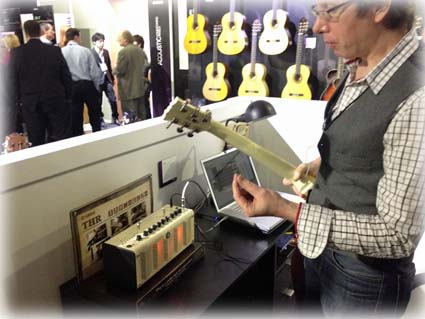 Creative environments have certainly changed over the years. Many reach their muse picking on the front porch, but others have taken a more high tech approach with desktop computer recording (let alone iPhone and iPad) capabilities. Laying down tracks or simply looking for a premium aural environment for the electric player you can use headphones, but some prefer the physical space of a small room to interact with the sound, not a huge amp, but a cubical of quality and a reasonable amount of crystalline monitoring. The new Yamaha THR series THR10 and THR5 just introduced at Winter NAMM is a great solution.
We saw these demonstrated at the Yamaha booth, and if there was one "Gotta Have" toy we couldn't live without at this year's Winter NAMM show, it's this one. Metal exterior with an almost vintage aesthetic, the 6 pounds (2.8 kg) of clear 10 watt stereo power is just enough to give the ambient experience needed in an intimate space. It includes 5 common amp models with 8 popular effects and tuner, and can either be powered by battery (for ultimate portability) or AC adapter, AND a quality 1/8" audio input for your MP3 player or iPod. If that weren't enough, you can use the mini USB cabling to hook into your personal computer with Cubase AI (included). We asked about iPhone/iPad apps, and though none are available right now, it's not unlikely Yamaha or a 3rd party will be out with that soon.
This amp is very much the start of a category unto its own. Not a stage amp, not a monitor, it's a third category, like the iPad was a whole new "lifestyle" computing philosophy. You sit with your iPad on your living room couch or plane ride and do things with it you wouldn't with your desktop or your laptop. The THR10 is similar in that you could leave this out as permanent "furniture" in your practice workspace, an aesthetic that fits both recreational and formal living environment, with a complete functionality unlike any other device.
The THR10 will street price around $299, with its smaller sister THR5 (5 watts, less EQ controls) at around $199.
Perfect for the electric mandolinist!
More details from the manufacturer. Yamaha THR10 Desktop Amp
i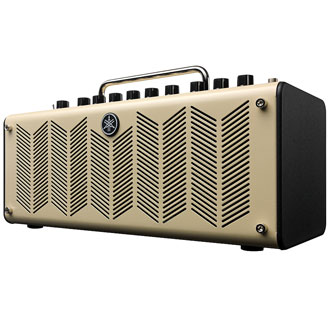 THR10 packs in everything you need from an off-stage amp. Real tube amp tone and dynamics, great sound at low volume, genuine hi-fi quality stereo playback and full recording capabilities. Prepare to spend a lot more time playing.

Posted by Ted at 6:04 AM

January 21, 2012 | December/January Mandolin Sessions: Minor Mysteries
The Major Scale is completely intuitive to the Western ear. It's when you get to the Minor modes one is easily tripped up by those awkward theory "rules." Lower the 3rd yes, but rais the 7th? Raise the 6th on the way up but not on the way down? What to do with that gangly augmented 2nd between the 6th and 7th scale degree?
We always propose going back to the aural and contextual roots of music theory and the Minor Scale is no exception. In the recent Mandolin Sessions entry, we go over some of these barriers and make them practical.
Enjoy: Minor League: Making the most of Minor Keys
Feel free to weigh in with comments and ratings.
Read other JazzMandology topics: Mandolin Sessions Archives

Posted by Ted at 6:50 AM

January 19, 2012 | New Toys at NAMM
Don't know if it's excitement from the show or just a 24 hours caffeine buzz, but we're restless and anxious to fill our live photo album stream over at the JazzMando Facebook Page. Even walking around the Disney California Adventure the day before didn't wear us down any, plenty of energy for the next four days of walking five football fields of new gear. We're not even going to let the fact that an amusement park can still charge you a full $80 for a set of attractions that are half closed for the season get us down.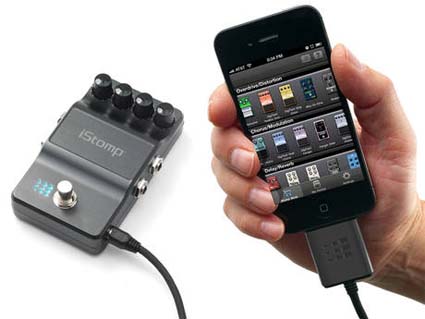 Some of the pre-press announcements are intriguing. New Digitech iStomp single stompbox processor for the iPhone, new Boss TU-10 Clip-on tuner from Roland, a new line of high-end stage cables from Planet Waves, and introductory play along Jazz Series from Hal Leonard, these are just a few things that will have us on the hunt for the latest and greatest from the industry.
"Like" our JazzMando Facebook Page or just visit the 2012 NAMM album. We'll be filling it up with new pictures for the next four days. Hopefully some wood and steel, too.
View link: JazzMando Facebook Page
View album as it refreshes: 2012 NAMM
Posted by Ted at 7:04 AM

January 17, 2012 | Mr. P.C.'s Guide to Jazz Etiquette; January 2012
Last fall we mentioned the Seattle musician and "All About Jazz" writer Bill Anschell and his offbeat humor (no pun intended) wih his hilarious take on the club jazz scene. His January 2012 installment does not disappoint, and demonstrates it's not just the Bluegrass Police that imposes its own tyrannical rules. Enjoy his response to 'G' is Good.
Dear Mr. P.C.:
I'll be playing "Mr. Magic," or "Just the Two of Us," and a musician will say to me "I'm calling the Jazz Police." Who are the Jazz Police?
"G" Is Good!
Dear GIG:
You've forced me to confess: I hate policemen/policewomen! Why? Not just because they're pepper-spraying authority figures enforcing a repressive, fascist system that calls itself democracy. They're also propagandists of the worst sort, leveraging laws to distort well-intentioned actions by a peaceful citizenry.
Say in the name of protecting the planet, you engage in a few minor acts of eco-terrorism. Maybe you free some lions from the zoo to protest their enslavement, or poison a few heads of lettuce to bring attention to exploitative immigrant labor conditions. And what do the cops do? Arrest you on trumped up charges of endangering the public--as if they understand your actions and motives better than you do!
Well, the Jazz Police are no different! Somehow, they've decided it's their station in life to define and enforce the laws of good taste, but of course they can only do it by wildly exaggerating the so-called "danger" created by your music.
So the propaganda begins: That incessant backbeat you love is cast as intolerably heavy-handed and mind-numbing. The endlessly repeating two-chord harmonies that give you comfort are somehow labeled juvenile and insufferable. Those simple nursery rhyme melodies you enjoy are called saccharine, mindless, even nauseating. And don't get them started on that cloying soprano sax tone favored by your "G" man! It's as if they want you to think he's superficial, vapid, and utterly without substance.
The worst thing is, the Jazz Police are so thoroughly entrenched in the power structure that it's really hard for oppressed Smooth citizens like you to fight back. Here's my suggestion: Mount a massive PR campaign! Start with places where you have a captive audience, and flood them with the sedating sounds of your music. Off the top of my head, I'd say airports, elevators, and upscale restaurants would be the perfect place to start, unlikely as they may seem.
Play your cards right, GIG, and the music you love could become the anesthetizing anthem of a revolution!
Read complete January entry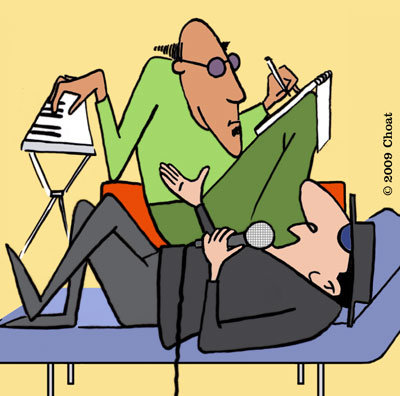 Like his Facebook Page: Mr. P.C.'s Guide to Jazz Etiquette and Bandstand Decorum


Posted by Ted at 4:23 AM

January 15, 2012 | Winter NAMM live photo stream

We're packing the bags for this week's 2012 Winter NAMM show in sunny Anaheim, California, looking forward to 5 football fields full of musical gear: guitars, PA, keyboards, lighting, band and orchestral instruments, folk acoustic, and a plethora of new print materials and accessories, along with hooking up with some old industry friends. Like we've done the past decade, we'll continue to post live pictures of interesting and drool-worthy mandolin relevant products on our Facebook Page and over at the Mandolin Cafe discussion board.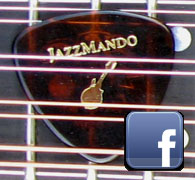 Since the crew will be away from the office, we'll be temporarily shutting down the JazzMando Merchandise Center this week. We resume shipping of strings, cloths, picks, and books on Tuesday, January 24. If you can get your order in before midnight tonight, we'll be sure to get your order processed before we leave.
Order today!!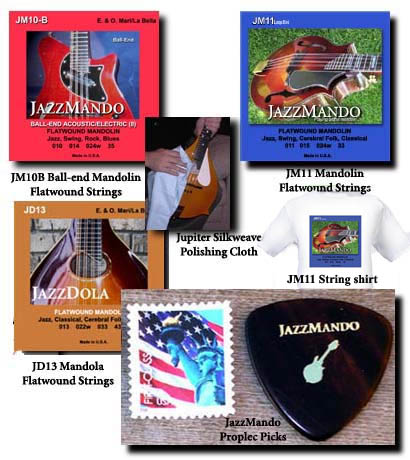 "Like" our JazzMando Facebook Page and keep up with the stream of NAMM pictures starting Thursday, January 19th.
Posted by Ted at 7:38 AM

January 13, 2012 | Django in June 2012 featuring Paul Glasse!
The popular New England Gypsy Jazz festival is back again this year, Django in June is known to have featured some of our favorite JazzMando dignitaries, the likes of John McGann, Jamie Masefield, Aaron Weinstein, and Jason Anick. This year we can add perennial jazz mandolin royalty Paul Glasse to the list.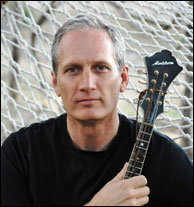 This year's dates are June 12-17. The festival's founder Andrew Lawrence weighs in, "For what it's worth, here's just a little of my thinking on the subject. The original inspiration for Django in June was a trip I took to France some years ago, to the big Django festival in Samois-sur-Seine. It was immediately obvious to me upon setting foot in the campground that the European guitarists' approach to this musical tradition was very, very different than what most American guitarists were doing when they played in what they considered to be "the style". I won't go into the details here... Suffice it to say that I thought there might be an interest among Americans for an opportunity to get good, in-person education and exposure to what I was hearing in Europe. So that's our "niche", if you will. Django Camp -- the full-immersion music camp part of our program -- is still the only event of its kind in the US devoted to the GJ tradition. (And the Europeans tell me, there's nothing like it over there, either! They dig it.)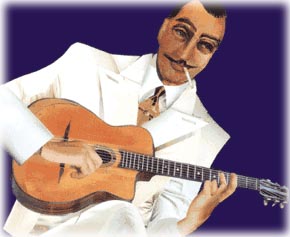 OK, so...how does mandolin fit in? Well, that's for you to decide, isn't it? The way it looks to me, this is about the most string-friendly style of jazz on the planet, and it shouldn't matter how many strings you've got to work with. The fact that it is guitar-dominated just means that (1) the music tends to be played in keys we're more familiar with and (2) you have a helluva rhythm section at the ready. The big advantage you have over the guitarists is that, since there's no indigenous gypsy-jazz-mandolin tradition, you don't have to rebuild your right-hand technique to play this music in a "legit" way. Just learn some of the repertoire and start swingin'.
Personally, I don't see why mandolin players with an interest in the jazzier end of the spectrum wouldn't love, love, love playing this music and Django in June offers a unique opportunity to get both great instruction and as much djamming as your poor blistered fingers can take. I do my bit by hiring the best teachers I can find and by extending a welcoming hand. I hope some of you will take me up on the offer and give it a try."
We'll be bringing you more information as the date draws near. For now, mark your calendar and check out some of the preliminary information on the website.
Link: Django in June 2012
Download free Paul Glasse tracks by signing up on his ReverbNation mailing list.
Paul tells us this will be the first time in over a decade that he has taught at any of the camps on the east coast.

Posted by Ted at 5:18 AM

January 11, 2012 | Cool sounds. Cool scale!
In January of 2010, we posted one of our favorite FFcP Scale exercises based on what we call the Lydian Dominant Scale. Don't let the terminology get you all worked up if you're not a music theory geek, because if you didn't know the esoteric function and context, you'd still think the sound was cool.

We'd expanded it into a bit of a finger twister, but that's all right. A little yoga stretching is good for your fretting hand!
Enjoy 2 page PDF: Aug11thExercises.pdf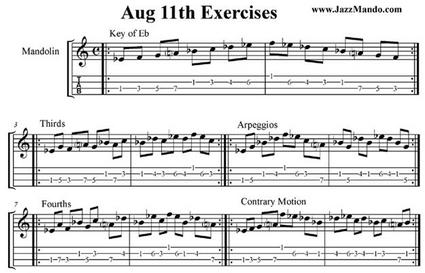 Keep in mind, the same combination of notes can manifest itself in two other scales:
G Augmented 11th: G, A, B, C#, D, E, F G
C# Altered Scale: C#, D, E, F, G, A, B, C#
D Melodic Minor: D, E, F, G, A, B, C#, D
More FFcP: FFcP Studies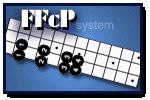 Posted by Ted at 5:20 AM

January 9, 2012 | New from Gypsy's Music--Teardrop Celtic model
We've mentioned the Arizona builder in several reviews already, but Walt Kuhlman of Gypsy's Music has recently announced a new design, the Teardrop Celtic model: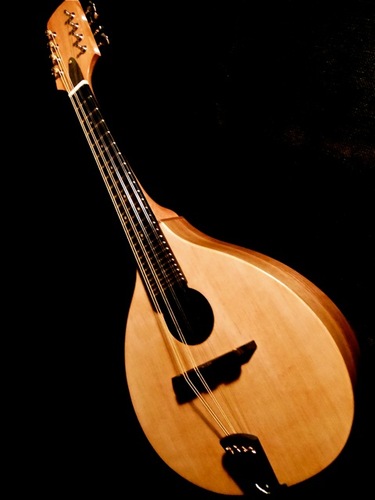 The mandolin starts at $950, and the model is available custom order in all mandolin family sizes.
Builder's website: Gypsy's Music
All hand crafted Gypsy's Music instruments are American made and include:
Tops--AAA Sitka Spruce
Necks--choice of Mahogany, Maple or Walnut
Fingerboards--Ebony
Bridges--Ebony - adjustable
Tailpieces--Ebony Bone nut (and saddle on request)
Adjustable truss rods
Grover or Gotoh tuners
Previous Gypsy's Music reviews:
Octave mandolin
10-string nylon strung mandolin

Posted by Ted at 5:43 AM

January 7, 2012 | Eva Holbrook and Shel. Live at Lightning 100.
It's been almost five years since we saw the lovely Holbrook sisters from the band SHEL live in Omaha, Nebraska. We caught up with the Fort Collins, Colorado ladies, Sarah, Hannah, Eva, and Liza in this terrific live acoustic radio performance captured by WRLT radio in Nashville between recording sessions.
Eva has been one of our favorite young talents, her writing and vocal skills, creative instrumental orchestrations, and of course her dynamic electric mandolin prowess is legendary.
Video link: Shel - Ruby Slippers - Live at Lightning 100

Eva's solo album review: The Very Last Dream
More from SHEL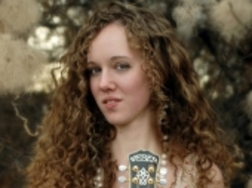 Posted by Ted at 6:02 AM

January 5, 2012 | New electric mandolin from Fender
We're looking forward to our trip to sunny southern California for the annual Winter NAMM show in two weeks. One instrument we intend to report on is the new dark walnut stained Robert Schmidt electric mandolin. Fender has been conspicuously absent from the high end mandolin scene since its widely popular Mandocaster from the mid 20th century. This is more of a low end offering, not enormously more expensive than an Epiphone Mandobird. Still, it's great to see the fret instrument industry giant pay attention to the mandolinist.
More information when our team sees it in person.
From the Fender spec sheet: "Robert Schmidt, mandolin player extraordinaire, of the Irish-American Celtic punk band Flogging Molly has exclusively designed his own Fender Electric Mandolin. Based on the FM62 E Fender Mandolin from years past, Robert designed this beauty to sound great and to take a beating but make no mistake this mandolin is a beauty to look at with its dark walnut stain spruce top and carved maple back and sides, bronze cast chrome tailpiece, chrome dome style volume knob, ebony bridge, and rosewood fretboard."
Body Style: Mandolin
Scale Length: 13.7" (34.8 cm)
Top: Laminated Spruce
Back and Sides: Carved Solid Maple Back, Carved Maple Sides
Body Finish: Gloss
Bracing: Quartersawn Spruce Tone Bars
Neck: Mahogany
Neck Finish: Gloss
Nut: 1.12" (28.5 mm), Synthetic Bone
Bridge: Compensated Ebony
Hardware: Chrome
Number of Frets: 20
Strings: Fender 2060 Phosphor Bronze (.011 - .040)
Electronics: Special Design Piezo
#0955257021 Robert Schmidt Electric Mandolin w/Walnut Stain Finish
UPC# 885978102228
MSRP: $599.99
Street Price: $399.99
Read past article on blue Fender FM62SCE 8-string
Posted by Ted at 6:40 AM

January 3, 2012 | Clearance vintage series JM shirts. Cleaning house.
We finished our year-end inventory and found some straggler T-shirts from old inventory in the JazzMando Merchandise Center. If you've been following us a while, you might remember our "Dogs Playing Mandolin," and our "JM-Pick Shirt." We even found a rare "Psalm Shirt" also still in the plastic.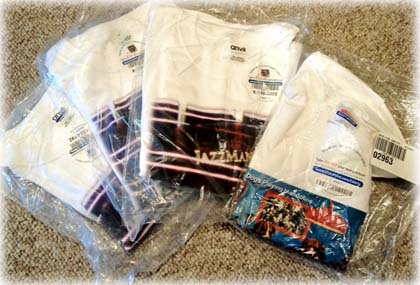 Of course, we still have some of our current "JM string Shirts" available in Large and X-large for ($11.95) (XXL for $14.95), but we'd like to clean house with these old ones at half price. We'll go half price and ship them for a buck (US domestic only) for $6.95 shipped. Contact us for payment information.
Here's what's left in the odd sizes, first come, first serve:
2 XL JM Pick Shirt $6.95
1 Medium JM Pick Shirt *SOLD*
1 Medium Dog's Playing Poker Shirt *SOLD*
1 Large Psalm Shirt *SOLD*
Mediums make great kid sizes.
Don't forget about our current inventory, too! JM string Shirts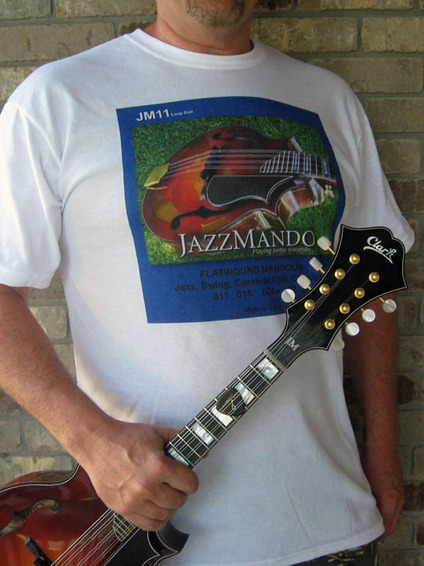 $11.95 plust shipping
Posted by Ted at 5:18 AM

January 1, 2012 | Happy 2012, Mayans!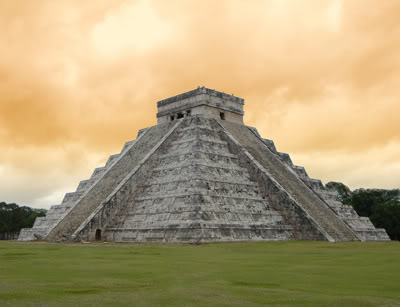 Happy New Year. Trusting the prediction of the end of the world by the Mayan Calendar will be somewhat an exaggeration, we've got a few forecasts and some concrete gossip to start the new year off. We hope it's a great one for you!
Signature 5-string, guitar body from Idaho Super Builder, Austin Clark.

We've been in love with the Clark JM 2-point signature mandolin from the moment we set hands on it. It's sonic prowess and playability rivals instruments three times the price, so we're back commissioning for a new design. It's still somewhat on the drawing board, but let's say it will be a guitar body 5-string, probably more dola than mando, and with all the incredible craftsmanship the world has come to expect out of this legend.

New flatwound strings from D'Addario.

We're stealing some of the thunder from their NAMM announcement in three weeks, but working in tandem with Mike Marshall and our team of beta-testers, your in for a great surprise in a classical, flatwound string from the industry's leading manufacturer. We've had a set on most of the year, and we're hooked. Look for official news after the 20th of January.

Artist Interviews.

We've collaborated with the Mandolin Cafe on some extensive "10 question" articles from the likes of Will Patton, Paul Glasse, Aaron Weinstein, Don Julin, and John McGann. We also brought you some of these in our Mandolin Sessions articles on tone. This year, we want to do a few more frequent short punches with more of the industry's greats and their approaches to playing right here on the JazzMando site.

Import guitar body mandolin.

We're in negations again with a major import builder on some potential new 8-string designs. Let's just say we hope to capture some of the "lore."

Enhanced JD13 mandola strings.

We've had some problems with the stock string fitting the longer scale instruments, and the Weber tailpiece, and have a fix in mind.

Chord Playing Cards.

We've included a few of these free in some of our recent orders. A design misprint has halted this temporarily, but we hope to get back to this in another week, and handy complimentary reference "playing card" included in every order.

JazzMando V-pick specials.

This has been wildly popular. Look for periodic package specials later this year.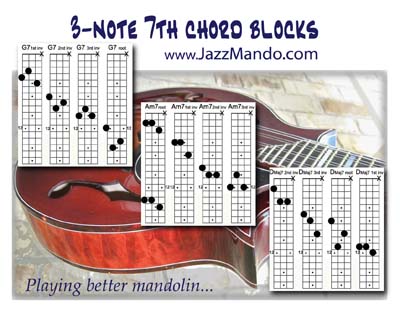 Posted by Ted at 5:44 AM