« January 2012 | Main | March 2012 »

February 28, 2012 | Gary Nava, UK Luthier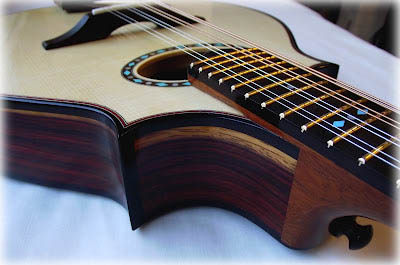 Across the Atlantic from us and a couple hours north of London in the Cambridgeshire/Norfolk Fens area there's some interesting building going on. Work from the loving labor of luthier Gary Nava is demonstrated deftly in the YouTube video below, a lovely 2-point, or Twin-point as he calls it, one of two style of mandolins he creates for his western European clientele and the rest of the world.
View video: Nava Mandolin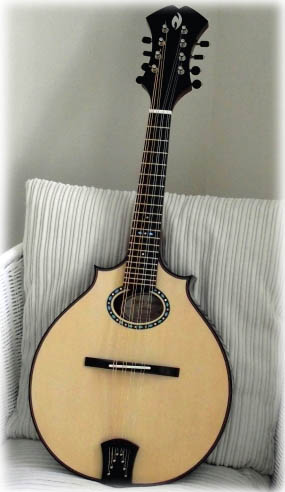 The craftsman elucidates, "There are two new mandolins--Brendan's twin point and my Standard III Brendan's is a custom build (which the vast majority of my work is) and is high-spec with a red spruce soundboard, cocobolo back and sides, pearl and turquoise rosette, Headway transducer, Alssei tuners and my own tailpiece etc. My aim, with the twin-points, is to evoke the craftsmanship and the quality of materials of a by-gone era. Brendan Emmett demonstrating his new mandolin."
In contrast is Nava's Standard mandolin, built speculatively and sold through the website. He explains, "I decided to design this instrument for those musicians who would like a hand-made mandolin but can't afford something fancy. The focus is on tone and playability with all unnecessary adornments stripped away--this means that it takes me a fraction of the time (compared to the twin-point) to build and the time saved is past on to the player as a lower price."
We're intrigued.
Follow his blog: Guitar Maker's Blogspot
Builders website: Nava Guitars UK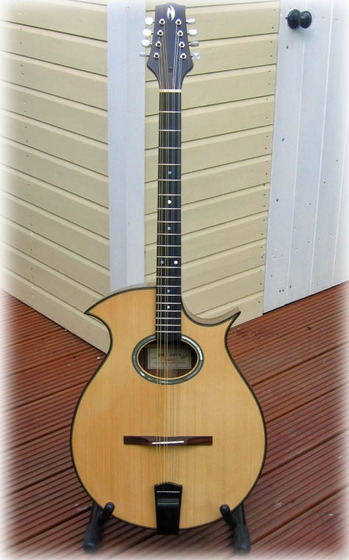 Nava Mandocello
Posted by Ted at 5:52 AM

February 26, 2012 | A custom mandolin cell phone case? Why not!
Recently purchased a Case-Mate "Barely There" cell phone cover for an iPhone 4S (fits iPhone 4, too), and couldn't be happier. For one, its sleek form fits all the docking devices we've already invested in heavily, and keeps the phone's profile down while offering very excellent protection at the same time. Even cooler though is the DIY (do it yourself) custom option of loading your favorite high resolution picture.
Our choice for the art? None other than the iconic signature Clark JM 2-point mandolin:
All the instructions on how to do it is on the Case-Mate Website. Price is a decent $35 US, and we had ours in hand through the US Post Office in less than a week.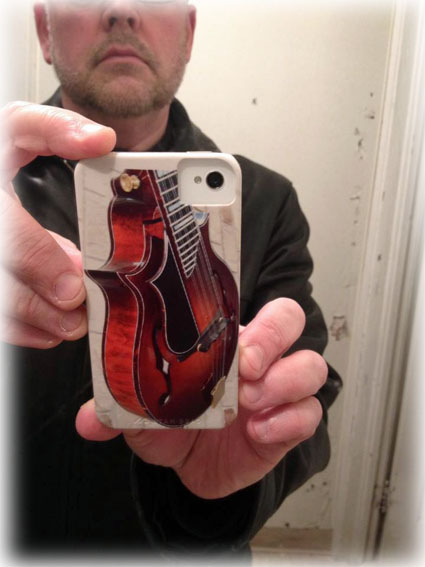 Couple hints: Have your hi-res picture ready (better than a 72 dpi web graphic), and in "portrait" orientation (taller than wider). You can size while you're there, and be careful of how full you make the picture. The graphic goes all the way down the back and sides in the final product, and it's hard to tell from a two-dimensional drawing.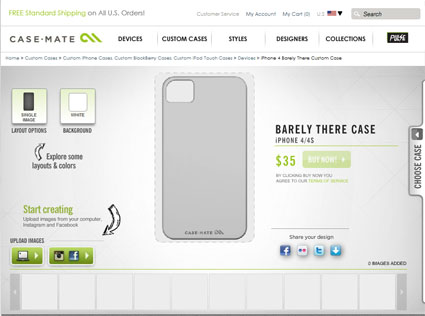 You might have success with an online discount if you order before 2/29/12 and type in the RetailMeNot at the promo code "cmrmn10" in the shopping cart.
Enjoy!
Website: Case-Mate
Case-Mate DIY "Barely There" iPHone Case.
Let us know if you'd like the same graphic. Also, send us a picture of your phone case if you do have one made with a mandolin on it.
Posted by Ted at 5:36 AM

February 24, 2012 | Going beyond "playing."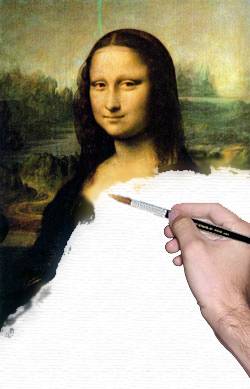 Musicians may argue the notion of "playing" an instrument. For most, it's hard work, but if we didn't enjoy it, we wouldn't be doing it. A professional can get off guard confessing he "plays" an instrument for a living; that can be a confounding statement in itself.
Still, even if the goal is pure enjoyment, we still get more out of it when we go through the regular discipline of perfecting our skills by practicing fundamentals, scales, pick control exercises, and any number of drills in our daily routine.
Crafting solos is another area where intent trumps free form blowing. We express ourselves better when we are articulate, and we tackle the notion of creating form in this week's "Tips and Tricks" column.
From the article: "In improvisation, there's always a question of how much creativity is framed in intention and how much in brash, unbridled spontaneity. It's the enigma of the whole generating process, how much do we contrive out of calculation (modes, arpeggios, regenerated riffs) and how much just comes out of nowhere. We maintain you have to have a balance of both. Blind directionless blowing goes nowhere and has no repeatable structure for the listener to grasp. Mechanical, scale quotes are dispassionate and soulless. You need the combination."
Read more.
Take time to check out some of the cross reference articles at the bottom of the page.
Posted by Ted at 5:13 AM

February 22, 2012 | Happy 100, Clark Mandolins
Congratulations to one of our favorite builders on a significant milestone, build #100 for Boise, Idaho builder, Austin Clark. We've reviewed his work on the site in our Builder's for the 21st Century section, and lay claim to one of his premier instruments, our signature Clark JM 2-point mandolin as our go-to stage instrument. It also adorns the heading of the JazzMando website and artwork in many of our promotional materials.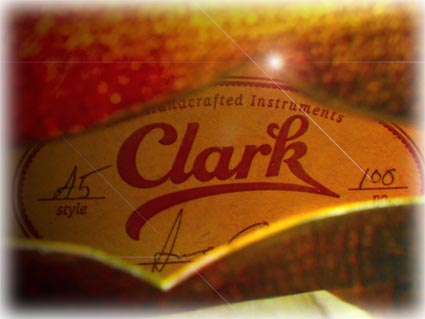 Austin's handiwork is known internationally for its resonant, sweet complex tone, smooth playability, and his eye to cosmetic perfection and detail; his growing global popularity is both result and testament. His widely sought craft can be viewed on his website, as well as some photo albums on his builder's Facebook Page.
We're looking forward to working with him once again on the commission of a new iconic jazz design he will be bringing to the world 3rd quarter of this year.
Stay tuned...
Visit Website: Clark Mandolins
Like Clark Mandolins Facebook Page
Read review: Clark JM 2-point mandolin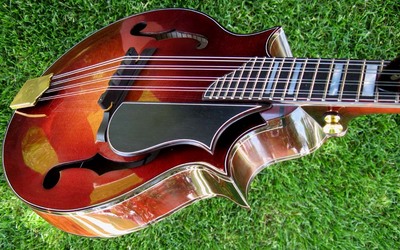 You Tube demo: America Excerpt

Posted by Ted at 5:04 AM

February 20, 2012 | Manoel Andrade bandolim; Classifieds "steal"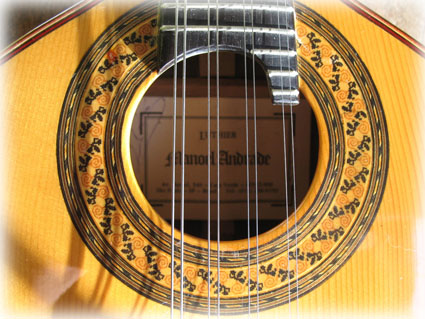 We've been watching the price of this amazing instrument from Sao Paulo builder Manoel Andrade drop to a stunning $1500 with case in the Mandolin Cafe Classifeds. The bandolim according to the seller, "has that Choro sound that only a bandolim can produce, but is equally at home in other settings-very suitable as an "all-arounder" mandolin. Loud, resonant, and sweet/complex. It is effortless to play in any position."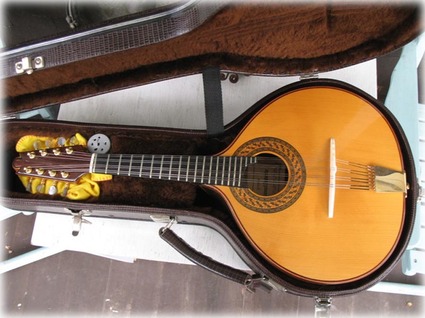 We personally know the seller and his excellent personal taste in equipment. No doubt this instrument would be an excellent tool for the Choro enthusiast, or anyone looking for a quality Brazilian made instrument. The nice thing about a preowned one is the inevitable humidity issues from a transplanted wood instrument have already worked themselves out. This one has been stateside long enough to be proven stable.
View Classified Ad: Manoel Andrade bandolim
More pictures
Posted by Ted at 4:51 AM

February 18, 2012 | Punch Brothers' Chris Thile Apologizes to Pavement, Aspires to Play Mandolin Like Greg Maddux Pitches
We always love a good Chris Thile interview, and the latest one at Spinner.com fails to disappoint. Coinciding with the release of the Punch Brothers latest release, "Who's Feeling Young Now," reporter Cameron Matthews dives into the artist's Nickel Creek roots (a perennial fave here), and ponders the nature of the pursuit of perfection and musicianship.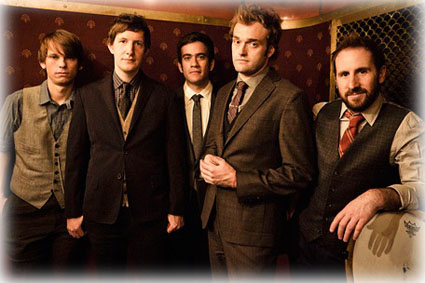 Photo Credit: Danny Clinch
Thile, from the article, "I look at mandolin as the one tool I have, that I have some idea how to use. But no more. To me, I'm not interested in pursuing the perfection of mandolin. It's just that I want to be as handy with that tool as I can. Being good at the mandolin isn't interesting in and of itself. Being good at music is very interesting to me. If I have a goal, it's to lead a life rich with music. I want to leave some nice music behind that I've been a part of."
Read more: Punch Brothers' Chris Thile Apologizes to Pavement, Aspires to Play Mandolin Like Greg Maddux Pitches
Audio Bonus: Hear the CD in its entirety for free on the link below.
Full stream Listening Party on AOL Music: Who's Feeling Young Now
Read Mandolin Cafe Interview with Chris Thile.
CD Download.
Posted by Ted at 6:10 AM

February 16, 2012 | Good news for mandolaists. Enhanced JD13 flatwound strings!
If your CGDA tuned mandola has Weber style tailpiece, or runs longer than a 16" scale, you're probably having problems shopping for flatwound strings that fit. The warm tone and smooth feel of the JD13 JazzDola strings would not work on your instrument--until now...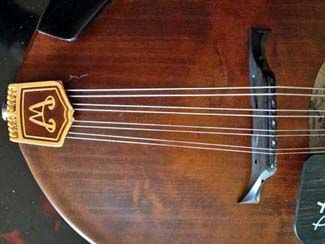 Weber tailpiece--string loops all the way to the end of the top.
We've addressed this in our most recent batch of these popular strings with enhanced lengths, an additional two inches:
OLD
JazzDola JD 13 (as of 12/2011)
.013--1st string 29" (plain, no winding)
.022--2nd string 24" (plus 4-1/2" of red silk winding)
.033--3rd string 24" (plus 4-1/2" of red silk winding)
.043--4th string 24" (plus 4-1/2" of red silk winding)
Strings include 1-1/2" of winding on the loop end on above specs:
NEW
.013--1st string 31" (plain, no winding)
.022--2nd string 26" (plus 4-1/2" of red silk winding)
.033--3rd string 26" (plus 4-1/2" of red silk winding)
.043--4th string 26" (plus 4-1/2" of red silk winding)
Strings include 1-1/2" of winding on the loop end on above specs.
We outlined the problem in our Tips column on using the Thomastik 174W octave mandolin in a recent article on mandola string lengths, see "A good fit. Measuring up mandola strings." The JD13 run about half the cost and gauging a tad thinner, 13 22 33 43.
More info: JD13 JazzDola mandola strings.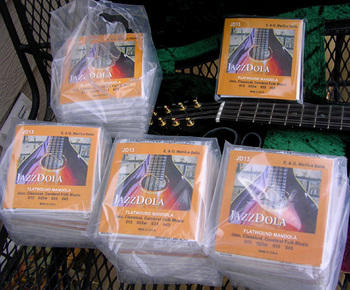 Posted by Ted at 7:51 AM

February 14, 2012 | Sometimes you just want to play pretty sounds.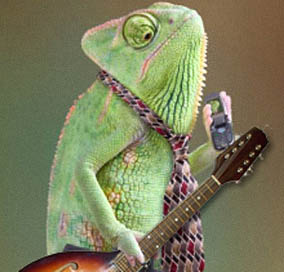 Music theory is great for duplicating momentary successes. If you know why something sounds good, you can recreate it in other contexts. You can know a V7 leads to a I chord, and that's great for moving it around the frets into other keys, other situations. You can know it's the notes of a C Major scale and use it to improvise in C Major, in A minor, F Lydian, etc. and it's through theory you eventually develop intellectual short cuts to understanding and broadening your music.
Sometimes though, you discover chords and notes on the mandolin that just plain sound good, no immediate reason. Maybe it's an accident, maybe it's simply a spontaneous combination. There's nothing wrong with returning to the primal side of music once in a while and playing, purely for discovery.
We explored this idea in an April 2010 Mandolin Sessions, "Chord Combinations for the Lizard Ear" and just threw some chords out there. You can just play them for the sound unto itself, or go the next step and look under the hood for the magic that allows you to reproduce in other instances.
Just use your Lizard Ear.
Review article: Chord Combinations for the Lizard Ear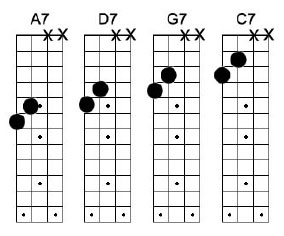 Posted by Ted at 5:33 AM

February 12, 2012 | Blue Giroaurd (sort of) mandolin on eBay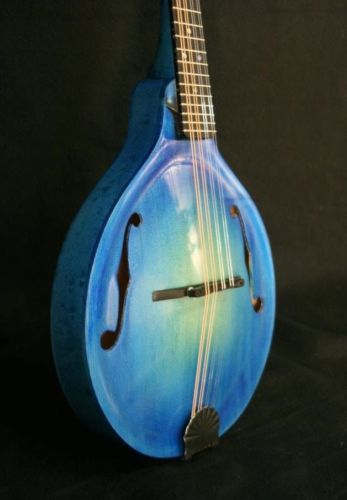 We've had fun talking with Max Girouard of Girouard Mandolins out of Contoocook River Valley, New Hampshire. The New England husband and wife building team have an intriguing pedigree of finely hand crafted instruments with a unique philosophy in wood selection. Not all of the instruments are fashion model cosmetically perfect woods; the emphasis on the build is on tone rather than appearance, so their instruments not only sound good, they can be obtained at affordable prices. We're in line for a review later this spring.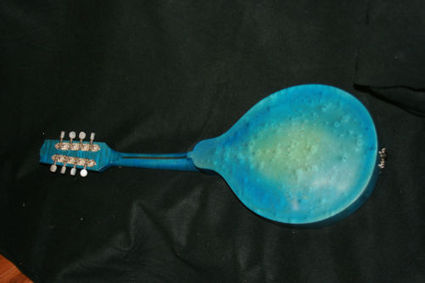 Meantime, the above lovely blue "Marinedolin" blue mandolin, a first time build for wife Lauri just appeared on eBay. We're going to tell everybody not to bid on these, especially if you're going to outbid us.
Max tells us his wife's instrument far exceeded first build expectations and the video demonstration below confirms the incredible quality, but don't visit eBay to see it, and what ever you do, DON'T bid on this. You won't be able to handle the blueness.
Ebay auction: " Marinedolin Blue Mandolin by Lauri Girouard Auction ends 2/12/12
Video Link

Builders Website: Girouard Mandolins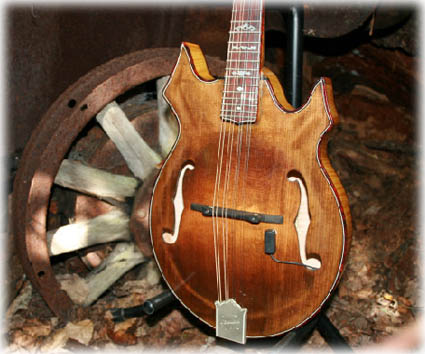 Posted by Ted at 6:33 AM

February 10, 2012 | Using the Chord Tone Scale
In our studies on "intentional" improvisation, we've looked at scales, arpeggios, licks, and something elusive we just call the "Muse." As the old saying goes, there's more than one way to skin a cat, and we think it's a combination of all these resources that makes for great soloing. There's a balance between the intellect and intuition; that this is so unquantifiable makes this study both fascinating and frustrating at the same time.
We're on record as no fan of the Pentatonic scale, although there are some more advanced opportunities even in this simple scale as suggested by columnist Mark Wilson. (See article: Going outside with Pentatonics ). The Major scale and all its related modes are the most common, and we've made a case for the Augmented 11th scale (AKA Altered Scale and Melodic Minor in other inversions) being the 2nd most important scale.
We just put a plug for Emerald City multi-instrumentalist and teaching wizard Pete Martin's innovative approach to exploiting chord tones through his CTS or Chord Tone Scale approach in our Tips and Tricks column. This is gold for the novice improviser, an excellent jumping off point. We highly recommend a look at this and some of his other books at the Petimar Press website.
Read Tips and Tricks article: Pete Martin; Fast track to improvising with CTS

Posted by Ted at 5:13 AM

February 8, 2012 | Classifieds catch: 2005 McClanahan Descending Dove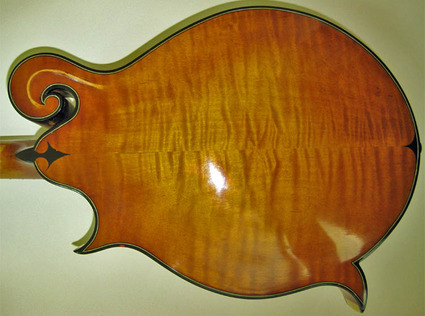 We were in the midst of correspondence with the seller of this Mandolin Cafe Classified in an attempt to help promote the sale (no financial interest). It appears that at an attractive listing price of $1800, it needed no help, as it's now listed as sold pending payment. We still want to show you some of the pics of this magnificent 2005 year Jonathan McClanahan exclusive "Descending Dove" model F-body:
The seller reports, "I've had four McClanahan's so far. This one is a lot of mandolin for the money and the buyer will understand that right away! The fretboard is radiused and the nut width is 1 1/8th".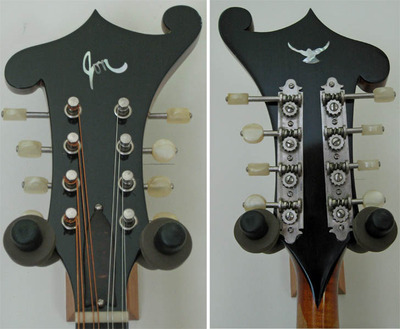 View Link (if it's still there): 2005 McClanahan Descending Dove
We've mentioned Tennessee builder, Jonathan McClanahan in a previous article (Sept 2007), including descriptions and pictures of his three unique signature mandolins, the the Trinity, the Via Dolorosa, and the Decending Dove. His 6 minute interview featured on the Tennessee Crossroads is available to view on YouTube.
His work is an incredible testimony of deeply rooted personal conviction and faith, represented magnificently in his instruments and life. We hope to do a review this summer. Meantime, take some time to check out the video:
Posted by Ted at 5:24 AM

February 6, 2012 | Chris Thile in London Interview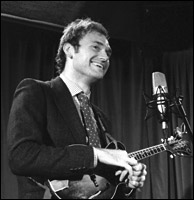 Kudos to Mandolin Cafe staff writer Dan Beimborn on an excellent, insightful interview with living legend, Chris Thile. Dan had some prime moments to speak with the mega-talented mandolinist post performance in London last month. The article gives us some great behind the scenes reflections on his recent Punch Brothers production, "Who's Feeling Young Now" soon to be released, and an in-depth look at how the star acquired his incredible '24 Lloyd Loar mandolin. We also get some great understanding of how the artist continues to uncover it's sonic potential.
From the article, waxing poetic on his triumvirate of current musical projects: "One of my favorite cocktails in the whole world is the Negroni, which is equal parts Gin, Campari, and Sweet Vermouth. The record I made with Michael Daves is the Gin. BAM, a simple crisp kick in the head. The Punch Brothers is like the Campari, balanced with bitter & sweet. The Goat Rodeo Session is the Sweet Vermouth, very refined, delicate. Those three records are the Negroni of my musical life this year."
Read Chris Thile in London Interview
Archive JazzMando article: Why I like Chris Thile

Posted by Ted at 5:58 AM

February 4, 2012 | Digital text format to dominate the future
We've personally found the iPad to be extremely useful for performance and practicing. The iReal b for practicing with jazz "Standards" accompaniments, the unreal Book for stage performance, let alone a myriad of untapped games, history, and web browsing make the tablet format a valuable resource for both learning and pleasure. Apple's recent announcement to join the presidential administration to move education from the traditional textbook to ebook format by 2017 has us predicting everyone will start using this soon, not just early adapter hobbyists.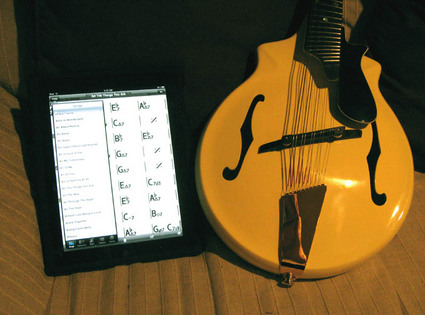 Apple unveiled a pivotal tool in last month's summit, its free to the public ibooks Author, allowing virtually anyone to author their own books, and promote it through emerging nontraditional publishing channels. This will have a resounding impact on the way method books are consumed, distributed, and of course, created. With children and students making these commonplace in schools, you'll see an even larger impact on culture.

Considering the cost of school textbooks typically runs $60-100, college books often $200, the iPad is an economic alternative hard not to justify, and of course, the additional media options of sound and video, an exponentially more effective teaching tool. A leap similar from moving from classroom chalk and slate boars of the early 20th century to full color printing; this will be a whole new revelation in education.
Will it be isolated to kids? Hardly. Even Mel Bay Publishing has recently shifted an emphasis on print to the ebook format.
We're on the verge of an educational revolution.
Read articles:
Apple leads pack in America's five year race to deploy digital textbooks
Bryndon Bay: The Future of Print
Purchase eBook: Getting Into Jazz Mandolin
Mandolin Cafe Discussion: Do you plan to own or buy an iPad?
Posted by Ted at 5:01 AM

February 2, 2012 | Available: Mann SEM-5 solid body single cutaway
We like to check in on the "In-stock" instruments over at premium electric mandolin builder Jonathon Mann's website. Once in a while a real bargain pops up like this 5-string beauty for only $1650, with case:

SEM-5 solid body single cutaway. Curly maple top with vintage amber finish, curly walnut back, gold hardware, 14.7" scale, rosewood fretboard, Dimarzio Pro track and Tone zone S pickups. G&G vintage style hard case.
The Tennessee craftsman has really come of his own in a few short years, developing an international reputation with his innovative designs. With its signature neck-though body and modernized LP silhouette, this would be a good one to snag!
If you have a spare few minutes, check out his YouTube demos. If you're new to the world of electric mandolins, he does a terrific job of surveying the electronics of his line.
Purchase information: SEM-5 solid body single cutaway
Manndolins YouTube demonstration channel
Read archive review: EM-5 Electric 5-String Mandolin
Posted by Ted at 8:31 AM