« Good news for mandolaists. Enhanced JD13 flatwound strings! | Main | Manoel Andrade bandolim; Classifieds "steal" »

February 18, 2012 | Punch Brothers' Chris Thile Apologizes to Pavement, Aspires to Play Mandolin Like Greg Maddux Pitches
We always love a good Chris Thile interview, and the latest one at Spinner.com fails to disappoint. Coinciding with the release of the Punch Brothers latest release, "Who's Feeling Young Now," reporter Cameron Matthews dives into the artist's Nickel Creek roots (a perennial fave here), and ponders the nature of the pursuit of perfection and musicianship.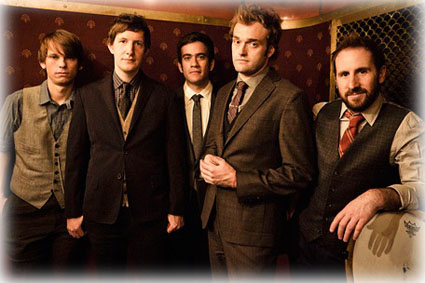 Photo Credit: Danny Clinch
Thile, from the article, "I look at mandolin as the one tool I have, that I have some idea how to use. But no more. To me, I'm not interested in pursuing the perfection of mandolin. It's just that I want to be as handy with that tool as I can. Being good at the mandolin isn't interesting in and of itself. Being good at music is very interesting to me. If I have a goal, it's to lead a life rich with music. I want to leave some nice music behind that I've been a part of."
Read more: Punch Brothers' Chris Thile Apologizes to Pavement, Aspires to Play Mandolin Like Greg Maddux Pitches
Audio Bonus: Hear the CD in its entirety for free on the link below.
Full stream Listening Party on AOL Music: Who's Feeling Young Now
Read Mandolin Cafe Interview with Chris Thile.
CD Download.
Posted by Ted at February 18, 2012 6:10 AM