Walt Kuhlman
Gypsy's Music Octave Mandolin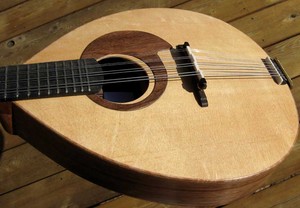 Our first contact with Walt Kuhlman was a pleasant surprise. Fronting a modest but very thorough array of flat top mandolins at the Winter NAMM Show in California in 2007 with his original partner at Gypsy's Music, Juan, we were impressed by the variety of delectable woods displayed by the fledgling business, with their simple design and dazzling sound. Though early out of the gate with mass production, it was obvious he had come up with a formula of quality that could be beautifully hand-crafted, and duplicated without being prohibitively costly. Delighted to see this product still come out of the US, we knew Gypsy's Music was on to something, and tackling a very much under-served niche market.
There's something primal about a flattop instrument. Devoid of scroll and complex arching, there remains a subtle beauty in their arguably anti-modern minimalism. Wood. Strings. Tone...
We ask, what more does one really need, as long as those there elements are there in force?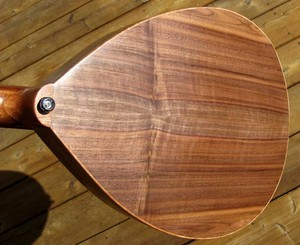 Not too long afterwards, Walt introduced a highly successful Mandola version, as well as created a custom ten-string for our friend and director of the Milwaukee Mandolin Orchestra, Linda Binder. Succeeding this came their Octave Mandolin and it was time to pony up. Walt was contracted to create in our words, something Spartan in cosmetics, but functionally rich with tone. We're happy to say we weren't disappointed; this Gypsy's Music OM was magnificently affordable, comfortably playable, and robust with bold tone.

Early into the build, Walt wowed with preliminary pictures of a carefully chosen, expertly book-matched American Black Walnut for the back. Not only cosmetically stunning with flame, today it packs a vigorous volume, round with low end and powerful in dynamic range. The instrument overall does not have to be pounded to be loud, and if we issued any warning about playing these instruments, it would be to spare the hammering, there's far too much subtle beauty to milk out of the body. Our request, we had the instrument strung up with D'adarrio Electric Guitar Flatwound Chrome Singles (12, 24, 35, 45), and though that may seem light to many, the custom set works spectacularly well for jazz and classical playing. We have yet to experiment with a 48 gauge G string (Walt's personal recommendation); this might yield even more low end. Cautioned that this might not work well for heavy-handed "clawing," we have to agree this set-up would likely disappoint the drone, open string (or alternative tuning) player.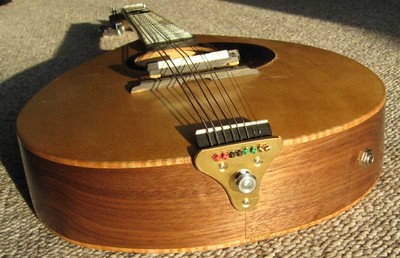 You'll notice a rather unique "secondary bridge" system and customized hand-machined brass-plated tailpiece. An easy-to-string set-up is always a preference here, but we still have the jury out on the bridge set. The idea is to free unwanted bridge vibration; though we were initially apprehensive about the reduction of break angle on the strings south of the bridge, it has proven a non-issue. Plenty of string pull on the bridge, we have none of the anticipated string flop. Another rationalization of this bridge design was to pull the tailpiece completely out of the playing area, which it definitely does for the player with a wilder, wandering picking hand.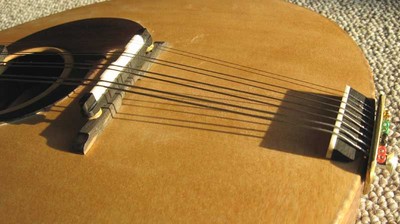 Back to the woods, the Spruce top complements the warmth of the back with a crisp projection. It's pretty, and with Walt's unique bracing cedes a balanced, yet vigorous sound. Again, we prefer the lighter strings which makes chording much more comfortable. The maple binding is tight and clean, good attention to detail.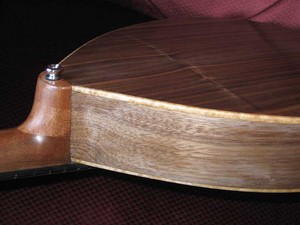 One of Walt's building techniques is the heel block and its stacking, very similar to classical guitar design, saving cost to the end-user but more importantly, lending strength to the neck and headstock. The front of the headstock is plain but cosmetically clean, and his use of reliable Grover Tuners adds exponential value over imported product.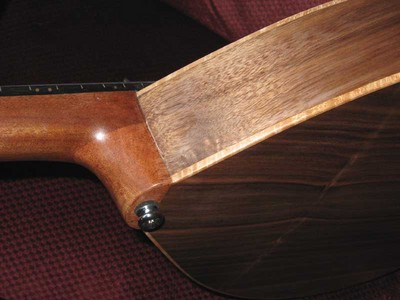 Another shot of the heel gives you a glimpse of a simple, but excruciatingly clean maple binding. The wood on wood trim adds to the earthy folk panache of the instrument, complementing while containing the two contrasting woods of top and sides.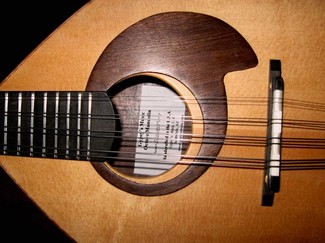 This instrument boasts of exceptional value. If you're looking for something that doesn't break the bank, yet still offers proud and robust tone, reliable tuners and sound construction, and an added bonus, handcrafted in the US, a Gypsy's Music instrument is worthy of strong consideration. With this sensible construction and uncompromising quality, we expect to see these instruments continue to make there way into the domestic and discerning global market.
Builder Informaton:
Gypsy's Music
Walt Kuhlman - Luthier
PO Box 647
New Market, MD 21774
PH: 301-865-0430
Bach Cello Suite: Prelude (Octave Mandolin Demo) from Ted Eschliman on Myspace.
Read up on other world class mandolin builders: