« Music geekdom. Tonal functions go clubbing. | Main | New Guitarra Baiana model--Signature Marcos Moletta »

January 29, 2012 | John Reischman's Mandolin
Many have heard the incredible playing of mandolin tonemeister John Reischman, but not all are aware of the story of how he accumulated his legendary Lloyd Loar instrument. This great video from Fretboard Journal gives us great insight into the history and as a bonus, some tips in the middle (4:42) on how adjusting the angle of the pick can draw better tone out of the string. A tremendous trick for rounding your own sound.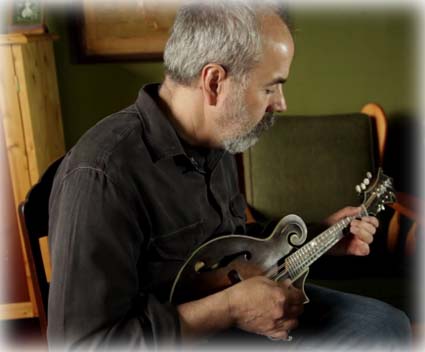 We had the chance to talk with John personally in 2004 chauffeuring him from the airport to Mandofest in Lawrence, Kansas. He's a great combination of approachable, warm, and supremely disciplined. You can hear it in his playing.
Enjoy...

John Reischman's Mandolin from Fretboard Journal.
"In the world of mandolins, Lloyd Loar-signed Gibson F-5s from the early 1920s are considered the cream-of-the-crop. They've been the instrument of choice for legendary virtuosos like Bill Monroe and David Grisman and they often sell for around a quarter of a million dollars. Among the 200 or so Loars known to exist, Vancouver, British Columbia's John Reischman has arguably one of the very best."

Read Mandolin Cafe Interview with John Reischman
Thoughts on tone from Reischman and other pros.
Posted by Ted at January 29, 2012 6:01 AM