« Winter NAMM live photo stream | Main | New Toys at NAMM »

January 17, 2012 | Mr. P.C.'s Guide to Jazz Etiquette; January 2012
Last fall we mentioned the Seattle musician and "All About Jazz" writer Bill Anschell and his offbeat humor (no pun intended) wih his hilarious take on the club jazz scene. His January 2012 installment does not disappoint, and demonstrates it's not just the Bluegrass Police that imposes its own tyrannical rules. Enjoy his response to 'G' is Good.
Dear Mr. P.C.:
I'll be playing "Mr. Magic," or "Just the Two of Us," and a musician will say to me "I'm calling the Jazz Police." Who are the Jazz Police?
"G" Is Good!
Dear GIG:
You've forced me to confess: I hate policemen/policewomen! Why? Not just because they're pepper-spraying authority figures enforcing a repressive, fascist system that calls itself democracy. They're also propagandists of the worst sort, leveraging laws to distort well-intentioned actions by a peaceful citizenry.
Say in the name of protecting the planet, you engage in a few minor acts of eco-terrorism. Maybe you free some lions from the zoo to protest their enslavement, or poison a few heads of lettuce to bring attention to exploitative immigrant labor conditions. And what do the cops do? Arrest you on trumped up charges of endangering the public--as if they understand your actions and motives better than you do!
Well, the Jazz Police are no different! Somehow, they've decided it's their station in life to define and enforce the laws of good taste, but of course they can only do it by wildly exaggerating the so-called "danger" created by your music.
So the propaganda begins: That incessant backbeat you love is cast as intolerably heavy-handed and mind-numbing. The endlessly repeating two-chord harmonies that give you comfort are somehow labeled juvenile and insufferable. Those simple nursery rhyme melodies you enjoy are called saccharine, mindless, even nauseating. And don't get them started on that cloying soprano sax tone favored by your "G" man! It's as if they want you to think he's superficial, vapid, and utterly without substance.
The worst thing is, the Jazz Police are so thoroughly entrenched in the power structure that it's really hard for oppressed Smooth citizens like you to fight back. Here's my suggestion: Mount a massive PR campaign! Start with places where you have a captive audience, and flood them with the sedating sounds of your music. Off the top of my head, I'd say airports, elevators, and upscale restaurants would be the perfect place to start, unlikely as they may seem.
Play your cards right, GIG, and the music you love could become the anesthetizing anthem of a revolution!
Read complete January entry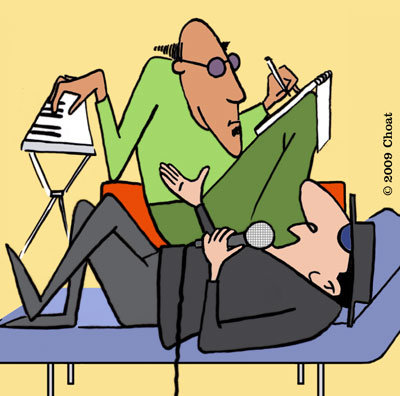 Like his Facebook Page: Mr. P.C.'s Guide to Jazz Etiquette and Bandstand Decorum


Posted by Ted at January 17, 2012 4:23 AM